Ahead of tomorrow's 'Commercial Awareness Question Time' event in Dublin, BARBRI's Chris Jorgenson sets out his vision for Ireland's rapidly expanding legal market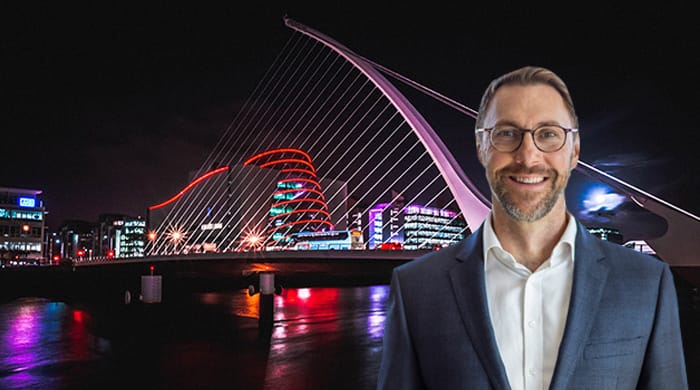 The recent announcement that Dentons, the world's largest law firm by lawyer headcount, will be opening its doors in Dublin was yet another big development to Ireland's quickly expanding legal market.
Dentons' arrival follows that of various UK and international law firms — including DLA Piper, Pinsent Masons, Simmons & Simmons, Fieldfisher, Dechert and Covington & Burling — also eager to gain a foothold in Dublin since the 2016 Brexit referendum.
The invasion of non-Irish firms, according to Chris Jorgenson, director of EMEA institutional partnerships at BARBRI, was mostly a "precautionary measure" against Brexit uncertainty. Although "a traditionally conservative business, slow in reacting to change", the threat of a no-deal departure saw UK law firms quickly preserve their right to represent clients in EU courts. For example, last year alone saw 1,893 solicitors from England and Wales join the Irish roll — including those from Linklaters, Allen & Overy and Freshfields, despite none of the three magic circle firms having offices in Dublin.
Although disruptive to Ireland's legal market, which has been dominated by a handful of independent domestic firms, the influx of new entrants signals increased Brexit-related business opportunities on the horizon. Jorgenson explains:
"The importance of Ireland as the only common law jurisdiction remaining in the EU, where English is the spoken language, could see Dublin play a more prominent role as a global legal hub in the future."
With common law being the go-to governing law of most international trade, Ireland's legal market will continue to prosper the more companies move their legal activity away from London, their traditional jurisdiction of choice, to Dublin, Jorgenson observed. Heightened demand for legal services could prompt a rise in newcomers seeking to capitalise on emerging opportunities — driving up competition for Ireland's top legal talent. Such growth would also strengthen Ireland's economy, whose bounce back from the 2008 financial crash stands as one of Europe's biggest economic success stories.

Jorgenson draws parallels between Dublin's burgeoning legal scene and its established tech hub. Attracted by Dublin's favourable tax environment and a highly skilled workforce, the arrival of big tech giants — such as Google, Facebook, LinkedIn, Microsoft and Airbnb — has created a hotbed for innovation and has acted as a magnet for tech start-ups. "Where business grows, businesses go," summarises Jorgenson.
As Dublin increases its presence on the global stage, there are new opportunities for legal education providers, like BARBRI, to support the city's education system. Jorgenson, who works closely with law societies, regulators and universities across Ireland, sees an increased appetite among young Irish lawyers to requalify abroad. "We're seeing a more mobile generation that's not interested in settling down or staying in one place, with an interest in expanding their opportunities beyond where they first qualified," says Jorgenson, a US attorney who practised civil litigation in Wyoming for nearly a decade before joining BARBRI.
Even law students, looking to set themselves apart from the fierce competition, are now recognising the advantages of qualifying abroad. "Those who want to move to other legal hubs or spend a few years on international secondment, like in Dubai, believe a US legal qualification will improve their marketability," says Jorgenson, who also teaches for BARBRI at King's College London's Strand campus.
Arguably, this generational shift reflects a wider push for flexibility within the legal profession. Digital tools, from video conference calls to cloud-based working, continue to create agile lawyers that can work on-the-go and take back control over their work/life balance. "Years ago, remote working lawyers were the exception and now it's become more mainstream," Jorgenson says.
With the increased need for flexibility in mind, BARBRI continues to roll out new online education programmes that prepare students to undertake US bar exams, and both the Qualified Lawyer Transfer Scheme and the upcoming Solicitors Qualifying Exam in England and Wales. "It's been a marriage of us driving technology and the education market driving change," Jorgenson says. Even the "brick and mortar universities" are re-thinking how to deliver curricula and incorporate tech in the classroom to suit increasingly tech savvy law students, he adds.
Despite the period of change facing Ireland's legal profession, the core skills expected of those in it will remain the same. The ability to advocate, prepare written arguments, conduct research, and communicate with judges, clients or fellow lawyers are essential, Jorgenson stresses. Beyond this, aspiring lawyers should focus on gaining exposure to legal practice, from pro bono clinics to shadowing lawyers. "It's not just enough to know the rules that come out of case law," he says, "you need to enter the job market with a roster of skills that can be used to service a firm's clients."
Chris' colleague, Victoria Cromwell, director of BARBRI's UK operations, will be speaking alongside lawyers from Arthur Cox, Matheson and Pinsent Masons at tomorrow evening's 'Commercial Awareness Question Time' event in Dublin. You can apply for one of the final few (and free) places here.