Three White & Case solicitors based in London, Paris and New York, share insights from their career journeys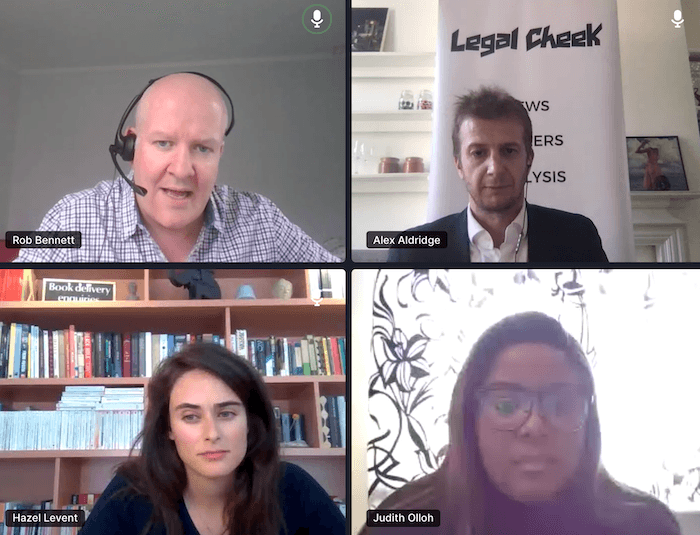 To work at a global law firm on multi-jurisdictional mega deals is the goal for many future lawyers. But students are often left wondering how do they get there, and how does it all piece together and work in practice?
Last month over 500 students tuned in to a live-streamed panel discussion featuring three White & Case solicitors from London, Paris and New York.
One partner and two associates shared insights into their working lives to present a picture of how a global law firm operates and explained that a global mindset is crucial to success in this field.
The session began with the trio discussing some of the cross-border deals and cases they have each been involved in.
Rob Bennett, a partner in the firm's financial restructuring and insolvency team in New York, discussed his involvement in the 2018 restructuring of one of the world's largest offshore oil drilling companies, representing a group of 44 financial institutions and export credit agencies (including more than a quarter of the world's largest 100 banks) holding $7.4 million (£5.8 million) in secured debt as at March 2016, over a two year-plus restructuring process. The transaction required coordination of approximately 20 jurisdictions, involved more than 50 White & Case lawyers across New York, London, South Korea and China, and led to his eventual emigration across the pond.
Hazel Levent, a Paris-based associate specialising in international arbitration, told viewers about a recent investment treaty dispute concerning investments in the EU state's energy sector. She collaborated with lawyers in the firm's New York and Washington offices, and a Bulgarian colleague in the Paris office, prepare pleadings efficiently.
"Almost all of my cases involve an international element", explained Levent, who studied international relations and politics at university. "We try to enforce arbitral awards in other jurisdictions which involves reaching out to our local offices."
Judith Olloh, an associate in White & Case's energy, infrastructure, project and asset finance team in London, described working on an ongoing liquefied natural gas (LNG) project in Nigeria. The Nigerian native was brought on to work on the multi-million dollar financing deal that spanned the firm's London, Tokyo and Seoul offices. At present, she's working with lenders and export credit agencies across Japan, Korea, Johannesburg, UAE and more, to get a second deal over the line.
White & Case has a huge international presence, with 44 offices in over 30 countries across the Americas, Asia, the Middle East, Africa and Europe. The firm's integrated network of offices helps to facilitate client service delivery. "We're the same team working together to collaboratively benefit the firm and provide a solution to the client," said Bennett. White & Case's international footprint also means teams of lawyers working across different time zones are able to be receptive to client needs around the clock, Olloh added.
The panel were in agreement, however, that working internationally does pose some challenges, with Levent highlighting the importance of communication to ensure all relevant parties are kept in the loop. White & Case cross-border teams are able to connect seamlessly through the firm's adoption of the latest tech. Every lawyer is given a work laptop they can log-in to remotely and sync to their office desktop, for example, and upon walking into any one of the firm's offices, the Wi-Fi connects automatically.
The firm guarantees its trainees a six-month overseas secondment. White & Case "lifer" Olloh, who trained in London and is dual qualified in both New York and London, completed a seat in Singapore. She spoke of some of the benefits:
"It allows you to go somewhere with the firm's support to experience a new culture and appreciate globally diverse perspectives at the very beginning of your legal career."
It's often the case that trainees are seconded together or connect with juniors from offices abroad. This progressive working culture enables young lawyers to apply the skills and values they learn in future training seats, and beyond. In some instances it can contribute to "permanent life decisions". As we heard previously, Levent completed her seat abroad in Paris as a trainee. She then qualified, and spent several junior years in London, before transferring back to the Paris office following a one-year client secondment.
It's not a necessity to be able to speak a second language as an international corporate lawyer, but it can certainly be an asset, the panel agreed.
Understanding how a global law firm works

White & Case LLP partner Rob Bennett discusses the perks of working at a global law firm and explains why lawyers are sometimes expected to work long hours #LCCareers

Posted by Legal Cheek on Wednesday, 16 September 2020
Levent, who is fluent in English, Turkish, French and Italian, finds being multi-lingual is beneficial to interact with clients on "a more profound level than perhaps the more senior members on the team". Plus "it's nice to be able to write a cover letter to a client in their language", she added. Bennett, who speaks English and German, agreed, adding: "it opens your eyes to how other people think and, crucially, the fact that other people think in a different way to the way that you do". Olloh is fluent in English and Igbo. She added: "When a client speaks the language that you speak it creates trust, familiarity and a bond."
Three international commercial lawyers interconnected at one firm. It's a demanding role but for the intrepid the opportunities are there.
About Legal Cheek Careers posts.