Reflections on geopolitical uncertainty, the turning economic cycle and the future — plus advice to their younger selves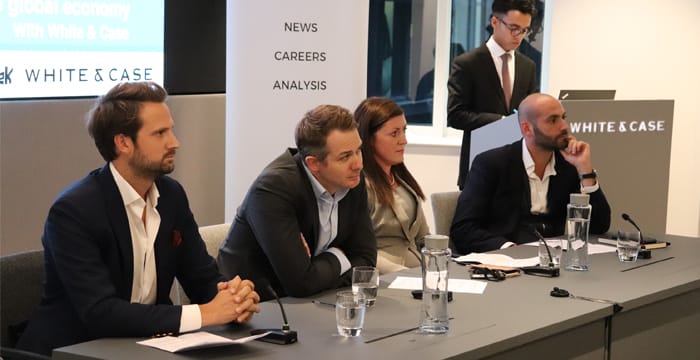 At the beginning of October four White & Case lawyers gathered at the global firm's London office for an hour-long panel discussion about their lives on the frontline of the global economy, with over 100 students asking the questions.
Daniel Turgel, global M&A partner; Catherine Andrews, international capital markets counsel; Ben von Maur, private equity associate; and energy and infrastructure associate Dann Irving covered topics including US-China trade tensions, Brexit, the turning economic cycle and future areas of economic growth. They also shared reflections on their own career journeys. Here are their best bits.
Geopolitical uncertainty
The speakers agreed that the defining feature of the global economy right now is uncertainty. But the impact of this uncertainty on their respective practices varied.
For Ben von Maur, an associate specialising in private equity, rising US-China trade tension has disrupted deal flow, with clients shifting to smaller venture capital funded deals. "We're seeing less capital outlay and a movement instead to deals that offer potential for growth," he said.
In contrast, global M&A partner Daniel Turgel and his team have had one of their busiest ever years. "Deal flow is at a high with clients taking advantage of the uncertain economic conditions. For example, Brexit is actually bringing quite a lot of investment into the UK at the moment as international investors use it as an opportunity to purchase assets at low valuations."
Dann Irving, an associate in White & Case's energy, infrastructure, project and asset finance team, told the audience how part of lawyers' role in this area is to help clients mitigate the effects of geopolitical uncertainty as they lay the foundations for huge projects that often take many years to come to fruition. "Inevitably changes to the global economy can lead to some parties looking to get out of commitments. Our job at these times can be to help to keep the contracts alive — through, for instance, price adjustment clauses that accommodate for the fact that situations have changed."
For lawyers whose focus is on the funding of these projects and deals, "there is no crystal ball," said Catherine Andrews, international capital markets counsel, "but what we can do is be ready to react very quickly — so when that market window opens, when clients are ready to do deals, we are ready. If that means all hands on deck for two weeks, so be it."
The turning economic cycle
Responding to a student's question about how governments would react to the next downturn, the speakers agreed that we would likely see a shift from monetary policy (solutions focused on keeping interest rates low and increasing the supply of money) to fiscal policy (measures that use government spending and taxation to generate growth).
"Over the next decade we can expect to see government debt in Western economies used to fund major projects — such as new roads, new hospitals and extensive high-speed broadband rollout," said Andrews.
Irving added that he expects the private sector to play a considerable role in this coming wave of spending, via government guarantees that enable them to take debt or equity stakes in projects. "Certainly from a project lawyer's perspective this could turn out to be a very busy time," he said.
Not that a turn in the economic cycle comes without some upheaval. Reflecting on the long economic expansion, and the signals from the markets that it could be drawing to a close, the speakers recalled their experiences of the last downturn in 2008 following the collapse of investment bank Lehman Brothers.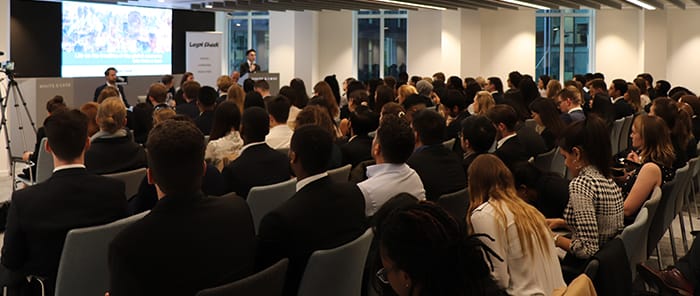 "I started as a trainee at Clifford Chance in the boom period of 2005-06 and we were just so busy, doing 100 hour weeks," remembered Andrews. "Then I qualified in the wake of Lehman and I didn't record a single hour in November 2008. People were sitting around the office playing cards."
"I actually went into Lehman Brothers on the day it went under as my previous firm was advising the administrator," Turgel told the audience. "A few months later 70% of my intake was made redundant. At the time it was traumatic but looking at it now I can see it was just part of the cycle. People received redundancy pay and went travelling for a year. Almost all of those people now have fantastic jobs."
The future
A poll taken midway through the session saw students asked to predict the areas of growth that will propel the global economy over the years ahead. The majority identified the green economy as the next new engine of growth. The speakers broadly agreed with this, identifying electric cars and the development of cleaner sources of power as potentially transformative — albeit, according to von Maur, "over a potentially longer timescale than just the 2020s and indeed perhaps towards the 2050s".
They also identified Africa as having "huge growth potential", noting the continent's increasing strategic importance amid large scale investment from China, while questioning the anti-globalisation received wisdom that has taken hold in some quarters.
"I actually think we will keep seeing borders coming down," said Turgel. "As an example, I'm working on three deals at the moment between Israeli and United Arab Emirates companies. You would have thought that was impossible but in reality there is a lot of deal flow."
Careers advice
The discussion chair, Legal Cheek's Adam Mawardi, closed out the evening by asking the speakers for a piece of advice to their younger selves. There were some insightful responses:
Irving: "Venture outside your comfort zone. That's where you learn."
von Maur: "As a trainee be open minded about the area of law you specialise in."
Andrews: "Build a network, and remember that the process starts when you are at university. Some of your friends will become important people at international companies, financial institutions and banks!"
Turgel: "Never burn any bridges. Bite your tongue, hold back, no matter how frustrated you are. Your frustration will pass and those people may be invaluable sources of help further down the line."
About Legal Cheek Careers posts.