Skadden's global co-head of private equity and the founder of Quinn Emanuel's London office joined a dual-qualified associate from Hill Dickinson to share their incredible career journeys at Legal Cheek's latest in-person junior lawyer event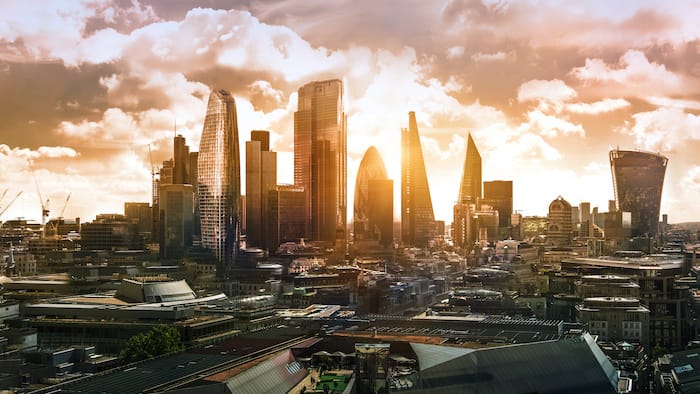 Last week Legal Cheek welcomed 80 junior lawyers to King's College London for our latest in-person junior lawyer event in partnership with BARBRI.
The founding partner of Quinn Emanuel's London office, Richard East, joined Skadden partner and co-head of the private equity group, Richard Youle, and Hill Dickinson corporate associate Natalie Hong for an evening of reflection on their incredible career journeys to date. Through a series of TED-style talks, the panel provided rookies with key insights into their success while dishing out their top tips for those seeking to follow in their footsteps.
Richard East, founding and senior partner of Quinn Emanuel, London
A little over 14 years ago Richard East was approached by US firm Quinn Emanuel to start up its London practice. Flattered by the approach and excited by the opportunity, East took the challenge head on. He advised junior lawyers in attendance to seek out and take calculated risks to further their own careers.
"I think it is true to say my career progression to this point is slightly left of field," East admitted. Leaving school at sixteen without any A-Levels, he later made a number of hopeful applications to universities and was successful in achieving a place at the London School of Economics, where he went on to graduate with a first.
East then trained at US firm Baker McKenzie and found himself drawn to litigation. "I thought I was going to be a big swinging corporate lawyer but it turned out I very much enjoyed the contentious side." As such, he encouraged trainees to gain exposure to a range of practice areas. East subsequently worked at the London office of US firm Cadwalader, Wickersham & Taft and made junior partner at Kirkland & Ellis before the opportunity at Quinn Emanuel presented itself.
East looks for junior lawyers to be proactive and to take ownership of their own tasks and cases. Furthermore, East advised that building your network, using tools, such as LinkedIn, is key to development. "In order to progress your career, doing all of your tasks with technical excellence is the starting point. But as a mid-level associate, you need to start thinking about how you can grow the business." Asking the audience to take a look around them, East stressed future clients will be those other budding lawyers studying and qualifying alongside each other, so it is never too early to start.
Full house at tonight's in person event run in partnership with @barbri, 'How to build an international career at a global law firm in London — with lawyers from @SkaddenArps, @quinnemanuel and @HillDickinson'! pic.twitter.com/tFrBwb6y0c

— Legal Cheek (@legalcheek) April 21, 2022
Natalie Hong, corporate associate at Hill Dickinson, Leeds
Hill Dickinson's Natalie Hong provided a different perspective, being at an earlier stage in her global career. From very humble beginnings in Malaysia, Hong has worked part-time from a young age. With her life savings, student loans and a scholarship, she moved to the UK in 2016 and graduated from the University of Leeds in 2017.
Hong was initially an aspiring barrister. She was called to the bar of England and Wales in 2018 and attained pupillage at a London-based chambers, due to commence two years later. During this break, Hong returned to Malaysia to qualify and practise, and was called to the Malaysian Bar working as an insurance litigator. But then Covid struck and Hong, upon returning to London, was informed her pupillage had been cancelled.
Hong made the decision not to go through the highly competitive pupillage application process again, and instead worked as a paralegal full-time alongside taking the Qualified Lawyers Transfer Scheme (QLTS) with BARBRI. The new Solicitors Qualifying Exam (SQE) has since replaced the QLTS as the route to qualification for internationally qualified lawyers in England and Wales. "BARBRI provides a very well-structured programme with succinct notes," she told the audience. "I was initially concerned that the notes and practice tasks are rather concise, but having sat and passed the exams I now understand why. There is so little time in the exams that you only need to know the crucial points." She also thanked BARBRI's tutors for being encouraging and helpful throughout her exam preparations.
Qualifying in December last year and joining international law firm Hill Dickinson, Hong intends to leverage her knowledge of different legal systems, as well as her multi-jurisdictional networks to grow her international career from the UK.
Richard Youle, partner and co-head of Skadden's private equity group
Rounding off the evening's talks, Skadden's Richard Youle delved into his unorthodox career journey to date.
Graduating with a 2:2 from Newcastle University, his career prospects looked rather limited at this stage. However, not letting this pin him back, Youle returned to his roots in Hull and secured a training contract with a local high street firm. Having qualified, his next move was to Eversheds in Leeds where he got his first taste of private equity work, at a time when the northern city was beginning to thrive.
With two more years' experience, Youle moved to London to work for SJ Berwin before moving to Linklaters and making partner in just five years. He went on to US firm White & Case, before beginning his current role at Skadden. Reiterating a similar message to his fellow panellists, Youle said he sees the value in making smart moves to find an environment and position that is right for the individual.
Likening one's career journey to a flowing river, Youle encouraged young lawyers to take control of their own direction. "You always have more time than you think, so take that time to really decide where you want to go and what you want to do," he said. He rounded proceedings off by sharing the five characteristics that aspiring lawyers seeking to develop a global career in London should all have in abundance. These include hard work and dedication, making smart choices, being able to function in a team environment, networking capabilities, and an ability to enjoy the journey along the way.
About Legal Cheek Careers posts.