Legal Cheek Careers sits down with Aruna Verma, the new Dean at ULaw's Moorgate campus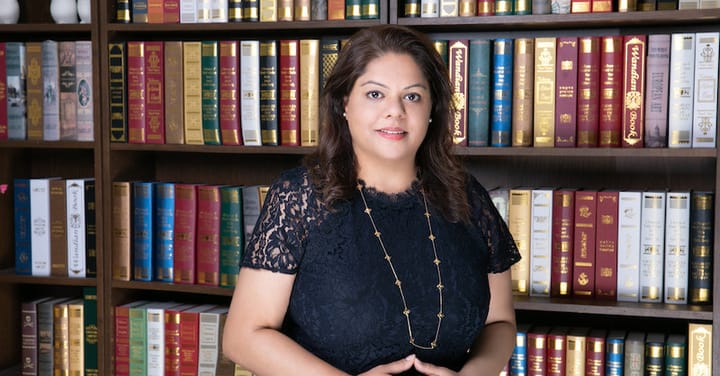 With a varied career spanning both legal practice and education, as well as a stint in Hong Kong, Aruna Verma has been Campus Dean at ULaw London Moorgate for six months now. 
Legal Cheek Careers sat down with Verma to ask her for her study and networking tips ahead of Thursday 5 October's in-person workshops and networking evening with Ashurst, Bristows, Reed Smith and ULaw.
First off, congratulations on your recent appointment as Campus Dean at ULaw London Moorgate! Can you tell us a little bit about the role and what it entails?
Thank you so much for your well wishes! I started in this role on 1st April (though not an April Fool's joke). The role is varied, with internal and external facing projects. It is a busy Campus with many events and activities for students and staff alike.
I am in the process of developing new ventures with external contacts to ULaw which will enhance the profile of the Campus and University as a whole.
It is my overall responsibility to ensure a safe learning and teaching environment for all students and staff.
What plans do you have for what you would like to achieve as the new Campus Dean?
My main plan is to create a sense of community and opportunities at Moorgate. The world of education is changing, and here at ULaw, we aim to be at the cutting edge of teaching using up-to-date technology.
Could you tell us about your previous career as solicitor and what prompted you to make the shift from legal practice to legal education?
I am an alumna of the University. I did my LPC at Guildford (then College of Law). When practicing, I predominantly undertook litigation work with daily appearances in Court. My advocacy experience led me to teach on the bar course as I am passionate about wanting to share my experiences of dealing with clients, conflicts and the courtroom with students.
I was fortunate enough to both practice and teach, which enabled me to bring the subject alive in class.
I moved from the Bloomsbury Campus to Moorgate and then went to set up the first International Campus in Hong Kong, so my experience of teaching has been varied.
You have taught extensively at ULaw, on the Bar Practice Training Course (BPTC), Legal Practice Course (LPC) and the Graduate Diploma in Law (GDL). What advice do you have for students to succeed on such courses, including the new SQE?
Success on these courses requires diligent preparation and a strategic approach. I would say that students need to understand the structure of the subjects and assessments, start early, and be prepared in advance.
I am a personal fan of study plans and study buddies. Students should remember that revision isn't writing notes but practising old papers — honing in on the skill of exams. Student are encouraged to use study guides and resources to enhance their understanding of the subjects. Our academic staff are always on hand for students to seek guidance and review and revise.
Overall, I would encourage students to stay healthy, positive and take regular breaks to keep their minds sharp.
In light of Legal Cheek's upcoming in-person event in partnership with ULaw, how can students get the most out of networking and workshop events?
Networking events and workshops are invaluable, but you must set clear goals — what do YOU want from the event? Perhaps to find a mentor, explore career options or simply widen your pool of contacts. Research the event and the speakers so that you can have meaningful conversations.
Personally, I would have an opening statement about myself and my interests which I convey to people I meet in a confident manner. It is important to involve yourself in conversations by showing genuine interest, provide your opinions and ask follow-up questions. Also use LinkedIn to connect with people and try and maintain the relationships you form at these networking events.
I would tell students to remember that networking is not just about what you can gain but also about what you can contribute to others. Building a strong network can open opportunities and enrich your academic and professional journey.
You also spent some time in Hong Kong as inaugural Programme Director of ULaw's first International Campus. What did you find interesting about this experience, and what were your takeaways?
I found the whole experience a transformative one with several valuable takeaways.
Cultural awareness is first — whilst living and teaching in Hong Kong, I was exposed to diverse cultures and perspectives. I gained a deeper understanding of different customs, traditions and ways of life.
I also used the opportunity to improve my language skills and can now speak a little Cantonese — well, I can order rice in a restaurant.
Teaching abroad broadened my global perspective. I became more aware of global issues and I can now contribute to cross-cultural understanding. I was able to overcome several challenges in an unfamiliar environment including the protests and the pandemic.
My time in Hong Kong gave me the opportunity to teach and think more creatively and train my team to problem-solve effectively for the benefit of ULaw and its students.
I would advise any students or staff to take global opportunities to create lifelong memories.
To finish off, what has been a highlight of your career thus far?
Becoming Campus Dean at my age. I also found it very gratifying to be able to teach and help students progress on their programmes during the protests in Hong Kong and the Covid lockdowns. Whatever happens, the teaching will find a way.
Aruna Verma will be speaking at an in-person workshops and networking event in London — with Ashurst, Bristows, Reed Smith and ULaw on Thursday 5 October. This event is now fully booked but why not check out our upcoming events.
About Legal Cheek Careers posts.