Spotlight on areas such as corporate, litigation, employment, tech and IP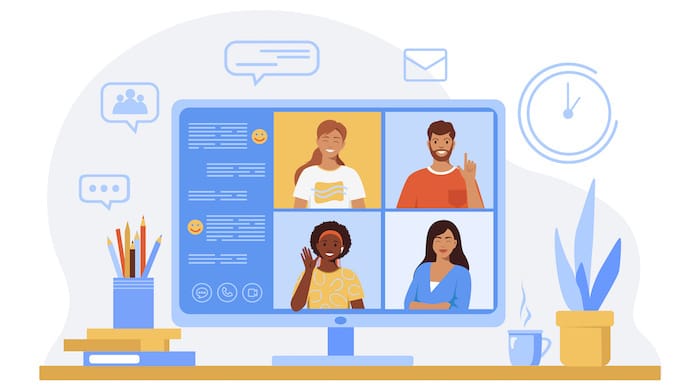 Over 2,000 students attended The Legal Cheek and The University of Law (ULaw)'s Spring Virtual Vacation Scheme and Law Fair 2023, which took place over three days this week and featured 40 law firms and chambers.
The Scheme offered participants the opportunity to explore different practice areas including corporate, litigation, employment, technology and intellectual property (IP), as well as meet with lawyers and graduate recruitment teams during a Law Fair. Here's our day-by-day account of the Scheme, which featured a series of short talks and Q&As, with case studies set by ULaw.
Day 1
Session 1: Life as a disputes lawyer
The speakers
• Emily Betts, barrister at Gatehouse Chambers
• Megan Smith, associate at Bryan Cave Leighton Paisner
• Karen Watts, programme and student lead at ULaw and former Kennedys and Fieldfisher commercial dispute resolution solicitor
What students learnt:
The first two sessions of the Scheme explored the two different types of legal work lawyers do: deals and disputes. This first session focused on disputes and featured a barrister, solicitor and former solicitor turned ULaw professor, all of whom specialise (or have specialised) in disputes work.
BCLP associate Megan Smith explained during her talk what drew her most to disputes work is her love for story-telling — working through a narrative to provide a positive outcome for her clients. This was echoed by Gatehouse barrister Emily Betts and ULaw professor Karen Watts, who appeared on the panel alongside Smith.
This session was followed by a case study: the audience was asked to advise a high-profile client on a breach of contract claim and consider whether he should pursue litigation in the courts. The panel outlined some of the risks, saying that doing so would be costly and time-consuming.
Session 2: Transactional work: an introduction
The speakers
• Meghal Mehta, associate at Willkie Farr & Gallagher
• Harry Buchanan, trainee solicitor at Willkie Farr & Gallagher
What students learnt:
In session two attention turned to deals and we heard from two Willkie Farr lawyers in the firm's London office: Meghal Mehta, associate, and Harry Buchanan, a fourth seat trainee.
The duo went through the role lawyers play in a typical corporate transaction, highlighting the key steps including drafting heads of agreement (a non-binding document outlining the main issues relevant to the deal), undertaking due diligence on the acquisition and preparing the transaction documents for signing.
Mehta went on to explain that a deal normally takes around several months to complete, although they found this timeline was somewhat squeezed during the height of the pandemic due to a flurry of deal activity amid market uncertainty.
During the Q&A the pair reflected on the reasons for training and working at a US law firm in London as well as some of the key differences between Willkie and its market competitors.
Session 3: Employability Expo
Rounding off day one of the Scheme was an Expo run by members of ULaw's employability team. The team delivered four presentations, and here's what they discussed:
Firm research and applications
• Beth Thorman, senior student recruitment manager at ULaw
ULaw senior student recruitment manager Beth Thorman explained that the correct approach to research a firm should include considerations like practice areas, size, secondment opportunities and core values. She then provided practical tips for making good applications which include, among others, proof-reading and tailoring an application to a firm.
Interviews
• Katherine Meehan, careers manager at ULaw
• Elizabeth Gulati, careers consultant at ULaw
ULaw careers experts Katherine Meehan and Elizabeth Gulati shared their advice on how to impress at telephone, video and face-to-face interviews. They discussed the differences between them, how to prepare and how best to answer the different types of questions commonly asked.
Should I do the LPC or SQE?
• Nick Johnson, senior tutor at ULaw Nottingham
ULaw senior tutor Nick Johnson discussed routes to solicitor practice with a focus on whether students should think about the LPC or SQE. He emphasised that the LPC route is only applicable for students who started their LLB (or conversion course) from September 2021 or earlier. He then went into further detail, explaining how these two pathways are organised at ULaw.
Social media skills
• John McKeown, careers consultant at ULaw
• Linsey O'Donnell, careers consultant at ULaw
ULaw careers consultants John McKeown and Linsey O'Donnell gave students an insight into how best to use social media platforms such as LinkedIn, Facebook and Instagram, how to add value to your networks by showcasing your achievements and some common mistakes to avoid such as incorrect privacy settings!
Day 2
Session 4: Climate change
The speakers
• Catríona Campbell, associate at Clyde & Co
• William Ferris, trainee solicitor at Clyde & Co
What students learnt:
To discuss the impact of climate change on their legal work, students heard from Clyde & Co's Catríona Campbell and William Ferris.
Ferris outlined typical trainee tasks in this area, such as considering the impact of new climate-related regulation or assessing the impact of climate change litigation. Campbell agreed that the breadth of climate change work you can experience as a trainee sets you up well for life as a qualified lawyer. She went on to explain that given the novel issues arising from climate change in recent years, the amount of litigation in this area is likely to continue to increase.
Campbell and Ferris have also built their climate change practice through Clyde & Co's Climate Change Group, a trainee-led pro bono initiative, through which Ferris attended COP27 while representing an international charity.
To conclude, the speakers addressed the day's case study exercise, set by ULaw, which posed whether law firms should act for large oil and gas companies.
Session 5: Law Fair
Halfway through the Scheme students took part in a virtual Law Fair in which they met with lawyers and graduate recruitment teams from 40 law firms, including the Magic Circle, US and international law firms.
Day 3
Session 6: Employment law
The speakers
• Lauren Bholé, senior associate at Shoosmiths
What students learnt:
Shoosmiths senior associate Lauren Bholé discussed what it's like being an employment lawyer at a national law firm. She talked about her career journey, including how being a paralegal helped her to secure a training contract, why she chose to become a solicitor rather than a barrister and why she enjoys working in employment law.
She told attendees what a day in the life of an employment lawyer looks like, and how the work varies from drafting documents to being able to do her own advocacy in the employment tribunal. She spoke about how, as well as working on cases, she also gets to be involved in business development, as well as writing articles, recording videos and hosting events for clients about the ever-changing world of employment law.
Session 7: Intellectual property
The speakers
• Cerys Wyn-Davies, partner at Pinsent Masons
• Bella Phillips, associate at Pinsent Masons
• Connie Scrimshaw, trainee solicitor at Pinsent Masons
What students learnt:
The session started with a 40-minute presentation from the team at Pinsent Masons. They opened by explaining what IP is and what lawyers do in this area of practice. Then they shared their own career journeys and what drew them to IP law. They talked about the popular new artificial intelligence (AI) tool ChatGPT and some of its strengths and weaknesses before moving on to explain the use and protection of AI — particularly in the life sciences and healthcare space.
Next, the trio covered the legal and commercial implications of these emerging tools and how the firm is advising clients in this developing area.
Finally, Connie Scrimshaw talked the attendees through what it's like to be a trainee working in this exciting and fast-evolving area of law.
Session 8: Technology and the law
The speakers
• James Sharp, associate at Hogan Lovells
• Patrick Grant, tutor and director at ULaw Tech Research Academy (ULTRA)
What students learnt:
Hogan Lovells' James Sharp gave a talk all about his role as an associate in the commercial technology team. He discussed his career journey, what his team do, key legal tech terminology, such as blockchain, Non-Fungible Tokens (NFTs), crypto assets and artificial intelligence, talking about the regulation around this and how the UK's approach differs to that of the EU.
After his presentation, he was joined by ULaw's Patrick Grant for an audience Q&A to discuss their career journeys in more depth, talk about trends within legal tech and offer careers advice for attendees.
The session's case study was focused on neural network-based tools and causes for concern relating to their use in the legal industry.
About Legal Cheek Careers posts.