Ahead of Legal Cheek's Secrets to Success event in the West Midlands, panellist Sarah Ramsey, the dean at The University of Law Birmingham, reflects on her time in law and what students should be doing now to improve their training contract chances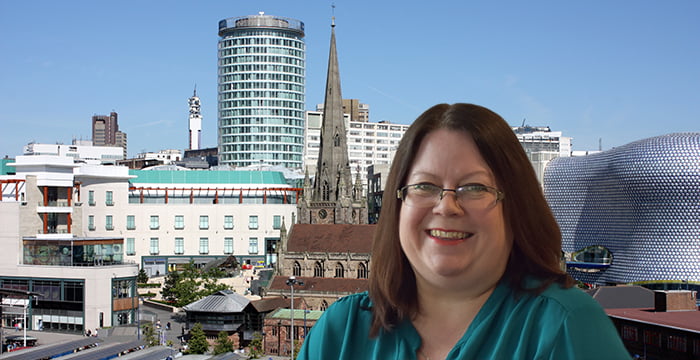 Sarah Ramsey, the dean of The University of Law's Birmingham centre, practised for five years as a solicitor before moving into academia. Now, ahead of Legal Cheek's upcoming Secrets to Success event in Birmingham — at which she will be speaking alongside lawyers from Pinsent Masons, Irwin Mitchell and St Philips Chambers — she gives her take on what students can be doing to get ahead in the race for a training contract.
Broaden your commercial awareness
"It's a common misconception that commercial awareness is limited to financial or business matters", says Ramsey, a former family solicitor. It's actually about understanding a wide spectrum of issues and how these can "seep into all practice areas", she adds. For example, it's useful to know about the cuts to legal aid in domestic violence cases if you're hoping to pursue family law, or the recent John Worboys judicial review challenge if your aim is to practise public law.
Aspiring solicitors need to be aware of what's happening around them and the effect this will have on legal work and client issues. "No student should think this isn't a skill they need to develop," Ramsey stresses. Students should regularly watch the news and read articles from reputable sources to formulate an opinion.
Module choices are crucial
It's important to think carefully about the electives you choose during the Legal Practice Course (LPC), Ramsey warns. A good way to make this decision is to match your desired practice area with the course modules available. You might like the idea of representing individual clients in court and, if that's the case, Ramsey advises taking electives in advanced criminal practice or family law. You might decide to take electives in banking and debt finance or mergers and acquisitions if you prefer more transactional work.
Ramsey advises students to take general options, such as employment law or commercial dispute resolution, if they're unsure. "Doing so gives you a bit more scope when applying to different types of firms," she says. All LPC teaching staff at ULaw are experienced practitioners so Ramsey directs students to speak to their tutors for advice.
Put yourself out there
Students may find it tricky to narrow down which firms to apply to. The Legal 500 rankings are a helpful guide, Ramsey says, but the best way is to gain as much practical legal work experience in as many different firms and practice areas as possible. She continues:
"It's difficult to judge what a firm's culture is like from their website. You might find land law to be incredibly dry, but working on real estate deals to be exciting."
Another option is pro bono work, something Ramsey got involved with while working for a small high street firm. "I set up a clinic with Women's Aid to help domestic violence victims. The skills I picked up here proved useful later in practice," she shares.
It's important to think about how you can carve out opportunities, says Ramsey. If there isn't a society at your university covering your area of interest: "Set one up." Ramsey also recommends student networking events. "These are the best places to build your contact base and seek work experience — it astounds me when there are empty seats!"
Develop skills
A very different skillset is required in practice areas outside corporate law. Ramsey explains:
"I dealt with difficult situations where people were in real distress, such as during the breakdown of a marriage where children were involved. In crime, you might have to defend an individual whose liberty is at stake. You have to be careful. Your job is to provide professional legal advice, not counselling."
You may find you're more independent than your peers at larger corporate outfits, who tend to work as part of a big team. As a trainee, Ramsey was running her own caseload before she had even completed her training contract. "There's a lot more responsibility available in this type of work and that requires a fair bit of independence and confidence," she says.
Fail to prepare, prepare to fail
"Get someone to have a thorough read through your application before pressing submit," Ramsey advises. Firms are still receiving applications with poor spelling, typos and grammatical mistakes. "This sends out a really poor message."
Ramsey urges students to take advantage of the resources available at ULaw's careers service. "We have an entire database containing records of students detailing how their interviews or assessment days went. Yours may not necessarily be the same, but it's still a very useful insight," she says. Other options include arranging a mock interview with a member of the ULaw team.
Reap the rewards
Ramsey found there was never a dull moment working in family law since no two days were the same. Though she accepts there isn't a vast amount of money to be made, it's still a very rewarding career.
"It's great to be able to see your clients in a better position than when you first started working on their case," she says. Many of the trainees she supervised while in practice would say they pursued family law because they had an interest in social justice and wanted to "do good". "That's very laudable and a good ethos to have," she says.
Keep going
Her top tip to students experiencing knockbacks is to realise that you're playing a numbers game. "There will be lots of excellent candidates and just because you were rejected doesn't necessarily mean you're not a good candidate. Rather, you were not the right fit for the firm or the firm was not the right fit for you," she says. It's important, then, to continue making applications, exploring your options and building resilience.
Sarah Ramsey will be speaking at our Secrets to Success event in Birmingham on Wednesday, alongside lawyers from Pinsent Masons, Irwin Mitchell and St Philips Chambers. Apply to attend.