A panel of experts from Pinsent Masons discuss their work and how it is helping drive the post-Covid economic recovery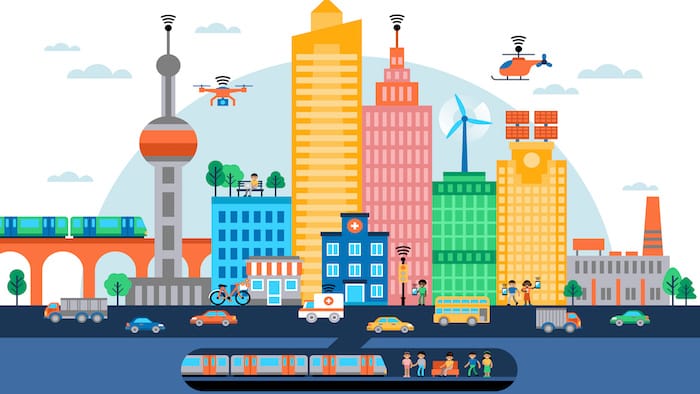 The phrase 'Build back better' has taken centre stage in the government's post-Covid agenda. At Legal Cheek's latest virtual student careers event, 'Infrastructure in the post-Covid word', a panel of leading practitioners from international law firm Pinsent Masons explored how this fast-moving area of the law will play a key role in driving the economic recovery.
On the panel were: Sonal Shah, partner in the London construction and projects solutions team; Jan Bessell, strategic planning adviser in the Leeds planning & environment and energy & infrastructure team; and Robbie Owen, partner and parliamentary agent and head of infrastructure planning and government affairs.
Connecting the North
Connecting the major cities of the North with transport infrastructure projects such as HS2 will remain a government priority, predicted Robbie Owen. He explained that "governments haven't spent enough over the last century — it's a thirty-year job to do what is needed to connect the North to help its economies". The pressing need to improve infrastructure was made clear with the panel's description of current under invested and under maintained "Victorian infrastructure", and Sonal Shah stressed that, in order to grow global investment, "continued long-term investment in transport" was necessary.
Types of infrastructure
The panel considered the type of infrastructure which will play a key role in the post-Covid economic recovery. In light of the COP26 climate change conference in Glasgow this month, it was no surprise to see green infrastructure at the top of this list. Prime Minister Boris Johnson's announcement of a 'ten-point plan for a green recovery' and the emphasis on the transition to a green economy, has led to increasing importance in "valuing natural capital and green initiatives in the infrastructure space", Jan Bessell explained. Shah also highlighted the growth of infrastructure projects which are "green, sustainable and decarbonised". The panel agreed that an "integrated" approach that moves towards "strategic and spatial" planning would likely become the cornerstone of future infrastructure projects.
Energy
The panel next addressed the recent fuel and gas shortages, noting that this will likely lead to an increase in investment in infrastructure projects in the renewable energy space. Bessell explained that the supply and storage capacity of gas has been an issue for the country since at least the 2000s and that renewables and other sustainable generation sources at all different scales were the solution. Although she did add that there "needs to be a push" in this area.
"Our government and others recognise we need to act [on renewables]," Shah said. "It's a matter of how quickly we can do what is needed." This appeared to resonate with the virtual audience of 400 students, with two-thirds agreeing in an online poll that clean energy offers the best opportunity for infrastructure growth in the post-Covid world.
Owen identified the tension in getting infrastructure schemes through planning and consenting processes, including offshore wind. He noted that "they're highly valuable for increasing renewable energy capacity, but they do leave an environmental impact". Owen stressed that the government is keen to reconcile these tensions, with efforts to "get the balance right by creating a planning and consenting system/environment for increased investment — while staying conscious of avoiding and mitigating environmental impacts".
Encouragingly, the renewables sector is benefiting from private investment, with offshore wind and commercial solar featuring prominently in light of them being deemed "safe havens" among investors.
Transport infrastructure and clean energy provision remain the big issues of the day for traditional infrastructure, and emphasis was placed by the panel on the need to ensure that tangible investment and project outcomes in an integrated environment result from the encouraging rhetoric to "Build back better" and "levelling up".
Careers advice
In the careers segment of the event, the panel took the opportunity to share what they most enjoy about their roles.
Rising to the challenging nature of the job was the most enjoyable aspect for Shah, who went on to explain how aspiring infrastructure lawyers will need to be prepared to be adaptable and learn as they go. Owen cited the "changing and varied nature" of his role, explaining how he finds motivation in "finding innovative solutions to long-standing and difficult-to-solve problems". He gave the example of the recent opening of the London Underground Northern line extension from Kennington to Nine Elms and Battersea Power Station. He said he was proud of leading a team responsible for bringing about a "levelling up" of transport infrastructure and so helping to secure the ongoing regeneration of this neglected part of London.
Owen also looked excitedly to the future, referring to the recent start of construction on Transport for London's Silvertown Tunnel, which his team had also secured consent for. He stressed the exciting visible results and tangibility that a career in infrastructure provides.
Similarly, Bessell spoke of her efforts in helping to deliver 'Tilbury2' for the Port of Tilbury in Essex — delivering, as part of an integrated client team, development consent and the client then building and opening the new RoRo facility within just a year. Helping to facilitate the trade of essential goods such as food and medicines from mainland Europe during the pandemic was described as a truly rewarding aspect of her job.
About Legal Cheek Careers posts.