Lauren Vallender discusses her route into White & Case's energy, infrastructure and project finance team, ahead of her appearance at this afternoon's virtual student event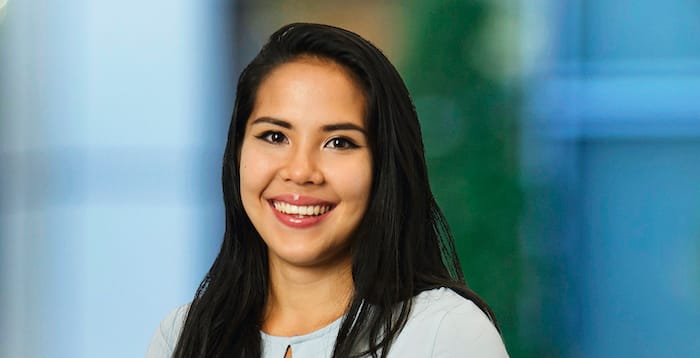 Lauren Vallender's journey with White & Case began in the penultimate year of her law degree. After securing a vacation scheme with the firm, which led to a training contract offer, one might assume that she was always certain about a career as an international commercial lawyer. This wasn't the case.
Along with the vacation scheme, she also undertook additional opportunities — including a role as a legal researcher for a production company, and an internship within an in-house legal team. When it came to selecting her path, what sealed the deal for Vallender was the ability to put into practice the international legal theory she had enjoyed studying during the second year of her undergraduate degree. From conflicts in law across different jurisdictions and the complexities in the commercial issues arising from these, international commercial law had it.
Vallender first encountered White & Case at a law fair she attended at university, and after meeting the graduate resourcing team, trainees and listening to a presentation that she "can still remember now", she was certain it was the firm for her. The presentation centred around partners, associates and trainees reflecting on a restructuring deal they had just completed. Listening to those speakers, with their genuine passion for their work and what they were doing, sold it for her. She had known that she wanted international work, and opportunities to work with both governmental entities and non-governmental organisations and that was, and continues to be, White & Case's "bread and butter", Vallender explains.
Her fondness for the firm only grew during her vacation scheme, where everyone was "incredibly warm and welcoming". Vallender learnt first-hand that diversity was not just lip service by the firm and everyone she met came from a variety of backgrounds. White & Case's celebration of difference was evident and those from different backgrounds, with different experiences, were welcomed for their differences. During her vacation scheme, she struck the delicate balance between working on her tasks but also enjoying her time and getting to know the firm. This meant her training contract interview at the end of the scheme felt more like a conversation.
During her training contract she completed seats in projects, development finance, corporate, M&A, banking as well as a secondment to a large credit fund and an overseas seat in Singapore. Eventually, Vallender qualified as an energy, infrastructure and project finance associate.
When asked why she chose to specialise in energy, infrastructure and project finance, she tells me that "specialise isn't quite the right word because it's a very broad area". It is that broad nature that drew her to it as the work entails aspects of all four of her seats. Indeed, Vallender's career highlight reflects this blend. As a first seater, she worked on a $20 billion liquified natural gas (LNG) project in Mozambique — a project which brought unprecedented legal matters to the forefront, with issues emerging from the government and large banks. Helping out with the due diligence for this project, she had the opportunity to get to know the aims and interests of the parties involved. It wasn't until she returned to the practice area as an associate that the deal was finally concluded, which she says led to a "real sense of satisfaction".
On advice for aspiring international commercial lawyers, or those aiming for training contracts in London generally, Vallender says "try and demonstrate you're interested and be interesting". Showing interest does not require a 20-page CV, filled with legal work experience. Non-legal experience is just as valuable as legal work experience and it is crucial to draw on those experiences, and show how they align to your interest. To follow in Vallender's footsteps, doing a wide range of work is useful as there is a real spectrum of clients within the energy, infrastructure and project finance team: governments, renewable energy, gas and oil companies and large banks to name a few. For students wanting to get a head start in their preparations, she recommends being up to date with current events and news. Even by reading headlines, information is assimilated (even unconsciously) and trends can be identified.
On being interesting, Vallender comments that it is important to remember that "this is potentially someone you're going to work with during tough times or late nights". Being professional matters, but personality and having interests outside of law equally matters, and aspiring lawyers need to demonstrate that they are well-rounded individuals.
Reflecting on her journey, the final piece of advice Vallender offers is:
"It's not a race. Just make sure the firm is a good fit for you, as much as you are for them. Find a firm that aligns with your values and how you want to be trained; and the way they expect you to work gets the best out of you."
Lauren Vallender will be speaking alongside other White & Case lawyers from different offices during 'The world in transition — with White & Case', a virtual student event taking place today (Thursday 28 October). You can apply for one of the final few (and free) places to attend the event.
Any views expressed in this publication are strictly those of the authors and should not be attributed in any way to White & Case LLP.
About Legal Cheek Careers posts.