'It's vital experience to bridge the gap between the academic and professional worlds,' says LPC Law's Matthew Eastman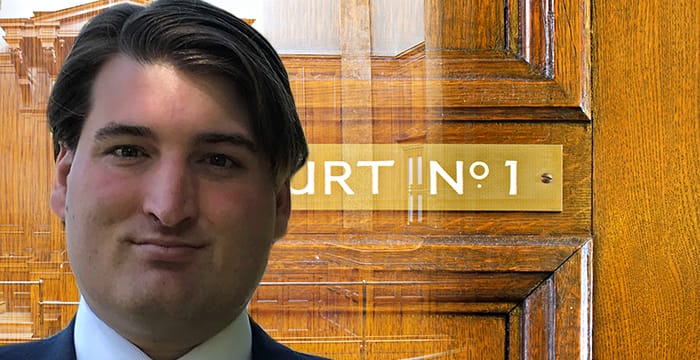 The bar can seem an almost impenetrable profession. With recent stats revealing over 14,000 applications were fired off for just 224 pupillage places, it is imperative would-be barristers secure CV-enhancing experience to ensure they stand out from the pack. Sure mini-pupillages and mooting are useful experiences to leverage in applications; but there's no denying early, hands-on courtroom exposure can bolster a pupillage application. It's why Matthew Eastman, a bar hopeful and law graduate from the University of Sussex, decided to work as a county court advocate with LPC Law.
In just five months he has taken on his own caseload: preparing bundles and formulating submissions on behalf of real clients before district judges. "I am loving every day with LPC Law: the people, the clients, the diverse range of cases I take on… it's incredible," says Eastman, who has worked in courtrooms up and down the country.
For the uninitiated, LPC Law is a specialist firm of solicitors providing a fixed fee advocacy service covering every county court in England and Wales. The firm deploys a nationwide network of advocates who receive ongoing supervision to take instruction on civil matters ranging from mortgage possessions to bankruptcies, applications for summary judgment and small claims hearings.
A large number of LPC Law's advocates are recent Bar Professional Training Course (BPTC) graduates looking to further strengthen their chances of securing pupillage. After completing his undergraduate degree, Canadian-born Eastman, who was an avid mooter during his studies and competed in national tournaments including one at the Supreme Court, enrolled onto the BPTC at City, University of London. He then undertook stints in the volunteering sector, including a role at Citizens Advice, before moving into the professional sector as a paralegal specialising in litigation at regional outfits Helix Law and then SPG Law.
The aspiring barrister's longing to be in the courtroom soon became a reality after he applied to LPC Law on the recommendation of a tutor. He joined in April this year and took to the role at once: "If there's one thing I regret it's not joining LPC Law sooner!"
The application process is split into three stages. First, candidates fill out an online application form and submit a CV. Following this and if successful, the next step is a telephone interview. The final stage is an assessment centre held at the firm's Canary Wharf offices.
Before attending their first hearing advocates undertake seminars and workshops addressing the relevant law and procedure. Advocates are then assigned an advocacy manager and supervising solicitor. Advocates are self-employed and so the work hours vary but are generally limited to court hours — 10am until 4pm. There is a constant flow of work which is assigned to advocates through an online diary system, and Eastman typically has eight cases on the go at a time. The freelance nature of the work means advocates travel to courtrooms far and wide (LPC Law reimburses expenses) and Eastman, who is currently based in Liverpool, has spent time working on the North Western and Wales Circuits. He says one of his supervisors once had to take a boat to reach court in the Isle of Wight!
Eastman firmly believes he has enhanced his skills in his short time at LPC Law, namely time-management, self-motivation and, of course, advocacy. He explains:
"Advocacy is an art; it's the craft you're trying to develop. There's no one breathing down your neck telling you what to do nor is there a one-size-fits-all approach — each advocate learns and adapts differently. But there are deadlines to be met and work needs to be achieved to a high standard within those deadlines — it's a results-based vocation and hard work and determination are helpful."
That's something Eastman credits LPC Law with helping him achieve. "Being pitted against both litigants-in-person and professional counsel has definitely sharpened my advocacy skills," he adds.
A successful advocate will also be able to build rapport with the parties to a case, he says. That extends to clients, the adjudicator as well as any other court staff, and opposition. It helps to be clued up too: "You can try to build all the rapport you want but if you're not credible that's of no use to a client!"
Eastman thoroughly recommends graduates consider working as county court advocates with LPC Law, which also boasts its own subsidiary civil set, 25 Canada Square Chambers. "It's vital experience to bridge the gap between the academic and professional worlds," he says. But it doesn't stop there: "There's the opportunity to stay on the bridge or move up with LPC Law, as many do, or move on since it's valuable experience to try to get pupillage elsewhere in any event."
For now Eastman is staying put. From appearing before High Court judges to "witnessing instances where the court panic alarm has been set off", the experience has been "absolutely amazing" so far.
LPC Law is currently seeking BPTC and LPC graduates to work as county court advocates across England and Wales.
About Legal Cheek Careers posts.