ULaw Nottingham campus dean and former real estate partner Andy Matthews shares insights from his time in practice ahead of the 'Secrets to Success' event on Thursday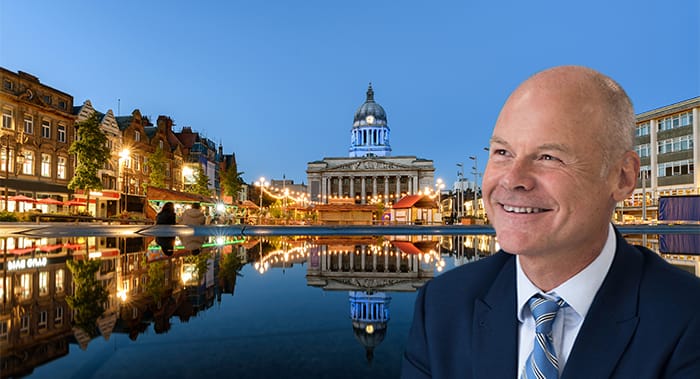 This September The University of Law (ULaw) opens its doors to a 150-strong cohort of law students at its new Nottingham campus — its ninth in the country. The building, conveniently located in the city centre at One Royal Standard Place and in close proximity to a plethora of law firms, is fully equipped, the vast majority of students have been recruited and the staff (there's 20 in total) have all been appointed.
Andy Matthews, dean at ULaw Nottingham, is two months in to his position and is putting the final plans in place. The former lawyer and formidable player in the East Midlands market having lived and practised there for the most part of his career, has been busy building connections between the campus (which alongside ULaw's centres in Leeds and London Moorgate, have been termed 'legal tech hubs') and local law firms. "It was an opportunity that struck me as an incredibly worthwhile challenge — to take my knowledge of the local legal market and help power-up the next generation of lawyers in the region," he says.
It's a market which Matthews has seen thrive over the years. "The firms have upscaled and are hugely better run. The skillset and specialities of lawyers are also different to what they used to be. We have a good number of law firms producing quality work," he says. "It's not quite magic circle but the work is comparable to London." After all, firms such as Browne Jacobson, Freeths, Gateley and Shoosmiths — all of whom will be represented on the panel at Thursday's 'Secrets to Success' event in Nottingham — have "a significant London presence". It's not a trade-off, as some might think, between quality of work and work/life balance in London and the regions, notes Matthews. "We need to encourage this mindset more and with the opening of our new Nottingham campus, that is exactly our intention," he adds.
Before he joined ULaw Matthews had an extensive practice in real estate law. What the former Gateley partner enjoyed most was seeing the "real, tangible results" of his commercial property dealings. "I could be involved in the sale and purchase of land and then months later see a housing complex built there," he explains.
Matthews joined Gateley's Nottingham office in spring 2008 — that was the "pits of the recession" — he reflects. Back then he was one of only two lawyers in the team. The challenge then was to build and establish a new real estate unit for the firm in Nottingham against the backdrop of what was considered to be a particularly trying time. So they did. By the time Matthews left this year the team of two had grown sevenfold — to 14.
Matthews treasures the time he spent there. As a non-contentious transactional lawyer he primarily dealt with investment acquisitions, acted for banks and undertook landlord and tenant work. He also advised clients on commercial and residential developments and recalls seeing "nothing more satisfying than the lifecycle of a development: when a client's land is purchased, built upon, let or sold". His working day would vary but often involved meeting with clients, conducting due diligence, attending site inspections or negotiating sales. Alongside fee-earning Matthews was also managing partner at Gateley, first in its Nottingham branch and later in Leicester.
Budding solicitors hoping to qualify in real estate law should demonstrate drive, initiative and do their research, says Matthews. He explains: "It's impressive when a trainee has researched beforehand the client they'll be working for — it's not always down to your supervisor to tell you." This extends further: "A young lawyer coming in should take the time to get to know the parties to a transaction. It's not a job you can do in isolation — you'll be liaising with clients, bankers, agents, architects and more," he says.
Matthews, who was involved in trainee recruitment at Gateley, goes on to stress that there are some students who are fixed on qualifying in a particular area of law (which is fine) but in some cases it's important not to pigeonhole yourself too early. At first, you'll have to decide what type of lawyer you want to be: whether that's conducting big-ticket transactions in the City at a large commercial outfit or running legal aid work at a high street practice. Both are worthy ways to go but are very different to each other. This decision will ultimately determine where you apply for training contracts, he says. Then, if like Matthews you're commercial-oriented, he advises keeping an "open mind" and fully immersing yourself in the various seats of your training contract.
Matthews admits that when he started his training contract, he didn't know he'd wind up in real estate: "The property world though had always interested me. I enjoyed reading about how towns and cities change but for my career, I wasn't 100% certain." But the rest is history, and Matthews says he enjoyed a "rewarding and fulfilling" career in law since.
Andy Matthews will be speaking alongside lawyers from Browne Jacobson, Freeths, Gateley and Shoosmiths at Thursday's 'Secrets to Success' event, held at The University of Law's new Nottingham tech hub campus. You can apply to attend the event, which is free, now.
About Legal Cheek Careers posts.