Legal Cheek Careers catches up with BARBRI winner and trainee solicitor Nitesh Rewatkar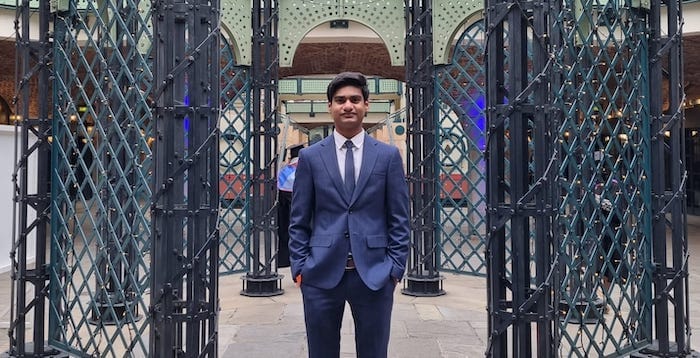 Costs for qualifying as a solicitor have long been a barrier to entry in the profession. And while the introduction of the Solicitors Qualifying Exam (SQE) looks to address this, BARBRI was keen to do more and launched a comprehensive scholarship programme to help students realise their lawyer dreams.
Ahead of tomorrow's virtual student event in partnership with BARBRI, Legal Cheek Careers spoke with one of the recipients of the legal education giant's SQE1 scholarships. Nitesh Rewatkar not only explains how the scholarship has helped him on his journey to qualifying as a solicitor, but also offers up his top tips for those seeking to secure one for themselves.
A Queen Mary law graduate and a current trainee solicitor, Rewatkar secured his BARBRI scholarship in 2022. Having already qualified as a lawyer in India, he tells me that his experience of working in the UK "has been nothing short of exciting". The "immense exposure available in the UK legal market" is what drives him towards pursuing his dream of dual qualification.
With his eye set towards a UK qualification, Rewatkar applied for a BARBRI scholarship. Amidst many wonderful submissions, he impressed the judges with his essay on what firms of the future will look like. Speaking with Legal Cheek at the time, he'd explained that his essay addressed how law firms of tomorrow will need to adopt "an integrated and innovative approach" to legal services in order to keep up with the changing business landscape. Adapting businesses with changing client demands would also "create unique opportunities for the young lawyers of today," he added.
When we speak, Rewatkar reveals that he is now over an year into his training contract with London law firm Ackroyd Legal. Happy with how his training has gone thus far, he tells us: "I am excited about trying out new seats in my firm in order to broaden my experience in the legal market and hopefully qualify as a solicitor soon."
The rookie solicitor also expressed his gratitude to BARBRI for the £3,000 scholarship, which has enabled him to pursue his dream of qualifying as a solicitor in the UK. "The scholarship has been immensely helpful in preparing for SQE1, which I will be taking in January 2024," Rewatkar explains. As well as easing the financial pressure of qualifying, the scholarship has also enabled Rewatkar to demonstrate his commitment to qualifying as a UK solicitor to his current employers.
Rewatkar also touches on the pressures of studying the SQE while working full-time. The flexibility offered by the SQE means candidates can simultaneously work towards their mandatory two-year qualifying work experience (QWE) while preparing for their exams. "The SQE prep seems very typical of work in the legal field — challenging and intense but rewarding nonetheless!" says Rewatkar. "While it has been slightly daunting trying to juggle it all, I think my full time role does really help me approach the prep in a very practical way. I'm hoping good time management skills will ultimately pay off."
Now in its third year, the BARBRI SQE1 scholarship requires students to submit a 1,000 word essay around a legal topic or issue. Competition for this year is already open and sees student share their thoughts on the impact of artificial intelligence (AI) on the legal profession – a top talking point given the rise of ChatGPT! The successful candidates will be awarded with a full discount on their BARBRI SQE1 preparation course fees for either of the January or July 2024 sittings.
Sharing his advice to potential scholarship applicants, Rewatkar stresses the importance of thinking outside the box when it comes to answer the question. "The scholarship is a brilliant opportunity for all aspiring solicitors and my advice would be to research the topic thoroughly — from lots of angles — and apply your commercial awareness."
Robert Dudley, head of employability & engagement at BARBRI, will be speaking at 'New ways to qualify as a solicitor — with speakers from Linklaters, ITV and BARBRI', a virtual student event taking place on Wednesday 5 July. You can apply to attend the event, which is free, now.
About Legal Cheek Careers posts.