The University of Law's National Programme Director for Apprenticeships, Ceri Evans, discusses the benefits of the training contract alternative, ahead of her appearance at LegalEdCon North later this month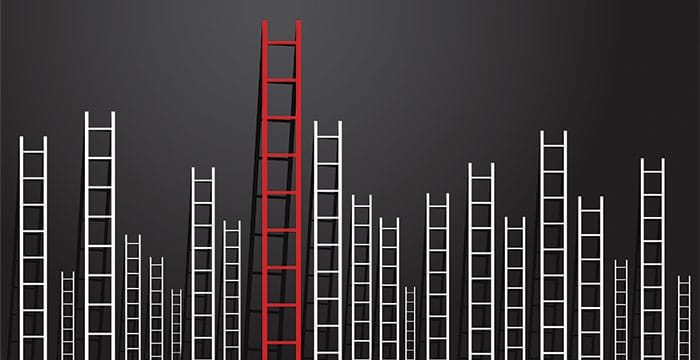 It takes five years and seven months to become a solicitor via the solicitor apprenticeship route. The solicitor apprenticeship compares favourably to the traditional approach of law degree, Legal Practice Course (LPC) and training contract. However, there are pros and cons to both routes, as Ceri Evans, national programme director, apprenticeships, at The University of Law (ULaw), explains.
The first tranche of apprentice solicitors — apparently, they must always be referred to as apprentice solicitors and never the other way round, as solicitor apprentices, under strict orders from the Solicitors Regulation Authority, because that could potentially mislead the public about their legal prowess — began their training in 2016. They will finish in May 2022.

The first obvious difference between the solicitor apprenticeship and studying towards a degree at a university is the lack or otherwise of a degree. At ULaw their Solicitor Apprenticeship Programme incorporates a degree and all apprentices will complete the necessary ULaw assessments to be awarded an LLB (Hons) in legal practice and skills. Evans believes this is important as, "anyone without a degree in the solicitor job market would stand out, it would look odd".
Money is another consideration, with university students racking up horrendous debts for fees and living expenses while apprentices earn while they learn. The LPC costs, on average, about £12,000. Apprentices, on the other hand, can start earning straight after A-Levels. The pay varies. ULaw works with 140 firms across England, a mix of high street firms and commercial firms. Evans thinks most apprentices are earning £15,000 upwards but says she doesn't know exactly because her role only requires her to check firms are paying at least the basic apprentice wage in year one and a basic living wage in year two and onwards.
She also points out that many LPC graduates spend a year as a paralegal or in temporary work before they begin their training contract whereas the apprentice is likely to be kept on by their firm after completion of their apprenticeship. In real terms, therefore, an apprenticeship is a faster and cheaper way to qualify.
On the other hand, Evans emphasises that an apprenticeship isn't everyone's cup of tea. "They've got to step up and study whilst also working at the same time, the balance of work and study is difficult and they can expect to be stressed, especially in the first year or so," she says. "They may have friends at university who are having lovely, long summer breaks to go travelling, so they have to be quite mature and also certain that they want to do this. It's not like Suits."
When devising the apprenticeship programme, ULaw aimed to make it as accessible as possible so that anyone, anywhere in England could take part. It would be too expensive and time-consuming for apprentices to travel to campus every week. Consequently, the knowledge part of the training is taught using a mix of online materials and webinars. This means the programme is available to all, no matter where they are.
"Currently, the geographically farthest apprentice studying with ULaw is in Morpeth and the farthest west is in Cornwall," explains Evans. "Apprentices deliver a piece of work each week based on their online learning materials which is marked by a tutor and they can speak by Skype or phone. The skills and behaviour element of the course is taught face-to-face at summer schools held on campus and also online. We teach core skills such as drafting and negotiation, as well as putting a massive focus on soft skills like dealing with clients and time-management, we also spend some time teaching study techniques."
In terms of ability, Evans believes the skillsets of apprentices "far outweigh any LLB or vocationally trained student who has only attended university. We are training them to be day one solicitors not day one trainees, and the level of detail that they take on is amazing", she says.
Feedback from those on the apprenticeship programme has been good so far, says Evans. Firms also see it as "an attractive option". She explains: "High street firms and smaller commercial firms in particular have previously had to choose from graduates who completed their traineeship at a different firm whereas, with this scheme, they can choose their intake and mould them from the beginning. There is a wide geographical spread among our apprentices because of the way we've designed the course, and also a lot of diversity. We are delivering the programme to apprentices who would never have gone to university so never have become solicitors."
Evans, who is a speaker at LegalEdCon North in Manchester on 30 January, was a corporate solicitor before joining ULaw in 2003, and worked at Eversheds Sutherland, DLA Piper and Hammond Suddards. In August 2020, ULaw will be adding to its repertoire with a three-year apprenticeship for graduates and a two-and-a-half-year apprenticeship for law graduates.
Ceri Evans, ULaw's national programme director for apprenticeships, will be speaking at LegalEdCon North in Manchester on 30 January 2020. Final release tickets for the Conference can be purchased here.
About Legal Cheek Careers posts.