Ahead of tonight's 'Secrets to Success' careers event in Nottingham, Irwin Mitchell partner Emma Rush discusses communication skills and client empathy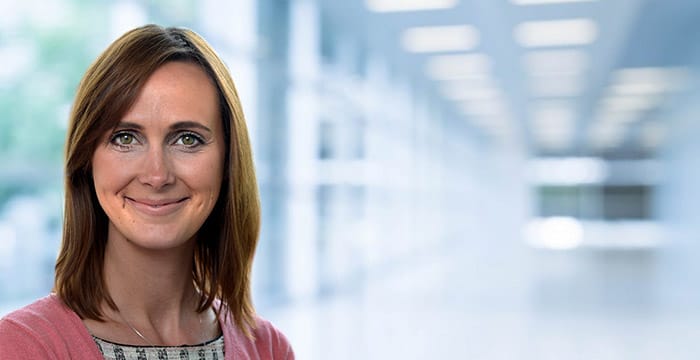 One of the things clinical negligence lawyer Emma Rush, partner at Irwin Mitchell, likes most about her job is being able to see immediately the difference that her legal efforts have made to her client's life. She specialises in obstetric injury cases — severe injuries sustained by children at birth — acting for claimants who may be struggling with extremely difficult circumstances.
"When successful, you can see how the damages have bought your client a single storey bungalow, private therapy, hydrotherapy, rehabilitation, all the things that give them quality of life," says Rush. "You tend to build a strong relationship and rapport with clients." There is also huge variety among the cases the firm takes on, spanning the entire medical profession from cosmetic surgery to dentistry, and "you never have the same issues twice". She also finds medicine fascinating, and has "become a pseudo doctor!"
Applicants to the firm should be able to show commercial awareness. The main issues affecting clinical negligence are fixed recoverable costs, funding and legal aid cuts, the Jackson reforms, redress schemes — for example, the maximum available under the redress scheme in Wales is £25,000, but if that were increased it would have a commercial impact for lawyers — and LASPO — the 2012 act of parliament which came into force in April 2013, removing legal aid from large areas of civil law and ushering in some of the civil justice reforms recommended by Lord Justice Jackson's civil costs review (usually known as "the Jackson reforms").
Fixed recoverable costs, which set the amount of legal costs the winning side can claim back from the losing party, may be a challenge for clinical negligence and personal injury lawyers. They currently apply to low-value personal injury cases of up to £25,000, but the Jackson reforms initially recommended introducing them for clinical negligence cases worth up to £250,000. The difficulty is that clinical negligence cases are often extremely complex and expensive to run due to the amount of investigation, research and expert witness input involved. Therefore, if a firm was restricted to £250,000 damages per case then it might no longer be financially viable for it to do that work, denying claimants access to justice. However, the situation is uncertain and fixed recoverable costs may not come in for clinical negligence at all.
Applicants may also want to show an awareness of other firms that do clinical negligence work — the market is quite specialised. "What really stands out among applicants is the research into the individual firm and practice. Commercial awareness is common sense really, it's about understanding the business of a firm," says Rush. "For example, they should understand the need for cross-referrals of clients between different departments in a firm, where the client needs different assistance at different times." The applicant should therefore research both streams of work at Irwin Mitchell — the firm divides its practice areas into two streams, personal and business. They can then build their knowledge of commercial awareness issues into their answers at interview.
Rush, who works from the firm's Birmingham office, usually has 60 cases on the go at any one time, and her colleagues have similar workloads, depending of course on level of experience and understanding of medical issues. Resources are pooled. There are around 50 case handlers, including lawyers and paralegals, divided into five separate teams within the department, each headed by a partner.
The firm currently has 12 first year trainees in clinical negligence which is a core seat of the personal legal services route. It is, however, quite difficult to get specific clinical negligence experience ahead of traineeship, although Irwin Mitchell offers a formal vacation scheme. Otherwise, applicants can demonstrate their interest in this area by showing a knowledge of recent, groundbreaking cases. There have been several in the past few years, with some currently pending at the Supreme Court.
Finally, what characteristics make a good medical negligence lawyer? "It is imperative to me that a person has organisational skills," says Rush. "You have to be reactive to clients, defendants and experts, and you will need to be able to think on your feet as you will be working on a lot of cases at one time. There may be court deadlines to observe.
"Second, communication is key because you have to deal with a lot of different people. You may have to break down the legal jargon in a particular paragraph to explain it to your client, but you will communicate that same paragraph in a very different way when speaking to counsel or to the expert. It's not only how you draft things, but also how you keep other case handlers up to date.
"Third, it's important to have empathy with the client. Often, they come to us in the most awful situation, for many people it is the worst time of their life. They need to be listened to, and with compassion. It's not about counselling them but you do need to have empathy, so empathy is the third key skill."
Emma Rush will be speaking alongside lawyers from Eversheds Sutherland and Pinsent Masons, as well as a legal education expert from The University of Law at tonight's 'Secrets to Success' event in Nottingham. You can apply to attend the event, which is free, now.