Ahead of Tuesday's student event in Manchester , Irwin Mitchell corporate partner Victoria Zivkovic explains why commercial awareness means going beyond the textbooks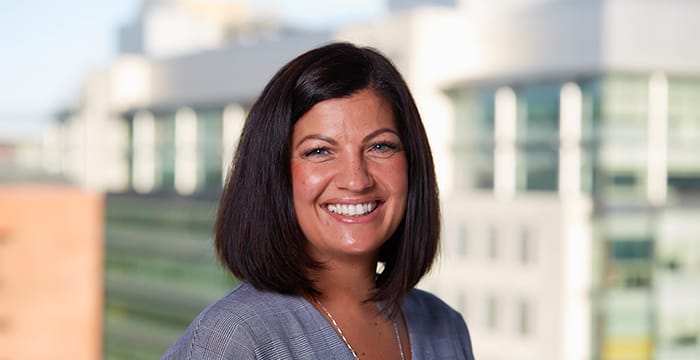 As any lawyer will tell you, commercial awareness is almost as important as the law itself. After all, providing legal advice is much more than simply reciting black letter law. "It's important to understand how the law aligns with clients' business, while understanding the client's needs, their commercial objectives, and the sector that they exist in," explains Victoria Zivkovic, a corporate partner in Irwin Mitchell's Manchester office.
There will be times, too, where a client's commercial objectives clash with a lawyer's typically risk-averse approach. Vicky recalls advising a German-headquartered business seeking to consolidate their UK arm after being impacted by fluctuating exchange rates caused by Brexit. Despite Vicky's team exploring a potential partial-buyout option, which would have avoided mass-redundancy measures but continued operations at a loss, the client opted to consolidate instead. "Sometimes clients need to do things which don't necessarily align with the legal advice you've given them. It's then about finding a solution to bridge that gap," she explains.
Building commercial awareness can be as easy as broadening your reading beyond set textbooks and statues. Successful lawyers are those who keep up with market trends, always having their client's interests in mind. Business savvy is more than just reading business news, however, and often comes with the experience of advising clients. "Lawyers must learn as much as possible from clients and their industry — you can't waste that opportunity," Vicky advises.
Sharp business acumen is particularly important for Vicky, whose corporate practice includes private equity and general M&A. "I don't have a particular type of work or transaction that I like doing more than others. Having such a broad spectrum — a real mixed bag — overall makes me a better advisor because I'm seeing things from all sides," she says.
For the most part, Vicky's practice has been unaffected by shifting global geo-political tensions and Brexit uncertainty — hot topics for transactional lawyers. With a corporate client base composed mainly of UK-based small and medium-sized businesses (SMEs), Vicky explains that Irwin Mitchell's M&A work has been insulated by international trade tensions. Even an imminent downturn would continue to provide unique opportunities for cash-rich private equity firms and venture capitalists, looking to invest, she adds.
Lawyers should also be aware of their firm's commercial interests, particularly where potential new business is concerned. This remains key for Vicky who has spent nearly two years building up Irwin Mitchell's Manchester corporate practice from scratch. "At the very start, we had a clean piece of paper with limited clients and no work on it," she recalls.
Vicky's client roster now includes a mix of local and Northern SMEs and institutions, who continue to offer up "high quality deals". The University of Leicester law graduate's most memorable case was a recent "complex, high value transaction" with a national client, that Irwin Mitchell won over competing regional firms. "It was great that as a new team in Manchester we won, delivered and received good feedback from this prestigious piece of work," she recalls.
Reflecting on the past two years, Vicky believes that her success can be attributed to her resilience. "It takes resilience to go through the peaks and troughs of building a business. When you start with nothing, you're bound to get a lot of knock-backs. But you've got a budget to deliver, so you just have to keep going," says Vicky.
How you go about building business can depend on the type of firm you're at. Vicky, who was previously a senior manager at PwC Legal's corporate team in Manchester, found the nuances of business and development (B&D) different at the Big Four player. "At PwC, I found it was difficult to go and find work externally. Work was generally sourced internally, often coming from existing clients. But you couldn't approach contacts in neighbouring accountancy firms and win work, because everyone sees you as a competitor," she explains.
This meant that fee earners struggling to source new work externally, for example, could face quieter periods. "If you came from a traditional legal practice where someone is delivering seven chargeable hours a day, it may come as a shock. Having not enough work can be as frustrating as being too busy."
Still, Vicky describes PwC Legal as being a "great experience and needed change", having previously worked for a mix of small and medium sized firms, including Pinsent Masons, Heatons (now Fieldfisher) and Cobbetts (later bought by DWF). It also offered exposure to varied international restructuring projects.
For Vicky, being able to move around during her 19 years of practice has helped shape what she wants from a law firm. "I think it's good to have longevity at one firm. But at the same time, I don't think that it's negative to move around in today's world. If anything, it's made me very agile — you have to fit in and be able to mould yourself to different cultures, practices and clients," she explains.
Victoria Zivkovic will be speaking alongside lawyers and legal education experts from Linklaters, Hill Dickinson, Pinsent Masons and BARBRI at Tuesday's 'Commercial Awareness Question Time' event in Manchester. You can apply to attend the event, which is free, now.