Deji Adegoke, senior associate at White & Case, explains how green spending and infrastructure investment will drive recovery from the COVID crisis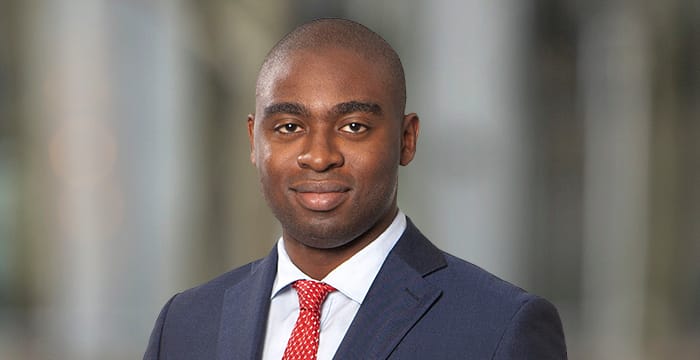 Increased public spending on technology, infrastructure projects and green energy plays a central role in the UK government's plan to drive economic recovery from the COVID-19 crisis.
"The view is that investment into these areas will not just stimulate demand but will also result in the creation of high-quality jobs and a fit-for-purpose economy for the next generation," explains Deji Adegoke, a senior associate based in White & Case's project development and finance team in London.
Just look at the government's economic recovery policy package, 'Build Back Greener', which intends to create jobs, slash carbon emissions and boost exports. As well as sparking a so-called green recovery, the initiative could make radical moves in tackling climate change and achieving the UK's goal in cutting carbon emissions to net zero by 2050.
It's no surprise then that Adegoke has already seen increasing activity among clients in renewable energy project financing. "There's a recognition that it's a really core area for growth over the next five to ten years," he says. Falling solar energy prices due to cheaper and more efficient solar panel technology, for example, has driven many to seek financing, and therefore legal advice, for new projects.
Adegoke's regularly advises lenders, sponsors and borrowers in project finance transactions. He cited White & Case's work with export credit agencies (including UK Export Finance, the government body which provides insurance and funding for UK exporters and international projects). In the context of such transactions, Adegoke's job is to assess whether the proposed project is actually viable or whether it's too financially risky. Then, as you'd expect with a transactional lawyer, there's the preparation of extensive due diligence reports, alongside the drafting of loan security agreements and other complex legal documents.
Having spent seven years so far with White & Case, Adegoke has already seen the huge impact that investment into infrastructure, a typically counter-cyclical sector, can have on an economy.
In 2017, the firm advised on the development and $2.3 billion financing of the Nacala Corridor Railway and Port Project, a cross-jurisdictional infrastructure project along the regional corridor shared by Mozambique and Malawi. Adegoke dedicated four years to the mega-deal, while some partners spent six or seven. "It really was a transformational transaction," he says.
The landmark project created railways, highways, ports and airports, which allowed coal to be transported between the two African countries — offering an opportunity for economic growth, while improving governmental relations. The project also came with important socio-economic benefits. Alongside the freight service, the railway also created new passenger lines between Mozambique and Malawi. The project exemplifies why Adegoke describes himself as "passionate about project finance". He says: "You are uniquely able to work on transactions that have a tangible impact on the lives of people."
During the deal, Adegoke frequently travelled between Mozambique and Malawi, as well as Japan and Brazil where the project sponsors were based. Doing so reinforced a lesson critical to any aspiring international lawyer: human relationships cannot be understated.
"During the structuring and deal execution process, you spend a long time negotiating and developing relationships with lenders, sponsors and with the lawyers on the other side," explains Adegoke. "So, understanding the different cultures of your clients and other participants is really important and goes a long way to smooth the negotiation process."
As such, lawyers, as facilitators of transactions, must strive to create a "pleasant working environment", says Adegoke. "You must recognise that you're all professionals there to do a job — it makes life a lot easier to behave in a sensible manner," he adds. Such focus and discipline, however, isn't simply a flickable switch that emerges later on in life. It takes practice right from the outset of your legal career, stresses Adegoke, who studied law at Warwick University before training at a magic circle law firm.
Adegoke describes the close relationships he built over the four years as "integral to executing the transaction". Not least because of the fact that building an integrated corridor requires clear dialogue between two countries. If a contractual issue occurred in Malawi, it's going to impact Mozambique, and vice versa, he says.
Communication has never been more important during the remote working revolution ignited by the global pandemic. Fortunately, for White & Case, which boasts 44 offices in 30 countries, strong communication and collaboration across different time zones and jurisdictions was already central to their business model. And although remote working during the crisis often lacks the "same smoothness and fluidity" of in-person negotiations, Adegoke believes it's forcing lawyers to communicate differently while learning to function without international travel.
With the world bracing for what appears to be a second wave of COVID-19, Adegoke believes that, despite the challenges ahead, the economy is more resilient compared to earlier this year. Looking ahead to 2021, Adegoke expects that the firm will maintain such momentum, or even go further, as new deals come online and deals paused at the height of the pandemic come alive again.
Deji Adegoke will be speaking alongside other White & Case lawyers at 'The future of the global economy', a virtual student event taking place tomorrow, on Tuesday 3 November. You can apply to attend the event, which is free, now.
About Legal Cheek Careers posts.