Osborne Clarke lawyers discuss how digitalisation, decarbonisation and urban dynamics are spearheading the shift towards sustainable business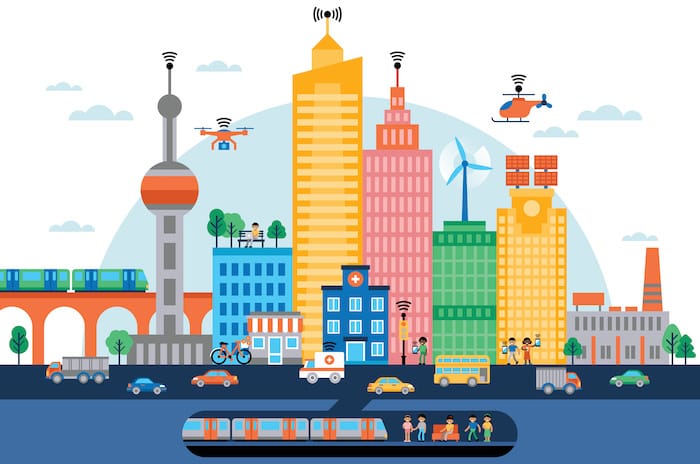 At Legal Cheek's latest virtual event, 'Mega trends: How digitalisation, decarbonisation and urban dynamics are driving legal business', associate directors from the corporate and real estate teams at Osborne Clarke came together to discuss the future of sustainable legal practice, and how the firm is flying the flag for green energy.
---
The speakers
• Alex Underwood, associate director in the corporate team specialising in M&A in energy and infrastructure, London
• Pippa Byrne, associate director in the corporate team specialising in private equity, London
• Jonathan Mills, associate director in the real estate department, London (recently returned from secondment in New York)
---
Digitalisation
Digitalisation is transforming the way the energy sector is operating. Alex Underwood, co-founder of Osborne Clarke's energy, innovation and technology subsector, explained some of the changes the firm has witnessed here over the last 30 years. "Osborne Clarke has had a strong ethos for green energy since renewables took off in the 1990s as a result of the government subsidies available at the time," he said. With the energy market becoming less vertically integrated and with the introduction of aggregators and technology disrupters, the firm saw this as an opportunity to be at the forefront of the scene, developing its own specialised subsector within energy and innovation.
Jonathan Mills, associate director within Osborne Clarke's real estate practice, also noted the impact. Despite real estate historically being known for its antiquated practices, the rate of digitalisation which the sector has seen since the pandemic has been eye-watering. Given the knock-on effects of the UK-wide lockdown and government restrictions on indoor mixing, the likes of paperless leases and virtual house tours are increasingly becoming the norm. Moreover, some of Osborne Clarke's clients are also looking to take advantage of digitalisation within the management investment space, akin to Amazon delivery models. Speaking to the virtual audience, Mills explained how "the pandemic has really forced the hand here — we are doing things which would have been completely unheard of for the real estate sector five years ago".
Decarbonisation
With the oil and gas industry alone accounting for 40% of all greenhouse gases, oil and gas companies need to reduce their emissions by 90% in order to meet our 2050 net zero targets. However, as Underwood explained, everything we need to meet these targets is already in place. "There are a wealth of options out there: developing renewable energy sites to offset emissions, improving energy efficiencies, the decarbonisation of transport, using recyclable materials and hydrogen alternatives," he said.
Oil and gas companies are also seeking to better understand how they can decrease their carbon footprint through embarking on M&A deals to draw on expertise within these new sustainable technologies. However, beyond facilitating these deals, Underwood also emphasised the crucial role lawyers play in connecting people here, adding: "It is crucial that we as lawyers are introducing our clients to the right people so they can begin to understand what their sustainable business strategy might look like going forward."
When asked for his thoughts on the role of digitalisation in accelerating the rate of decarbonation, Mills said: "I don't think it is necessarily the pandemic which is driving how carbon-conscious law firms are right now; this is something which has been industry-wide for a while." Osborne Clarke has been a paperless firm for a number of years, having significantly cut their carbon footprint as a result of such. However, being carbon-conscious extends far beyond going paperless. As Byrne added:
"Ultimately, meeting environmental, social and governance (ESG) concerns is a two-way street — law firms need to be looking for providers and partners which are socially responsible."
Urban dynamics
Osborne Clarke has a dedicated 'smart cities' practice that sits within the firm's four-part urban dynamics group (alongside 'future of work', 'future of living' and 'urban mobility'). One of the major changes which Underwood notes since its launch in 2014, has been in seeking to transform wasteful energy into a resource, as part of the wider 'circular economy'. This enables us all to rethink what we consider to be "wasteful", in order to ask ourselves whether this is something which can be spun into something resourceful going forward.
The future of cities is also set to shift, with plans for the City of London to 'reinvent' itself post-COVID as a melting pot for tech hubs and affordable workplaces. In turn, it is vital that the City is able to provide an attractive space for digital nomads and tech experts, whose work is often freelance and low paid. Mills explained:
"London will always be an attractive place for young talent, but in order to reinvent and incentivise new talent to the city, we are reliant on generous policies and government schemes being in place."
Finally, when it comes to funding these urban dynamic projects, investment and regulatory certainty are two sides of the same coin, according to Byrne. "Cash input is always closely tied to the associated risks of the project at hand and investors are always seeking to future-proof their products to mitigate predicted risk," she said. This has been a notable hurdle in the development of driverless cars for example, where the assurances needed for sizeable investment are being held back due to concerns around how autonomous vehicles will fit into the UK insurance framework. "There is a lot of 'dry powder' [money to invest] at the moment — until we get the necessary assurances here, investors will remain hesitant to fund the projects," Mills added.
About Legal Cheek Careers posts.