Lawyers from across the region share their insights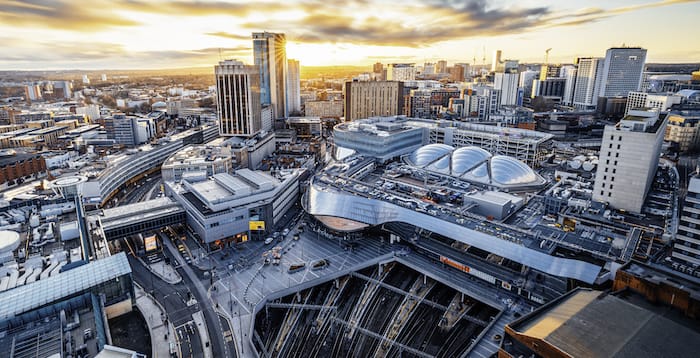 At the Midlands edition of The University of Law (ULaw) and Legal Cheek's Secrets to Success virtual events series, a panel of lawyers from Gowling WLG, Hogan Lovells and Pinsent Masons shared their experiences of working in the region, the changes they have witnessed and the opportunities for growth. They also provided careers advice for aspiring lawyers.
On the panel were: Samantha Holland, partner, litigation, Gowling WLG; Paula Inglis, senior associate, real estate finance, Hogan Lovells; Nicole Livesey, corporate partner and head of diversified industrial, Pinsent Masons; and Helen Avis, programme and student lead, ULaw Nottingham.
The panel spoke in positive terms of what they saw is a strong legal market in the Midlands, thanks in part to the uptick in investment and infrastructure development across the region in recent years. This has produced a rise in international legal work and more substantial pieces of litigation, Samantha Holland explained. She added that firms are increasingly looking to transfer work to areas outside of London in order to find value for money, with regional offices beyond the confines of the capital offering delivery at a lower cost base. Paula Inglis highlighted that this was demonstrated by Hogan Lovells opening its office in Birmingham in 2015 and, a number of its clients have since followed this trend.
Describing the investment seen in Birmingham over the last twenty years as "phenomenal", Nicole Livesey told the virtual audience of over 250 students that the city is unrecognisable from her university days. New investment has brought new business to the area, epitomised by the recent arrival of BT and HSBC headquarters, joining KPMG and Barclays in establishing offices there, solidifying grounds for believing in a renaissance of the region as a strategic and commercial hub.
Further, there was broad agreement on the panel that HS2, a state-of-the-art, high-speed trainline between London and Birmingham, is a positive initiative towards increasing investment and opportunities for lawyers seeking to work in the Midlands. As professionals who may be required in London at short notice, the panel considered it a positive that journey times from London to Birmingham and vice versa will be shortened to just 40 minutes.
With such a wealth of experience on show across the professional and academic spheres, it came as no surprise that the panel had much to offer regarding careers advice.
Unsurprisingly, the panel cited commercial awareness as a crucial component of an aspiring lawyer's path into practice. "You have to understand your client, their business and the overall sector", Holland explained, adding: "Look out for wider industry groups working within the business community such as the Birmingham Chamber of Commerce, for example." Inglis was able to elaborate, drawing on her own experience as a student doing part-time work in Sainsburys where she searched for opportunities to share dialogue with senior management in order to get to grips with how the business functioned at the upper level.
A brilliant start to our Autumn 2020 'Secrets to Success' series, in partnership with @UniversityofLaw, yesterday evening, kicking off with 'Secrets to Success Midlands' – featuring @GowlingTrainees , @HLGraduatesUK , @PMgrads , and @UniversityofLaw. pic.twitter.com/PC32bYwjNk

— Legal Cheek (@legalcheek) October 30, 2020
For training contract hunters, the panel emphasised the increasing importance of the 'O-shaped lawyer' profile — a strong legal mind coupled with excellent interpersonal skills. So, how can a candidate demonstrate their O-shaped credentials? "It depends on what you are passionate about," Livesey said. "The interviews for me that standout are ones where someone talks about something mundane but brings that personal and commercial element to it. Or maybe they can explain how they have helped change the processes at somewhere they've worked to improve standards."
From empathy to communication, aspiring lawyers wanting to stand out from the crowd should strengthen their practical soft skills, says The University of Law programme and student lead Helen Avis. 'Technical legal knowledge is assumed; you need to stand out in terms of your overall offer' #LCCareers

Posted by Legal Cheek on Friday, 12 February 2021
Clearly, demonstrating the transferability of skills garnered in the workplace from a commercial, and interpersonal aspect, is high on the law firm recruitment agenda. "Go beyond just saying what your experience is," Helen Avis said. She continued:
"Students have a tendency to focus on technical legal knowledge. Try to take that step of explaining how you have developed from your experience. Did you do bar work? Did you deal with unruly customers? Think about the skills you have developed from those life experiences."
There are opportunities abound for those with a genuine interest in taking up legal roles in the Midlands. This was spelled out by Inglis, who reviews applications and conducts interviews for training contract applicants in Hogan Lovells' Birmingham office. She suggested applicants emphasise what makes them stand out and to make clear their reasons for wanting to work in the region. "For us, the key is to know what draws you to the Midlands — make it clear in your application or tell us."
The consensus here was of a highly satisfactory work-life balance in a region set to rebound from the pandemic in strong fashion, with investment and infrastructure development in the area continuing.
About Legal Cheek Careers posts.