Chris Howard, senior tutor at The University of Law and former City lawyer, on what London and the South East has to offer students, ahead of his appearance at this week's virtual event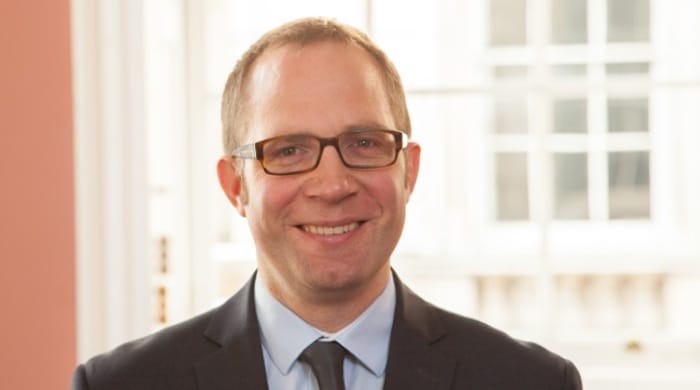 When Chris Howard left the advertising industry to pursue a career as a solicitor, he studied the Graduate Diploma in Law (GDL) at The College of Law, as it was then. Having taken on the role of senior tutor at The University of Law's (ULaw) Guildford and Reading campuses last September, Chris has come full circle.
Shortly before commencing the law conversion course, Chris attained a training contract at mid-sized City firm Trowers & Hamlins. Keen on the broad mix of areas involved, and the opportunity to see his work realised in tangible form, Chris qualified into the firm's highly-regarded Projects and Construction team. In the following years as a Construction practitioner, he was involved in the development of trainees and realised that much of his interests lie in the law underpinning his work. Accordingly, Chris made the move into legal education, where he has remained in various capacities for 16 years, teaching in a host of different areas. "What I like about teaching is very similar to what I enjoyed about Construction practice, in that it is very varied and you can move around and teach different things," he tells me when we speak.
Chris saw the opportunity to return to ULaw in a teaching capacity as an extremely exciting prospect, in two respects. "In terms of teaching, I was impressed about how ULaw is expanding its offering into Business and looking at all of the different components that feed into law in practice," he says. "I was also interested in working outside of London, and wanted to explore more of the South East, working at the Guildford and Reading campuses." Chris now teaches a Law & Business module on the Legal Practice Course (LPC) and is also involved in ULaw's Tech Research Academy (ULTRA). He views Legal Technology as an area of increasing personal interest, and one which he feels all students should be seeking to gain a working knowledge of.
With Covid-induced national restrictions being lifted, Chris notes the recent buzz on campus, and an energy being restored to the classroom. That being said, some of ULaw's teaching and assessments continue to be delivered online where most effective. "We have, of course, developed our Online Campus as well, purely devoted to online learning, so we have really adapted to the new world and have offerings in all areas," adds Chris.
Having spent 20 years of his career practising and teaching in London, Chris tells me that, more than ever, London as a global financial centre creates a huge range of opportunity for students. "If you're interested in Corporate Law or Commercial Law more generally, then I think London is still the preeminent focal point in the UK. I have always seen London as a place where there is vast opportunity, and the arrival of US firms in the last 20 years has expanded the range of possibilities for students." Chris also highlights the benefits of being in close proximity to legal London; Chris is himself the co-chair of The Academic and Professional Development Committee of the International Bar Association based in London, an example of a high-level infrastructure located in the City.
Of course, having recently moved to work out of London, Chris similarly recognises the opportunities in the South East region, in hubs such as Guildford and Reading.
"Following on from the pandemic, it's a really interesting time to think about where you locate," he says." There is more opportunity now for students to straddle different locations and, in terms of connectivity, if you are studying in the South East it is straightforward to get into London and you can really consider yourself part of that network."
Chris also emphasises the benefits of the type of work that trainees can expect to undertake while working for firms in the South East: "Practice in the regional centres has traditionally been on a somewhat smaller scale, and you might find yourself doing more private client work, or working for SMEs [small and medium-sized enterprises]. This brings with it the opportunity to do more client-facing activities from an early stage in your career and get involved in a much more real way. Equally, many large commercial organisations are currently setting up large offices in regional locations, so this is an exciting time to live and work in the South East as new business centres emerge."
Chris' advice for those gunning for training contracts in London and the Southern regions, is to remain adaptable. He advises that trainees need to be alive to the fact that lawyers are working in a very different legal environment from what it has traditionally been. "I would advise students to upskill themselves in a variety of different areas," he suggests. "For example, it is important that students develop strong business awareness as clients are increasingly demanding that lawyers consider business outcomes and strategy."
Chris Howard will be speaking at 'Secrets to Success London and South — with DLA Piper, Clyde & Co, Accutrainee and ULaw', a virtual student event taking place on Thursday 3 March. You can apply to attend the event, which is free, now.
About Legal Cheek Careers posts.