White & Case's Anu Alamutu discusses her time in the firm's Paris office while offering up her top tips to those seeking experience overseas, ahead of her appearance at tomorrow's virtual student event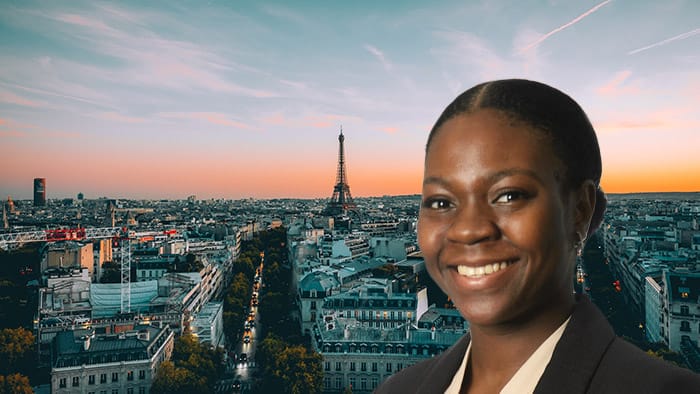 White & Case recently scooped the award for Best International Secondments at the Legal Cheek Awards 2022, thanks in part to it being one of only a select few global law firms to guarantee trainees a spell overseas. Anu Alamutu, a fourth seat trainee currently seconded to the firm's Paris office, sits down with Legal Cheek Careers to discuss life in the French capital whilst providing some of her top pointers to those seeking similar international experiences.
Selecting a destination
With 45 offices across 30 countries, White & Case trainees have a vast array of exotic and far-flung destinations to choose from. Typically taking place during the final seat of the training contract, trainees are asked to rank their desired destinations based on their preference of practice area. Alamutu explains that due to the multi-jurisdictional nature of much of the firm's work, her day-to-day legal life in Paris isn't too dissimilar to that of London. This collaboration across the firm's global network provides flexibility when it comes to qualification, with some trainees returning to London to start life as a lawyer, while others opt to qualify into one of the firm's overseas offices.
Practically speaking, trainees are given a list of available overseas practice areas which they rank in order of preference during their third seat. They can also add additional information, such as reasons for preferring the work specific to a particular location and how their preferences link to their training and qualification. Around two weeks later, they are informed which office they will be joining.
Support is on hand
"White & Case supported me through the process," says Alamutu. For example, before going overseas, she had an open line of communication with representatives from the Paris office. To ease the transition, the firm also covers travel expenses, provides accommodation and additional days of leave to accommodate the big move.
No language skills? No problem
Being multi-lingual is an advantage but it is not a barrier or a deterrent from requesting or being allocated to a particular office. White & Case offers all international secondees free language lessons to help them adjust to life overseas. Alamutu, who is currently based in the project finance team, explains how she's not been held back by an inability to speak French fluently, as most of her colleagues speak English as well as French. Instead, the LSE law graduate reveals how her colleagues are helping her hone her language skills, with one of the firm's PAs encouraging her to speak French when in conversation with her.
Embracing a new way of life
To avoid culture barriers, Alamutu recommends secondee hopefuls research their destinations and keep an open mind. She reflects on her first weeks in France when she was pleasantly surprised by the culture in the overseas office. "The Paris office is smaller than the London office so there are many opportunities to meet people at all levels, across departments," Alamutu says. "With spring in full bloom and summer around the corner, we can have lunch breaks or office-wide socials in the garden or at one of the restaurants or cafes around, where you get to know your colleagues away from the office environment." Despite the subtle cultural differences, Alamutu stresses how the firm's overall culture is consistent across offices: "it's very collaborative and welcoming", she affirms.
Alamutu goes on to explain that prior to moving, she was given a booklet containing information gathered by previous trainees who had been seconded to Paris. This featured detailed information about living in Paris, helpful suggestions on things to do in your spare time as well as practical pointers including the location of supermarkets and key transport links.
Seize the opportunity
Along with her secondment to Paris, Alamutu also went on a three-month client secondment during her third seat in corporate M&A. She was seconded to one of the firm's M&A clients — a FTSE 250 public company which specialises in defence products.
Speaking on the benefits of secondment opportunities generally, Alamutu praises the way they've enabled her to develop her skills as a lawyer while gaining a better understanding of how a global firm like White & Case operates.
"At a firm like White & Case, secondments are a great way to build and expand your network, develop interpersonal skills and form meaningful, long lasting relationships with colleagues and clients. During a secondment, you may be exposed to higher levels of responsibility, which, with sufficient support allows you to learn and grow as a lawyer. On a personal level, I think it is a good opportunity to experience and understand different cultures and ways of working," she says.
Anu Alamutu will be speaking at 'Inside a global law firm's overseas seat programme — with White & Case', a virtual student event taking place tomorrow (Thursday 28 April). Apply for one of the final few (and free) places to attend the event.
Any views expressed in this publication are strictly those of the authors and should not be attributed in any way to White & Case LLP.
About Legal Cheek Careers posts.