Maria Connolly, partner and head of TLT's cross-disciplinary clean energy team and national head of real estate, discusses her involvement in renewable energy projects and shares advice for those looking to enter this space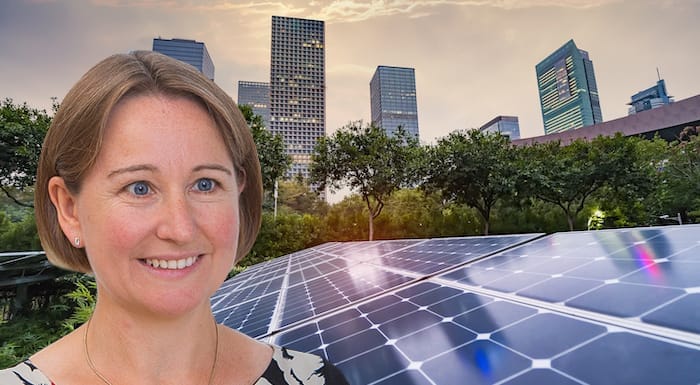 Maria Connolly, partner and head of TLT's cross-disciplinary clean energy team and national head of real estate, began her career at the firm as a trainee before being made partner in 2007.
From an early stage in her career Connolly took an active role in TLT's clean energy work. She tells me of her involvement as a trainee on some of the very first renewable energy projects in the UK, for example, working with ethical bank, Triodos, on one of the first wind farms.
This early exposure to the field combined with Connolly's personal passion for sustainability led her to recognise the potential for law firms in this area. "I was given the firm's backing to help to grow the area and I've been able to do that to such an extent that we're ranked as a top global advisor by Clean Energy Pipeline and have once again been commended in The Times Best Law Firms."
To achieve this, Connolly and her team worked hard to develop a reputation for being involved in innovative clean energy projects, which would set the precedent for the sector and in turn this led to recommendations from clients. But Connolly attributes much of the growth of TLT's clean energy practice to 'thought leadership'. She elaborates: "Being able to use our in-depth experience to develop thought leadership — writing articles, speaking at conferences, and being bold and giving a view on the market is key."
As head of clean energy at TLT, Connolly spearheaded the firm's 'first-of-a-kind' strategy. "The beauty of clean energy is that you're often doing something for the first time," she says. "For example, when the first rooftop solar panels launched in the UK, they were initially rolled out for domestic properties. We developed a suite of documents to deliver solutions in a productised way — this was the first of its kind in the UK." Similarly, Connolly's team worked on some of the first UK battery storage and electric vehicle charging infrastructure projects. "We know the way the market is moving and so we can work with clients at an early stage and help them develop these first-of-a-kind projects."
The clean energy revolution – with TLT

Has increased awareness of the climate emergency reduced the chances of companies 'greenwashing'? TLT LLP trainee solicitor Tom Lawrence shares his thoughts #LCCareers

Posted by Legal Cheek on Friday, 8 January 2021
Looking ahead, Connolly sees clean energy as a key practice area that will continue to develop over the next decade. "There's never been a more important time for clean energy", Connolly emphasises, highlighting the part that her practice area will play in the 'green recovery' following the pandemic.
In addition, the UK is working towards meeting its net-zero target to be carbon neutral by 2050. With this we're seeing an increase in electric vehicles, for example, and so Connolly's team is involved in the work related to this: the team recently worked with Triodos on its financing to support the development of electric vehicle charging infrastructure points at 600+ Tesco stores in the UK with a debt loan. This is one of the first debt-funded projects of its kind in the UK. From a legal perspective, much of Connolly's team is involved in transactional work and drafting the contracts needed for these projects.
In terms of the intersection between clean energy and the many other practice areas at the firm, Connolly, who also heads TLT's real estate team, tells me that there is great interplay with mergers & acquisitions, real estate, planning, regulatory banking and construction. As a result, Connolly's team is comprised of lawyers from a variety of backgrounds and the range of seats or areas for potential qualification offers a fantastic opportunity for those wanting to be clean energy specialists.
What stands out for Connolly, an experienced solicitor of over 20 years, is the enthusiasm she sees in graduates. "They're passionate about the sustainability agenda and want to play a part in it. We've been able to grow a significant team in clean energy made up of really passionate people who love being involved in our work," she tells me.
Connolly's key piece of advice to those looking to enter the space is to build your network and talk to those already involved in the area. "It's also about encouraging others to live and breathe the sustainability agenda as even small contributions can make a huge difference," she adds.
Reflecting on her experiences as a lawyer working in clean energy, she says:
"I was very passionate about my practice area and I think that having that passion and driving it forward is really important. To be recognised the way we are globally, to be working on some of the biggest clean energy projects in the UK, and to be working for some of the best developers and funders in the sector makes me massively proud."
Maria Connolly will be speaking alongside other TLT lawyers specialising in clean energy at 'The clean energy revolution', a virtual student event taking place tomorrow, on Wednesday 18 November. You can apply to attend the event, which is free, now.
About Legal Cheek Careers posts.