The panel, comprised of lawyers and business services professionals, had plenty to say on topics ranging from Brexit, the economic cycle and the rise of disruptive technologies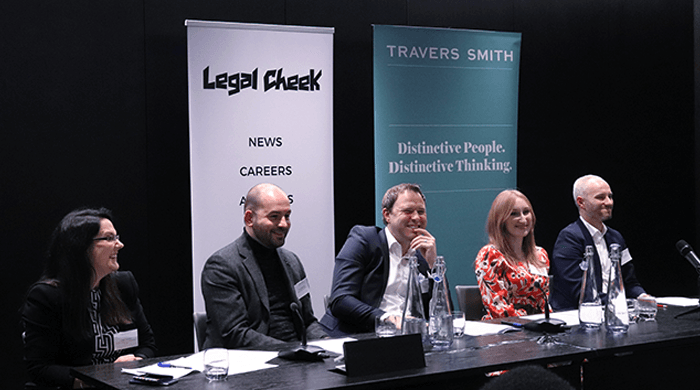 How do law firms adapt to change? This was the central question posed at a recent Legal Cheek event with Travers Smith. The panel, which comprised of lawyers and business services professionals from across the firm, had plenty to say on topics ranging from Brexit, the economic cycle and the rise of disruptive technologies to the huge importance of diversity and inclusion.
"The two years following the 2016 referendum have been record-breaking years for the firm," said finance partner Danny Peel, one of five panellists at the event. "Given the circumstances, the order books are looking pretty good." Indeed, the City law firm released a stellar set of financials last year with profit per equity partner (PEP) reaching £1.2 million (an uplift of 24.3% on the previous year) and turnover sitting at £150 million.
It's a somewhat different position to that of ten years ago. Post-financial crisis, Travers Smith looked to move away from a perhaps over-reliance on its corporate practice and sought to grow in practice areas less sensitive to the peaks and troughs of the economy. "We've looked to be better hedged," Peel told the audience of 100 students.
One such area is dispute resolution: the firm's disputes department has doubled in size in recent years. "We've had two of our busiest years," said commercial litigator Heather Gagen, who was also on the panel and discussed her involvement in high-value, complex disputes often with an international dimension. Gagen explained that by having lots of "strings" to its bow, Travers Smith is able to balance its market-leading private equity-led transactional practice with its disputes practice, and respond effectively to market change.
One of the driving forces behind the uptick in work is, of course, Brexit. "There has been a hub of activity as businesses look to complete their transactions before we get too close to Brexit day," Peel explained. But is this likely to continue post-Brexit? On this, Peel said:
"We've already had two and a half years of uncertainty and can expect even more in years to come but it will be difficult for people to sit on their hands and wait things out… I suspect there will be an element of business as usual."
In the event that there is 'no deal', investment funds lawyer Leigh Stockey explained some of the short and long-term consequences for the legal world:
"The Law Society has forecast that a 'no deal' Brexit would result in 12,000 job losses from the legal sector over the next ten years. In the short-term, there's likely to be a 'Brexit bump', or uptick in work as clients call to ask 'what happens now?' Thereafter, if we crash out of the EU on 29 March with no deal, there will definitely be dampening on the number of deals done."
On a lighter note, chief technology officer Oliver Bethell was asked to compare the notion of Brexit to the 'Millennium bug' — a period in the late 1990s when experts warned that many computer systems would not cope when the date hit 01/01/2000 — sending waves of panic across the globe.
That, of course, didn't materialise. Planes did not fall from the sky, power stations did not melt down and the world did not end as had been anticipated. "I hope Brexit proves to be the same let down as the Millennium bug," quipped Bethell. "I fear it will have a great effect but live in hope that we will look back on it as fondly as we do the Millennium bug."
Travers Smith operates an almost unique model in that it continues to attract high profile work from just two offices, London and Paris. As the countdown to Brexit looms, will the firm have to rethink its international strategy? "We only practise English law and will remain this way," said Peel. "Will our business model survive? That depends on what happens to London as a financial centre."
"If, in 15-20 years' time, London is irrelevant as a financial centre globally, English law has been surpassed by French, German or Irish law as the leading European jurisdiction and New York law gains more of a share, then suddenly there will be less work for English transactional lawyers. But we don't think either of those will happen. English law has been the number one law globally for centuries — it's the governing law of choice for most contracting parties; it's stable and has the mixture of statute and common law."
When cross-border work crops up, it's down to the firm to maintain close working relationships with its 'good friend' law firms in other jurisdictions. Secondments is one way the firm retains close ties with its international network of lawyers. "I don't think the structure of our firm changes our ability to do global work," said Gagen, who is currently acting for a Japanese client and has worked closely with an African law firm on a previous case.
Technology is another driver of change. Lots of attention has been afforded to novel legal tech in recent years but it's time to temper the marketing hype, said Bethell, who described the notion as "innovation by press "where law firms divvy out a press release once they purchase a tech tool.
Peel has spent his entire professional career at Travers Smith and has experienced advances in the firm's tech first-hand. "When I was on a vacation scheme in 2001, students didn't have computers on their desks and we handwrote pieces of work. When I joined as a trainee in 2003, the only people who had access to their emails on a portable device were partners," he revealed.
Now, Travers Smith is using tech that Peel describes as "game-changing". Thanks to new document building software the firm has developed with an external provider, a 300-page loan agreement precedent can be reduced to a "ten-page tick sheet" — potentially saving hours of finance lawyers' time. Disputes resolution partner Gagen has also embraced artificial intelligence (AI) in her practice. Court rules regarding electronic disclosure, allow Gagen's team to use time-saving algorithmic review platforms to complete document-heavy disclosure exercises.
"Technology has [also] facilitated a culture of agile working," said diversity director Chris Edwards. "It's no longer where you are, but what you do." Travers Smith introduced a firmwide agile working initiative two years ago and some of its lawyers work remotely full-time. Senior associate Stockey was one of the firm's first lawyers to do so. She had worked in the London office for four years before deciding she wanted to move back home to Glasgow. The response when she tried to resign? "Don't be so ridiculous! This is 2018. We can make it work". She told the audience: "It makes no difference whether I'm sat in an office down the hall or in an office 400 miles away — the client doesn't notice any difference."
Another theme broached during the event was the firm's commitment to diversity and inclusion. Previously known as a traditional firm, Travers Smith has done a lot of work on improving its image and being known as a firm that is pro-diversity and actively leading change. On hand to share some of the strategies the firm has in place was Edwards, the firm's first diversity director.
"As a firm we are deeply committed to making a fundamental change to the culture — to be more inclusive and make sure we're attracting and recruiting diverse talent. Some of the initiatives we've adopted include looking at inclusive language, inclusive leadership, interesting mentoring schemes and lots of outreach work — there are several different projects going on."
About Legal Cheek Careers posts.