Ahead of Legal Cheek's 'How law firms adapt to change' event with Travers Smith next week, finance partner and co-head of graduate recruitment Danny Peel explains how the City law firm is responding to change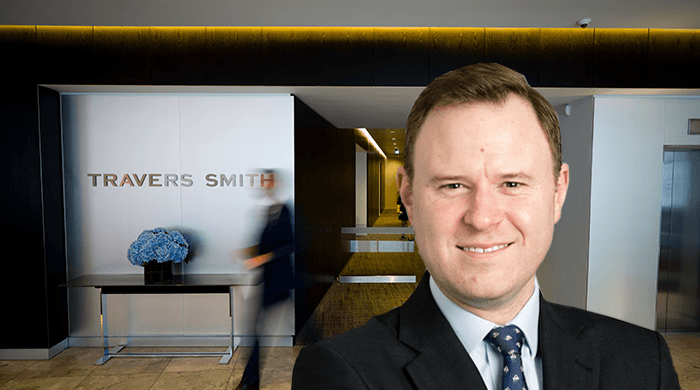 A successful law firm is an agile one. Whether it's the chaos of Brexit, rise of disruptive technologies, the downturn in emerging markets or fears that the current bull run will end soon… law firms must adapt to change. So, how do they do it?
As Danny Peel, finance partner at City law firm Travers Smith, explains, the fortunes of City law firms tend to track the economy. In times of plenty, there is lots of M&A work which, in turn, means work not only for the corporate teams but for the various specialist teams around the firm. In leaner times, transactional work can dry-up to a slow drip which means that firms need to look to other areas to generate business. Following the financial crisis ten years ago, Travers Smith looked to move away from a perhaps over-reliance on its corporate practice and sought to grow other parts of the business which are less sensitive to the peaks and troughs of the economy.
"We've looked to be better hedged, and have focused on organic growth in some of our other practice areas," says Peel. Notably, the firm has doubled the size of its dispute resolution department — litigation tends to be less sensitive to the economic climate (and can actually increase in a downturn, as there is an even greater emphasis on protecting and preserving existing revenue streams when the business as a whole is contracting or stagnating). It has also invested in its derivatives and structured products team which, alongside its own, stand-alone instructions, provides support to the firm's highly-regarded pensions and financial services & markets teams. Like litigation, advisory mandates tend to provide a steadier flow of instructions than transactional work.
One of the biggest drivers of uncertainty at the moment is, of course, Brexit. In common with most major law firms, Travers Smith has established a dedicated Brexit working group to keep the firm and its clients up to speed on developments. "As you might expect, both we and our clients are extremely focused on all things Brexit and are monitoring developments closely. The complications arising from a "no deal" scenario are wide-ranging and go to the very heart of many of our clients' businesses — from their ability to trade with their European partners to the make-up of their workforce," says Peel.
Some businesses which are looking to invest in the UK — such as those with significant non-sterling revenues or private equity houses which have raised funds in euros — may have benefited from the uncertainties caused by Brexit as the weakened pound has increased their spending power significantly. On the other hand, uncertainty can have a freezing effect. Peel gives as example: "In the months leading up to the Scottish independence referendum in 2014, inward investment into Scotland all but dried up because investors didn't know what would happen."
Technology is another driver of change. Travers Smith is trialling some AI (artificial intelligence) products, which its lawyers use for contract review and keyword searches. "It's not the finished article yet," Peel says. He continues:
"With most AI products, you have to teach them what to look for and that takes time and investment — but that will improve as the technology gets ever more sophisticated, so there's definitely a future for it. Another useful development has been our document building software, which we have developed with an external provider. For finance lawyers like me, it might previously have taken several hours of intensive work to bring a 300-page loan agreement precedent to a point where you can start tailoring it to the transaction in question, but with this software the same process can be completed much more quickly. Technology has been transformative — sometimes saving hours of time, making life easier for our lawyers and helping keep our clients' costs down."
The arrival of agile working has also improved life at Travers Smith. The firm is a keen supporter, and its policy allows lawyers to work from anywhere. That's not to say its smartly-appointed Farringdon premises now lie deserted — most people find it easier to work in the office surrounded by their books and files. A handful of people work remotely and are "formally on the books on that basis," says Peel, including two full-time funds associates who live in Scotland and travel south for meetings when required (typically every two to three weeks). Others work at the firm on an ad hoc basis, including one real estate alumni who now lives in Dubai.
Peel hopes agile working will continue to improve the gender balance at the firm, where more than half of the trainees and associates are female but less than 25% of partners are female. He says:
"We have made great strides in diversity and inclusion, in particular gender balance, over the last five years or so but there is still plenty of work to be done. Agile working allows people to juggle work and family commitments and has proved invaluable — we have now got to a position where it is 100% accepted that people can leave early and log on from home which has made a massive difference to both men and women across the firm."
Peel, who hails from Sheffield, studied law at Oxford University but admits to not having been very organised about careers. While his father was a high-street solicitor who "did a little bit of everything", growing-up he was unaware that City law firms existed and "only really decided to study law because I liked the idea of preaching to juries in a US courtroom, John Grisham-style". After speaking to Travers Smith representatives at a university presentation, however, he applied for its vacation scheme and did a three-week stint at the firm in 2001. "I loved it — the atmosphere, the people, the feel of the place, the fact that people introduced themselves to me in the lift — I was sold," says Peel, who joined the firm as a trainee in 2003 and made partner in 2013.
So, how did he do it? "Like anything in life, I think you need a healthy dose of luck," he says. "I landed in the right firm and right practice area from day one. A lot of my mates didn't but they have all found a home somewhere — be it at a different firm, in a different practice area, in-house or something completely different away from the law. You need to like the place and the people where you work because ultimately you will spend a lot of time there."
Peel advises trainees to keep an open mind about areas of specialism. "I chose finance because I like the transactional aspect of it. There is less black letter law and more emphasis on negotiation, thinking on your feet and getting to grips with the commercial realities of a transaction. But different people like different things, so try not to start your training contract with too many pre-conceived ideas about where you want to qualify."
Danny Peel will be speaking alongside other Travers Smith lawyers at next week's 'How law firms adapt to change' event. You can apply to attend the event, which is free, now.
About Legal Cheek Careers posts.