Contenders compete for return flight to New York in 60-second vlog off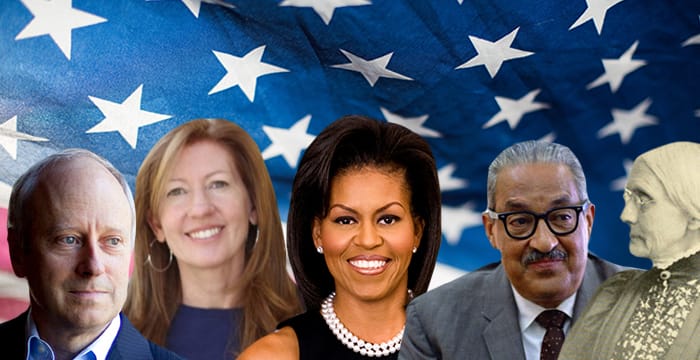 This year's annual blogging prize run by Legal Cheek in association with global law school BARBRI, came with a visual twist. Rather than blog, entrants had to vlog. With only 60 seconds to impress, pressure was on participants to creatively condense their thoughts into a short video detailing who their US legal icon is, and why. The prize within their reach: a free transatlantic return flight to New York City.
Here, Legal Cheek presents the top four contenders shortlisted for the 'Big Apple' prize, with the winner to be announced at BARBRI's annual 4 July Independence Day summer party in London.
Angelica Olawepo on Thurgood Marshall, former US Supreme Court Justice
Kicking off the shortlist is London School of Economics (LSE) law student Angelica Olawepo, featuring her idol Thurgood Marshall, a civil rights activist and the first African-American to sit on the US Supreme Court. For Olawepo, Marshall represents determination. "Despite so many obstacles, he led a revolution that forever changed the US constitutional landscape," she says.
Olawepo, known for her YouTube channel 'Angeliculture', gets theatrical. To re-enact Marshall's rejection from Maryland Law School because of his skin colour, Olawepo, bearing a cheerless expression, carries a stack of law textbooks in front of a college backdrop. Similarly, Olawepo later wears a make-shift robe and wields a gavel to illustrate Marshall's time both as chief counsel of the National Association for the Advancement of Coloured People and as Supreme Court justice.

Chelsie Angeles on Michael Sandel, professor at Harvard Law School
Next up is University of York law student and YouTuber Chelsie Angeles. In her entry, Angeles puts forward American political-philosopher and professor at Harvard University Law School, Michael Sandel. Explaining her choice in icon, Angeles cites Sandel's academic work that challenged her to "deep dive into the world of jurisprudence". She also highlights that Sandel's online course, 'Justice', was Harvard's first to be made available to the public free of charge — making him a "pretty cool dude".
Helen Moizer on Jill Thompson, US attorney for Public Counsel
University College, London (UCL) law grad Helen Moizer promotes the work of Jill Thompson, a directing attorney for US pro bono firm, Public Counsel. Mozier reveals she had the "honour" of working with Thompson first-hand while volunteering for six months at the California-based outfit. Speaking directly to the camera, Moizer points to Thompson's rich 20 years of experience "protecting human rights and advancing equality", particularly in defending the employment rights of low-wage women workers.
Although not a famous legal icon, Moizer speaks of the "invaluable" impact Thompson has had and continues to have upon US society. "Jill represents all the unsung heroes in the United States, working at the grassroots and pro bono law level; tirelessly assisting families, children, immigrants, veterans and more," Moizer says.
Joy-Emma Martin on Michelle Obama, former US lawyer for Sidley Austin
Rounding off this year's shortlist is Joy-Emma Martin, whose legal icon is White House alumni and pop-culture queen, Michelle Obama. Martin, a paralegal at DAC Beachcroft, praises Obama's inspiring journey from difficult south-side Chicago to prestigious Harvard Law School for "showing that our circumstances don't have to limit us."
Against a summery backdrop and overlaid with a cool beat, Martin goes on to reveal Obama was one of five African-American associates to work at top US law firm Sidley Austin, where she helped diversify the pool of incoming summer associates. The University of Sussex law grad, with clips of Obama herself, also lauds her achievements as former-first lady, including her childhood obesity campaign 'Let's Move', and 'Reach Higher', an initiative that encouraged students to take up education past high school.
The competition winner and two highly commended vlogs will be decided by an independent judging panel and announced at and BARBRI's 4 July Independence Day summer party in London. You can register to attend here.