Bryan Cave Leighton Paisner partner Tara Newell reveals the benefits of a mega-merger ahead of the firm's Meet Your Future social media competition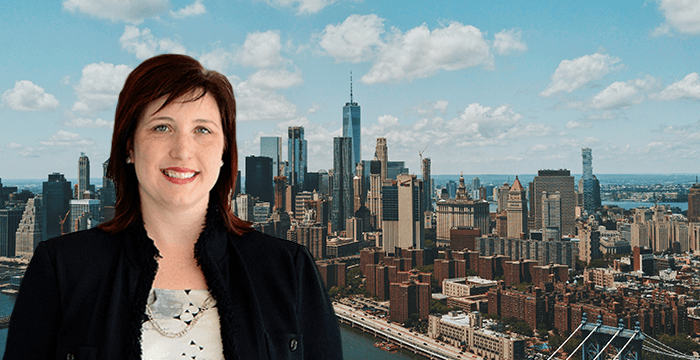 It's been just over a year since City outfit Berwin Leighton Paisner (BLP) and US law firm Bryan Cave announced they were joining forces to become a global mega-firm Bryan Cave Leighton Paisner (BCLP). So what has this transatlantic tie-up of 1,400 lawyers meant for their trainees and junior practitioners? To find out more, Legal Cheek quizzed Tara Newell, an M&A and corporate finance partner based in BCLP's New York office, ahead of a new social media competition for aspiring lawyers called Meet Your Future being held by the firm, that will see the winner meet Newell for lunch in the Big Apple.
After a mega-merger such as BCLP's, trainees and junior lawyers are often worried that the new firm will be completely different to the one they initially applied. "Their biggest concern is around integration — will they fit into the new culture?" explains Newell, who was with Bryan Cave for over a decade before the merger. Combining two separate law firms — including their respective clients, employees, branding and internal day-to-day processes and procedures — is a massive and complex task.
What Newell believes has made, and will continue to make, integration for the combined firm much better for their clients, lawyers, professionals and staff has been their chosen merger model. Unlike many transatlantic tie-ins, BCLP did not opt for the Swiss verein partnership model. Under that model, control of a firm is decentralised, each office enjoying financial and regulatory independence from its overseas counterparts: revenue and profit-per-office is kept separate rather than shared from a common profit pool.
The drawback of counting revenue by office, however, is that it doesn't incentivise collaboration among lawyers across the firm's global offices, Newell stresses. Partners are unlikely to refer work and clients if they are not sharing all the rewards, and this can lead to half-hearted integration for staff. To avoid such fragmentation, by design BCLP is a fully financially integrated firm.
Financial integration allows for greater cooperation among all the lawyers — especially if there's a shared economic interest. Under this model, the aligned motivation to refer work across offices throughout the world encourages better communication among all the trainees, juniors and partners in different locations. At the end of the day, that is better for the client too. As Newell explains:
"It's better to work as a team across the globe. If we have a client that I have a primary relationship with, I am 100 percent incentivised to use the right lawyer for their matter wherever they may be within the firm."
A major hurdle common across US-UK mergers is combining distinct partner remuneration structures often resulting in a toss-up between US performance-based pay and UK lockstep compensation. The new BCLP pay structure resembles a hybrid merit-based platform. For junior lawyers and trainees this matters because it results in better long-term integration. "There was a conscious effort to create a unified culture, taking the best parts of separate processes and procedures and then melding them together," Newell says.
A shared determination to do something fresh and different for clients was, according to Newell, at the centre of initial merger negotiations between BLP's managing partner, Lisa Mayhew, and Bryan Cave's Washington DC-based chair, Therese Pritchard — who both now co-chair BCLP. As more clients operate on an international basis, spurred on by an increasingly globalised market, law firms must be able to meet this demand.
Prior to the merger, Bryan Cave enjoyed a huge presence in the US, but had a more limited practice overseas; whereas BLP had a strong number of offices within Europe and Asia, but made little headway in the US. Now with 31 offices in 11 different countries, the global expansion has enabled the legacy firms to tap into each other's practice areas and share valuable knowledge about the markets they operate in.
For trainees and junior lawyers, greater reach means greater opportunities. "Our merger creates a global platform that exposes lawyers to practice areas and new clients they didn't have access to before," Newell explains.
Mega-mergers can also mean more chances for international secondments. For aspiring lawyers unsure of whether to qualify abroad, say in New York City, Newell recommends seeking out these cross-border opportunities. "Qualifying is a huge undertaking on either side of the Atlantic, whereas through secondments you get the practical learning experience without having to first take the New York bar," she explains.
A FREE trip to NEW YORK CITY is the top prize up for grabs as part of BCLP's Meet Your Future social media competition for aspiring lawyers. Enter the competition before 12 May 2019 with an original image or video depicting what you would like from your future career. The first-prize winner will be flown to NYC to meet Newell and corporate partner Kenneth Henderson for lunch, as well as getting five days of work experience at BCLP's London office.
About Legal Cheek Careers posts.