Ahead of 'How global law firms can meet the environmental, social and governance (ESG) challenges of the future' on Thursday, Linklaters partner Rachel Barrett shares her career journey and discusses what her work entails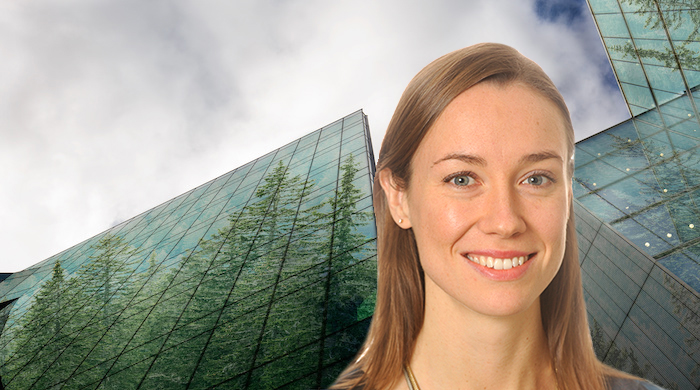 Environmental, social and governance (ESG) is a key emerging practice area.
Linklaters partner Rachel Barrett is a specialist in this field. She began her journey to becoming an environment and climate change lawyer by completing a vacation scheme at the firm. The month-long stint saw her spend two weeks in Linklaters' London office and two weeks in Munich. "It was great to see different parts of the firm, to meet different people and get really good exposure to the firm," she tells me when we speak.
Barrett's training contract was equally international. Having completed her first seat in the financial regulatory group in London, Barrett spent the remainder of her training contract working on the financings of major energy and infrastructure projects during which she spent time in Moscow and Geneva.
Unsurprisingly, Barrett chose to qualify into the project finance group in 2008, and it was there that she developed an interest in environmental law. "I increasingly saw environmental issues arising on major projects, in part because of the international sustainability standards that apply in the context of project financings," she reflects. At the time, "there was a lot in the news on climate action and it was clear that environment and sustainability was going to be a really big growth area for us", she adds.
Three and a half years post-qualification, an opportunity arose, and Barrett made the move to the environment and climate change team at the firm. At that time it wasn't that common for associates to move between practice areas, whereas today, it has become more common for lawyers to be more flexible and re-tool over the course of their career.
For those who may be unsure of what ESG means, Barrett tells me that the term is very broad and can mean different things to different people. But she breaks down the three components for me. 'Environmental' encompasses a business's impact on the natural environment, including on climate change and biodiversity, 'social' covers labour and workforce issues, health and safety and human rights, and 'governance' can refer to decision-making around all of these issues, the alignment of remuneration and incentives with ESG goals, business ethics and more generally, how businesses can ensure they act responsibly.
The day-to-day life of an ESG lawyer varies greatly. Matters range from carrying out due diligence on the targets of a corporate acquisition from an ESG perspective to advising on supply chain issues, or undertaking human rights impact assessments. The latter involves advising a company in relation to the positive and adverse human rights impacts it (or one of its products or activities) has on others, and helping them understand how to manage and mitigate the risk of adverse human rights impacts arising.
An ESG lawyer's time is also spent educating clients on climate risk and what that might mean for their business; helping them understand what they can do in response to regulatory changes and more generally how they can protect the long-term sustainability of their business.
In terms of growth, Barrett sees ESG as a key practice area that will develop over the next few years. With an increased awareness of climate and environmental matters and social issues "it's hard to find an area that isn't affected in some way by ESG", she shares.
In particular, the COVID-19 pandemic has brought social issues to the forefront. "The pandemic has shone a light on some good and not so good behaviours," notes Barrett. Amid heightened scepticism and public opinion in respect of the varying responses from corporate firms, the Financial Times published its list of 'saints and sinners' depending on their response to the national lockdown. Amazon and Sports Direct, for example, came under fire, while Sainsbury's and Morrisons were praised for their swift response.
As co-leader of Linklaters' Business and Human Rights practice, Barrett says that there's an increasing awareness that "a responsible business means a sustainable business". The team helps businesses formulate their values and articulate their commitment to respect human rights and ensure that these commitments are actively put into practice.
In recent years Barrett has noticed an increase in interest in her practice area. Millennials in particular have a very high level of awareness of ESG issues, Barrett observes. In addition, there are many who have developed significant expertise in the ESG space — from academics, to NGOs and climate activists — who are ensuring that ESG and climate change in particular stay on the agenda. "Different cohorts of people have a very strong role to play in bringing a fresh perspective and making sure these issues are heard about."
"Getting it wrong in ESG means you can lose a lot of value as a company; your stakeholders, including shareholders, consumers and investors can get very upset," Barrett remarks. Because ESG problems are often complex and multi-faceted, a holistic approach is needed to tackle the challenges companies face, and so the ESG team works on a global cross-practice basis.
Collaboration is therefore key for an ESG lawyer. "We work in quite an integrated way. For example, we often work closely with the dispute resolution team to solve problems or the financial regulatory team who have deep expertise in the application of new regulations to funds and financial institutions," she shares.
Linklaters' 'one team' approach has meant that collaboration has not been compromised as a result of the move to remote-working because of the pandemic. Through broad exposure to the firm during training contracts, regular team meetings and training sessions, "we make sure people don't operate in silos", says Barrett.
Aspiring ESG lawyers should note that you can enter the field through a myriad of routes — much like how Barrett did. She elaborates: "You could become a litigator and pursue your interest in climate change litigation. Or you could be in the project finance space and work on renewable transactions or assist companies with the transition from brown to green energy. The great thing is that there are a range of entry points."
Further, Barrett encourages aspiring lawyers to take a broad approach to their career and to pursue their interests. She says:
"If you're in a law firm and have a particular interest in something, my experience has been that you'll be encouraged to develop this, and you'll find like-minded people across the firm to work with to achieve your goals. If you're passionate and enjoy what you do it makes an enormous difference to your clients, your team and to your career."
Rachel Barrett will be speaking alongside other lawyers from Linklaters at 'How global law firms can meet the environmental, social and governance (ESG) challenges of the future', a virtual student event taking place on Thursday 17 September. You can apply to attend the event, which is free, now.
About Legal Cheek Careers posts.