Alexander Sperling, a corporate and securities associate in Mayer Brown's London office, discusses his career journey so far and shares advice to future lawyers, ahead of next week's virtual student event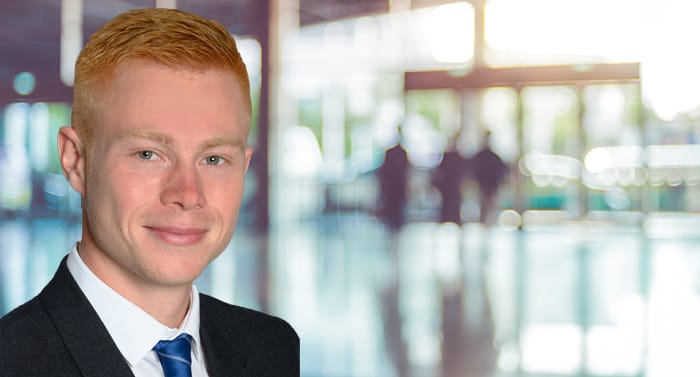 Despite having an idea that he was interested in a career in law, Alexander Sperling decided to read history as an undergraduate, which he considered a more flexible option if law did not work out for whatever reason. During his time at the University of Exeter, he began to explore legal careers. Even though his first work experience was with a barrister, Alex soon decided that the solicitor route was right for him — he wanted to work in an environment where he felt part of a wider team as part of a collegiate culture. After graduating from the University of Exeter, he completed an MA Law at the University of Bristol, a two-year full-time course, as an alternative to the GDL.
Having decided on the solicitor route, Alex set about gaining work experience, namely vacation schemes. Following the first year of his MA, he completed a vacation scheme at global law firm Mayer Brown, which is headquartered in Chicago with offices around the world including in London. Considering what attracted him to Mayer Brown, Alex tells me that he was not necessarily looking for a firm with US roots at that time. He got speaking to some representatives from the firm whilst at a university law fair and found them to be "very down to earth". This interaction inspired him to do more research into the firm, before applying to and eventually completing a vacation scheme with Mayer Brown.
The combination of Mayer Brown's reputation and the welcoming culture confirmed to Alex that this was somewhere that he wanted to work. Having completed vacation schemes and assessment centres at other firms, he "felt most comfortable at Mayer Brown". At the end of his vacation scheme, Alex successfully interviewed for a training contract with the firm. He went on to complete the LPC at BPP University before beginning his training contract in September 2019.
Whilst historically a US 'white shoe' firm, Mayer Brown has London roots following a takeover of UK law firm Rowe & Maw. Whilst around two decades have now passed, there are still many "legacy employees" from the old London firm creating a "unique hybrid culture" at Mayer Brown. Part of this, Alex says, is that Mayer Brown takes a considered approach to its trainee recruitment, with trainees featuring as an integral part of the firm creating a "strong collaborative culture" which the firm "prides itself on".
Going into his training contract, Alex was open-minded about what area of law he wanted to end up working in. "I was just happy to see where the road of the training contract took me," he says. As Mayer Brown is a full-service law firm, he had plenty of opportunity to explore different areas of law. He completed four seats during his training contract: insurance litigation, a six-month secondment to a specialist insurer, corporate, and employment. His secondment centred around corporate work, meaning that he spent around half of his training contract engaged with corporate transactions. On this basis, he decided that this would be the area that he would specialise into. "I haven't looked back at all," he reveals. He has been in the corporate and securities team at Mayer Brown since qualification.
Continuing, he says, "there is a lot of variety in corporate work". Depending on the type of transaction, tasks can range from reviewing disclosure letters to dealing with articles of association to being engaged with specialists on a daily basis. "As a junior, you are the person who can keep things moving," he explains. Whether it is firing out emails every day or chasing up on matters, you are at the centre of a transaction as a junior, which he describes as a "good place to be". At Mayer Brown, there is a "broad exposure to a range of transactions early on" whilst later on down the line, "you can decide what you want to specialise in".
Something Alex particularly enjoys about being at Mayer Brown is that there is a good mixture of domestic and international work. On the domestic side, Alex has recently been focused on work in the mining and critical minerals industries, the initial public offering (IPO) of Tungsten West PLC being just one recent example. Alex tells us that "it can be especially rewarding when you are working on transactions with an impact closer to home". Recent cross-border work such as the business combination of VAALCO Energy, Inc. a US company listed in the US and the UK with operations in Equatorial Guinea and Gabon, and TransGlobe Energy Corporation which has assets located in Canada and Egypt, provides different, but equally enjoyable, challenges. Alex and Mayer Brown corporate and securities partner Kate Ball-Dodd will discuss this transaction further at Legal Cheek's virtual event, 'Inside corporate finance', which you can apply to attend now.
Overall, Alex says that he feels his career at Mayer Brown is "going in the right direction". Over the past year, global revenue has increased by 21%, while profit per equity partner has risen by nearly 23%. Mayer Brown has one UK office, London, which is well-placed to handle work flowing between the Americas and Asia, creating the feeling of being at the centre of something. Of course, "being a corporate lawyer at any London firm is going to mean a lot of pressure and long days" but Mayer Brown's culture means that juniors like Alex enjoy going to work and being part of the team.
For any aspiring solicitors wishing to discover more about Mayer Brown, Alex recommends engaging with individuals at the firm, whether at law fairs, firm open days, or even through one-to-one communications. As Alex explains, "the inner nature of a law firm can be hard to truly identify from a website alone, so you can't really rely on just this when researching about a firm to put together an application". Digging below the surface to gain a more thorough understanding of the firm is essential. Alex also notes that applying to a law firm is a two-way process: as an aspiring solicitor, you also have to decide that a particular firm is right for you and speaking to people directly is a useful way to confirm this.
In terms of who Mayer Brown is looking for, Alex says that future joiners at the firm should be passionate and bring their own personality to the team. Fitting in with the culture of the law firm — which Alex feels is incredibly friendly and energetic — is vital. It is important to be comfortable in your true self at work. Ultimately, recruitment teams want to see your personality and how you can add personal, as well as legal, value to the firm. This is something for all aspiring solicitors to keep in mind.
Alexander Sperling will be speaking at 'Inside corporate finance — with Mayer Brown', a virtual student event taking place on Tuesday 15 November. You can apply to attend the event, which is free, now.
About Legal Cheek Careers posts.