ULaw Deputy Vice-Chancellor Peter Crisp looks at the key issues facing those seeking to enter the legal profession, ahead of next week's Legal Cheek-ULaw Spring Virtual Vacation Scheme and Law Fair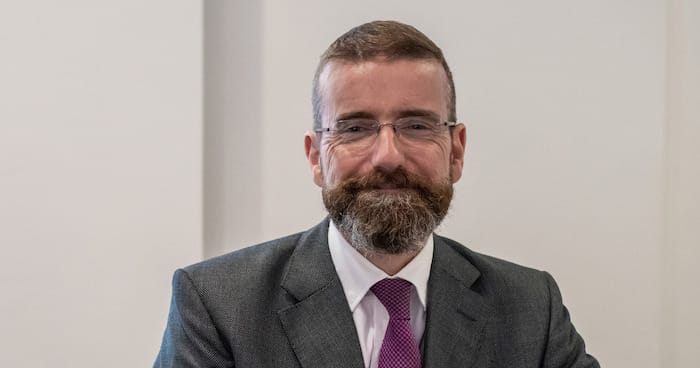 Ahead of his appearance at next week's Legal Cheek Spring 2023 Virtual Vacation Scheme and Law Fair, we spoke to Professor Peter Crisp, Deputy Vice-Chancellor Law at The University of Law (ULaw) for his take on the key issues facing those seeking to enter the legal profession and his advice to help you secure a graduate job.
Legal Cheek Careers: You're a well-established figure in the legal industry and have seen lots of changes in your career. What advice do you have for future lawyers entering a job market that could be facing economic change?
Peter Crisp: Future lawyers need to understand the new commercial realities of the world of work: how businesses are impacted by economic challenges, consumer priorities, post-pandemic adjustments to how/where work is undertaken, technological advances, the sustainability agenda, and the centrality of equality, diversion and inclusion (EDI).
It is how you apply your technical skills that is crucial and that is why I would encourage exposure to as many work settings as possible to gain experience in a variety of different settings and seeing alternative ways of operating. Volunteering and supporting local communities are equally valuable.
Careers are likely to be long and thus some consideration of longer-term aspirations is helpful, even at the start. There will be periods of economic growth as well as downturns, each of which needs to be responded to appropriately and in the context of personal as well as professional priorities.
More so than ever, I think the next generation of future lawyers is well-placed to drive change and it is important to remember than being an active member of groups, forums and societies garners collective strength that can be more impactful than solo endeavours.
LCC: Commercial awareness is a key skill sought by law firms when hiring trainee solicitors. What are some of the key topics that should be on applicants' radars at the moment?
PC: Law firms are businesses and a key starting point for prospective employees is to understand the employer's operating model. Topical issues include:
• Pay in the context of employee cost of living and client fee sensitivity
• Working from the office/home/hybrid in terms of team dynamics, on-the-job learning, cost of travel, carbon footprint, management and control
• EDI and its fundamental impact on recruitment, retention, client relationships and the firm's brand
• Environmental, Social and Governance (ESG) — ways of working, client expectations of law firms and its personal and professional alignment
• SQE and its impact on the way future talent is trained, managed, supported and remunerated
• And of course Brexit still has implications, the war in Ukraine, social media regulation, privacy and tensions with free speech
LCC: How is ULaw supporting future lawyers in their careers and commercial understanding?
PC: We don't look at these as stand-alone areas. The legal education intertwines with the commercial environment in which the subjects are taught and in the context of how it may be used in the workplace, thus 100% of students are supported simply be being a student.
Personal ambitions are though, by definition, individual. To that end we continue to offer the resource-intensive but highly valued access to 1-1 careers support. From understanding options to navigating recruitment processes, to preparing for making an impact from day one in a job, with plenty of pastoral care in place as rejections are dealt with and daily pressures mount. Our distinctive Employability Extra e-guidance service is open 364 days a year, providing support when it is needed in recognition that students do not operate 9-5.
Pro bono is invaluable as experience of different areas helps to refine career aspirations as well as developing skills. Most crucially it supports those in legal need — a key university priority in the quest for access to social justice.
LCC: Teaching for the SQE is now well underway at ULaw. How has it gone so far?
PC: At the moment, the vast majority of students are choosing to do the LPC route than the new SQE path. We have had a small number of students undertake the SQE and these have typically been either apprentices or paralegals who are studying whilst working at the same time.
ULaw offers a wide range of SQE preparation programmes, including our LLM Legal Practice (SQE1&2) course designed for graduates who want to qualify as a solicitor using the new SQE route to practice and also gain a Master's award — it is proving popular with students.
LCC: What do you think are the most pressing challenges facing law firms in the next few years?
PC:
• Technological change and the use of artificial intelligence in a way that achieves efficiencies but does not undermine the profession
• EDI, ESG and the profession's response to climate change challenges
• Developing the management capability to deal with the increasingly complex issues (often non-work) of staff, balancing the office/work from home offer and associated monitoring and performance review structures and providing wellbeing support for employees
LCC: You'll be opening next week's Legal Cheek-ULaw Virtual Vacation Scheme/Law Fair. How should students engage and network effectively in a virtual setting?
PC:
• Have a personal introduction ready — who you are, your current status and your future aspirations
• Make sure your LinkedIn profile is up-to-date should you wish to connect with people and/or respond to their invitations
• Determine how you wish to be seen — might you decide to wear 'professional' attire even if in the comfort of your own home?
Peter Crisp will be opening The Legal Cheek Spring 2023 Virtual Vacation Scheme and Law Fair, taking place next week from Monday 3 April until Wednesday 5 April 2023. Secure your place now.
About Legal Cheek Careers posts.