Lawyers from leading global law firms share their insights ahead of ULaw launch in city state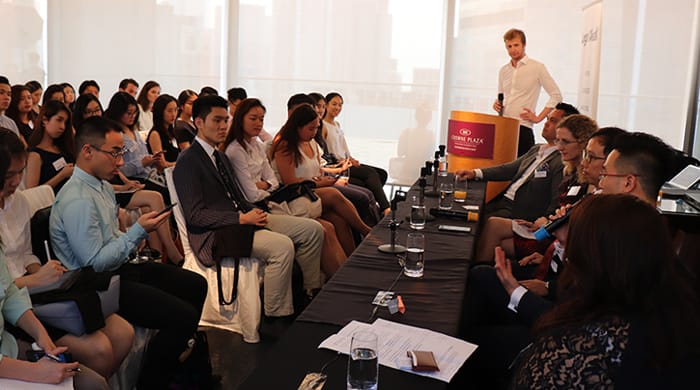 On Thursday 8 August lawyers from Clifford Chance, Herbert Smith Freehills (HSF), Linklaters, Mayer Brown and The University of Law (ULaw) gathered at the Crowne Plaza Hotel in Hong Kong for Legal Cheek's first ever international event.
The session was held to mark ULaw's launch in Hong Kong, where from September it will be offering the Graduate Diploma in Law (GDL) and a range of LLM Legal Practices programmes specialising in commercial law, conflict resolution and intellectual property.
An audience of over 100 students asked the questions, focusing on topical issues like globalisation, trade wars, the stage of the global economic cycle and technology, alongside careers advice. We have highlighted the best bits.
The rise of China
All the speakers agreed that the growth of China as an economic force would continue to be a huge influence on the global economy. Mayer Brown M&A partner Steven Tran put it like this:
"The rise of China has changed the landscape seismically and will continue to do so. At the moment there's a temporary slowdown, which is China taking a break from a number of very busy years of deal-making. But it will be back, and at the forefront of global transactional activity."
Recalling his early days of practice, HSF capital markets partner William Ku remembered that it "used to be OK to just be able to speak English". Now, he continued, "many of our clients are from China and the country is having a far greater impact worldwide". To illustrate his point Ku gave the example of a Brazilian law firm that had recently visited HSF in Hong Kong which was looking to hire Chinese speaking lawyers.
Even the recent pull back in the Chinese economy is generating legal work, said Clifford Chance capital markets partner Mark Chan. "Many of the Chinese companies we work for are impacted by the challenges associated with a shifting trade environment and we have seen a huge uptick in regulatory work from them as they seek advice on how to deal with some of the new hurdles that they are facing," he said.
Looking ahead, Chan urged students to think about "the new paradigm" of offering Chinese clients legal advice. "They may want to be advised through more immediate, innovative means and we need to ensure we can do that and be able to work in ways that they require," he commented.
Picking up this theme, Aruna Verma, ULaw's new Hong Kong programme director, said that it will be crucial for law schools to tailor their courses to match the practical demands of practice wherever that may be. "Just as how in the UK we offer commercially focused courses to help future trainees prepare for their careers at the London offices of global law firms, our focus in Hong Kong will go beyond the fundamentals of law to helping students to develop the practical skills they need to enter the legal market at this time of great opportunity," she explained.
Other parts of the world to watch
Samantha Cornelius, co-head of Linklaters' Hong Kong employment and incentives practice, identified Indonesia, India, Brazil and Africa as key emerging markets, alongside China. She noted a rise in inbound and outbound M&A work in all emerging markets, which has led to a pattern of global firms like hers integrating with leading local firms as workflows have increased. Cornelius gave Linklaters' joint operation with Zhao Sheng law firm in Shanghai and Beijing, as well as Linklaters' integration with Indonesian firm Widyawan & Partners as examples of the trend of consolidation between international and local law firms.
Activity in these fast-growing markets has been offsetting the rather more sluggish performance of developed Western economies of late. HSF's Ku pointed out how his firm has in the past weathered some Brexit-related slowdown in the UK through the strong performance of its Asian and Australian offices — a useful example of how firms' global networks help them deal with varying economic conditions across the planet.
Riding the economic waves
With the post-2008 economic expansion the longest on record, many commentators expect to see some form of downturn over the next few years. Asked about how law firms would deal with this, Mayer Brown's Tran emphasised that the legal profession tends to take the long view.
"Law firms take long-term views of life and of people's careers. The war for talent in Hong Kong is brutal. If we have good people we want to hang onto them," he said, flagging to the audience that his firm had been in Hong Kong for 156 years.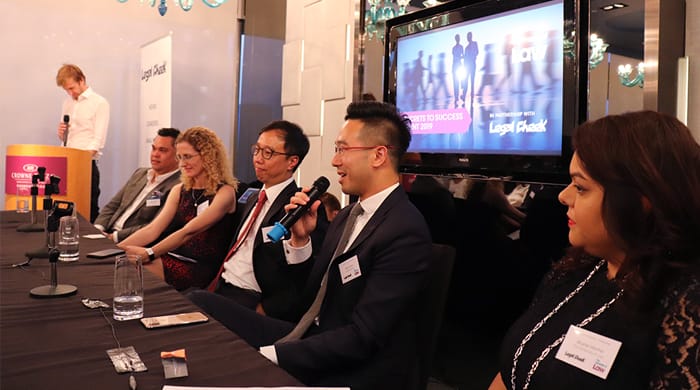 Linklaters' Cornelius noted that, while M&A work for lawyers booms in an upturn, other practice areas (for example, restructuring and insolvency, dispute resolution and employment) tend to get busier in a downturn. "We have the range of practice areas to weather the storm with our clients, who turn to us for legal certainty in an ever changing world" she said.
Technology and the future of law
During the session, students were asked to respond to an online poll asking them what would be the biggest force for change of the legal profession over the next decade. A clear majority (just under 70%) selected artificial intelligence and other legal technology. Interestingly, the speakers were not so sure, suggesting that the pace of change may not be as rapid as some expect.
As Ku put it: "AI is an end goal. Twenty years ago as a trainee my main task was comparing two sets of documents. Today technology does this. And law firms are thinking differently in other ways regarding alternatively delivery of legal services by technologists. But these changes take time. Just look at self driving cars, the technology is there, but how long will it take for governments to approve this?"
Giving the legal education perspective, Verma urged students to keep up with the changes, highlighting ULaw's new legal tech MSc courses and the wider embedding of tech elements into standard courses. She also identified legal education apps that ULaw has begun to use which help identify areas where students are weaker and then tailor content to help them improve.
The theme of evolution over revolution also underscored an ensuing thread of related discussion on agile working — which all agreed would be a key force for change in the medium term. Cornelius and Chan spoke about combining their experience of working remotely with meeting clients' demands, while Tran emphasised how location need not be important "as long as the job gets done".
Career journeys
The session concluded with the lawyers sharing the stories of their respective career journeys. Only Chan had enjoyed an uninterrupted journey from trainee to partner, as he rose the ranks at Clifford Chance. The others had moved firms, practice areas and even professions to get where they are today. Ku had been a litigator very briefly before moving into his preferred area of capital markets, while Tran had worked for several law firms in three different jurisdictions (Hong Kong, Japan and Australia) before joining Mayer Brown. Cornelius took five years out of law to start and run her own business, and Verma moved into legal academia, while retaining her practising certificate, after beginning as a litigator.
Their favourite parts of the job? For Chan the people, for Ku the challenge of solving problems, for Cornelius the variety of work, for Tran and Verma the satisfaction of helping to train the next generation and see them flourish. "You guys are the future of the legal profession and you will shape it," Tran told the audience.