Reed Smith's Wei Wei on her passion for the energy sector and why those seeking to follow in her footsteps need to be prepared to play the long game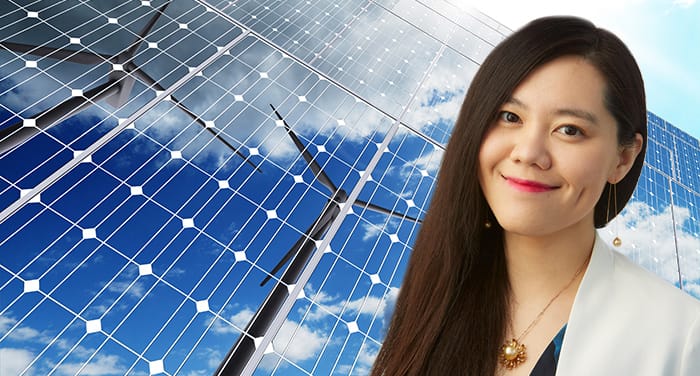 Wei Wei, a senior associate in the energy & natural resources group at Reed Smith, has built a career around her enthusiasm for all things energy. Now she is helping the firm's clients move towards a more sustainable future.
From the very beginning, Wei Wei knew how she wanted her career to develop. "I grew up in China surrounded by people working in the energy industry," she explains. "I've always wanted to be able to help energy companies to grow and successfully develop their international projects."
This early insight sparked the driving force behind a career built around the energy industry. "These projects don't just benefit energy companies; they add value to society as a whole," she says. "Energy projects produce essential products to people's daily life such as heating sources, vehicle fuel and security of energy supply. It's especially important in developing countries, for instance, where energy projects can have a positive impact on local community development programmes including through local content initiatives to provide basic access to clean water, basic healthcare and infrastructure. It also allows local children to have access to education."
Many students use the seats in their training contract to experience different areas of law, but with her goal firmly in her sights, Wei Wei put energy at the centre of her training. "I always knew I wanted to be an energy lawyer, so I chose all my seats around that," she tells us. With this approach, she covered different aspects of energy such as project finance, corporate energy and infrastructure, and contentious construction.
Wei Wei is clearly an energy expert, with experience on mega projects spanning the sector, from petroleum to nuclear power and green hydrogen. But the centre of her passion is liquefied natural gas (LNG). "These kinds of projects are always very complicated and capital intense — they take years to develop," she explains. She has worked on top-level LNG projects all over the world, from the US to Qatar. A recent highlight includes advising on the massive North Field East project in Qatar.
With the energy sector undergoing seismic changes in the last decade, this is a field in the midst of a transition to a greener future. "Everybody wants to achieve net zero by 2050," she says. "This means that energy companies are actively supporting this transition. We've seen supermajors, for example, divesting downstream assets in order to realise capital to develop net zero projects, whilst others have acquired renewables companies to expand their businesses into new energy sub-sectors such as wind, solar and other advanced technologies," she says. Some energy companies have evolved from traditional NOCs to market leaders in offshore wind development. "The idea is to move gradually to cleaner energy, renewables and net zero," Wei Wei explains, "and at Reed Smith, we are working with our clients together in this transition era as energy project development skills are transferrable".
While the transition is clearly underway, Wei Wei advocates for a steady approach to ensure stability in the energy supply. It takes time to develop new energy and green projects at the commercial level. "For instance, unlike crude oil, which is very established in terms of both market supply and demand; new products like green ammonia and hydrogen don't yet have an establishment market, and they are yet to have green ammonia and hydrogen projects at commercial scale to replace the current fossil fuel projects," she says. "These things take time to develop and you need a gradual transition period. It takes years to develop energy projects, especially for new technologies which involve innovation and test and trial. We do need existing O&G and LNG projects to keep producing crude oil, gas, LNG and other refined products until the renewable projects can reach the same level in terms of energy production. Otherwise, it would leave a black hole in our energy supply. That's why at Reed Smith, we help our clients on the energy transition and developing new technologies to ensure consistency and stability in the energy market," she adds.
The complicated nature of energy projects is obviously part of the draw for Wei Wei. "I enjoy the complexity of it," she explains. "To be a good energy lawyer, you should possess a mixture of skills – corporate, finance and regulatory aspects. Most importantly, you need to be on top of sector development, you should have basic knowledge of the entire value chain from upstream project development to downstream sales and marketing, in order to understand the clients' business as energy clients operate throughout the entire value chain."
What advice would she give to students interested in energy law? "Be open-minded and have a good attitude," she says. "It takes years to be a good energy lawyer. It's not something you can achieve in a few years. So you need to be prepared to play the long game."
Wei Wei will be speaking at 'The future of energy — with Reed Smith', a virtual student event taking place on Monday 28 November. You can apply to attend the event, which is free, now.
About Legal Cheek Careers posts.