Solicitors from Eversheds Sutherland, Irwin Mitchell, Pinsent Masons and ULaw share the stories of their career journeys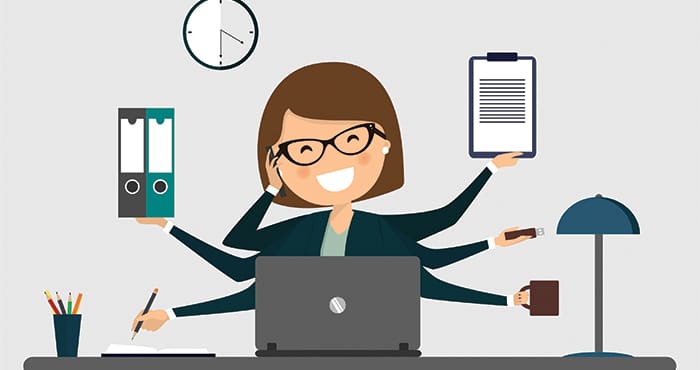 A panel of four solicitors — including one former solicitor and one trainee solicitor-to-be — gathered at The University of Law's (ULaw) tech hub campus in Nottingham last month for an evening of careers advice.
In a candid discussion chaired by Legal Cheek journalist Adam Mawardi, the speakers each shared their respective journeys into law. They were Rachel Cooper, legal director in Eversheds Sutherland's commercial group; Emma Rush, partner in Irwin Mitchell's medical negligence team; Dawn Kirby, future trainee solicitor at Pinsent Masons; and Andy Matthews, dean of ULaw Nottingham and former East Midlands managing partner at Gateley.
Kickstarting the conversation was Pinsent Masons' Kirby. She's currently completing the Legal Practice Course (LPC) and will commence her training contract at the firm next September. Kirby told the audience comprising of 60 students that she came to the law after working for nearly eight years as a journalist.
It was the skills she picked up from working at a wide range of publications including Peterborough Telegraph and Express & Star, and realising just how transferable they are to a career in law that sparked her decision to apply. Communication (both written and oral), the power to write persuasively, the ability to manage your time effectively (especially when on deadline), high attention to detail and working within a team were all soft skills the Oxford English grad leveraged in her training contract applications.
Along the way she secured some legal work experience at an employment consultancy on the back of her journalism experience alone. She thoroughly enjoyed her placement there which further fuelled her decision to pursue a career in law.
It was challenging, however, to come to the law much later in life as a "full-time mum turned full-time law student" but she said she's looking forward to the opportunities ahead.
Avid readers of Legal Cheek may recall Andy Matthews' route into law. To recap, Matthews trained and worked at a host of Midlands-based law firms, with the most recent being Gateley at which he was East Midlands managing partner. He built a significant practice in real estate before moving to head ULaw's new Nottingham campus earlier this year, citing it as an "incredibly worthwhile challenge — to take my knowledge of the local legal market and help power-up the next generation of lawyers in the region".
Teaching had always been in his blood, Matthews reflected, having previously worked at a school before studying law at Nottingham University, and his father and now daughter being schoolteachers. He was involved in graduate recruitment and training during his time at Gateley which he found to be the most "fulfilling" aspects of his job. "To nurture young talent to move into the legal profession and teach them what you might have done right and where you went wrong — that is very rewarding," he said.
And he doesn't feel "too far removed" from the hustle and bustle of legal practice or his former colleagues — "they're only 200 yards up the road!" he added.
Rachel Cooper trained with Eversheds Sutherland and works on complex public-private projects in the firm's commercial group. For the first seven or so years of her career she worked solely on Public Finance Initiative (PFI) projects. These were large-scale projects in a variety of sectors, spanning education, emergency services and housing, that lasted, on average, around 30 years, with contracts typically over the 2,000 page mark.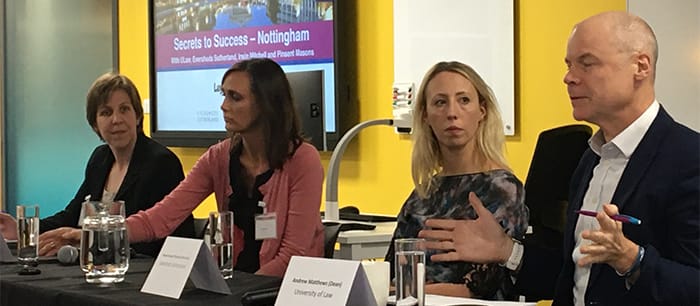 This sort of work appealed to Cooper, who said she enjoys drafting, building rapport with clients over a long period of time and dealing with matters in which there's a positive end result unlike in litigation. So when the global financial crisis hit in '09 and PFI projects were effectively scrapped by the government overnight, Cooper and her team of ten had to look for work elsewhere.
She took on work for Eversheds' corporate team, did a good job there and continued to receive instruction on such matters. She now has a national role leading the firm's corporate support group, and is currently working on a project that will be rolled out across the firm, both nationally and globally. "It's about taking a small thing and if you do it well with a positive attitude you can grow it," she advised the audience.
Emma Rush wasn't sure about entering the legal profession at all. She didn't have any connections in the law and was the first in her family to go to university, and while there she held down two part-time jobs alongside her studies. Her perception of law from the careers fairs she attended during her time at university was largely commercial-oriented, something which she didn't think would be the right fit for her. But she persevered and quickly realised after securing three summer vacation schemes that it was in fact the right career choice.
Now working as a medical negligence lawyer in Irwin Mitchell's Birmingham office, she explained to the audience how her previous experience working as a shop assistant in Woolworths has helped in her career. She said:
"It taught me how to communicate with different people in different ways and break complicated things down… A medical negligence lawyer has to be able to explain complicated legal jargon to different people, and conversations you may have with the client about a particular paragraph in an expert report will be very different to how you discuss that same paragraph with the expert, the barrister and then with the judge."