Experts from across the City share their insights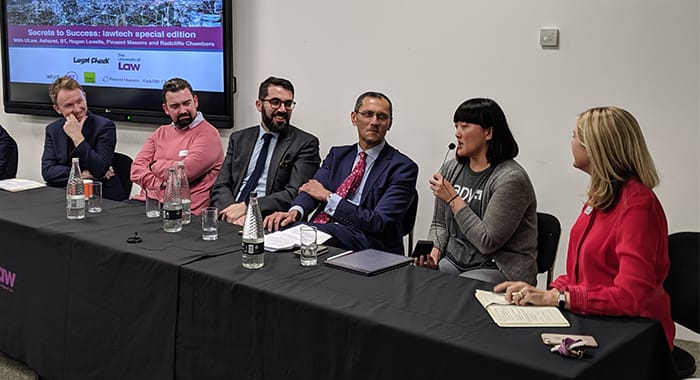 At Legal Cheek's latest careers event in partnership with The University of Law (ULaw), a group of experts from across the City came together at ULaw's Moorgate campus to discuss how lawtech is disrupting legal education and changing the way lawyers work.
The speakers were: Tara Waters, co-CEO of Ashurst Digital Ventures; Russell Johnstone, general counsel, consumer, at BT; Michael O'Donoghue, senior associate, financial services litigation at Hogan Lovells, Mark Marfé, senior associate, IP at Pinsent Masons, Shantanu Majumdar, barrister, commercial disputes at Radcliffe Chambers; and Jill Howell-Williams, campus dean and associate professor at ULaw.
Lawtech drives progress
In an era of automation, concerns of job losses are mounting. Future lawyers needn't worry, though, as Michael O'Donoghue explained that lawtech simply helps to "reduces the time spent on repetitive and routine and allows junior lawyers to do better work and progress quicker." Mark Marfé agreed: "AI can't break down a decision in the same way that a human can. Clients want humans to be the decision makers. They may want us to be supported by tech in order to reduce costs and speed up the process, but they don't want us to be solely reliant on it."
When asked on the specific technology that's being used, Tara Waters gave this insight:
"Ashurst uses Kira, an AI-powered document review platform. You train it to find information in documents and it can then be used to review a large volume of documents very quickly. A lot of current AI technology is based on human-assisted review. A big focus now is on no-code solutions such as BRYTER, which can be programmed using drag and drop tools, allowing lawyers without coding experience to build solutions which work for them."
Radcliffe's Shantanu Majumdar added that at the moment barristers are often the "beneficiaries of lawtech rather than drivers," but they still need to understand what it can do and how it might help their clients.
The barriers to lawtech adoption
Legal Cheek editor, Tom Connelly, asked: "What are the main barriers to implementing new technology?"
"There's always going to be a fight over budget. For us it's investing in new technology on our side or launching 5G. I'm always going to lose that fight", Russell Johnstone explained. "It always comes down to money".
O'Donoghue believed it was a different problem, saying that "mindset" is the biggest barrier he sees in implementing new technology. "The tech is tested, and it works, but it's not as effective without people investing the time to find out how it can be used and implemented", he told an audience of over 190 students.
Legal education
Legal education is currently facing a massive shake-up. With the Solicitors Qualifying Examination (SQE) and new bar courses on the horizon, law schools and firms are looking at how their offerings can stay relevant. But does this include the implementation of tech-based modules or change to current training contract offerings?
"The University of Law puts tech modules in to all of its courses, from LLB through to LPC", Jill Howell-Williams explained. "It's harder for more traditional universities to achieve this — as it will take much longer to make any changes to their curriculum".
Waters explained that some firms are offering new entry points for law students, with Ashurst providing "two different pathways, one via its NewLaw division, Ashurst Advance, and a traditional one via a training contract" due to the changing skillset demands.
Johnstone argued "soft skills are far more important" than an ability to code, while O'Donoghue agreed with this viewpoint adding that "an understanding of lawtech is beneficial but it's not necessary."
Connelly asked Majumdar if barristers need to be tech savvy, to which he replied: "It's important that incoming barristers know how to use technology and what it does, but they don't necessarily need to know how it works. Knowing what result technology can get for your clients is more important than learning how to code."
Blockchain
The panel were asked how blockchain technology is changing the practice of law.
"It hasn't necessarily changed it — it's just given us a whole new practice area", Waters said. "We have the recent analysis from the UK Jurisdiction Taskforce's LawTech Delivery Panel concerning how crypto assets may be viewed as property, and there is an interesting debate around how this new asset class should be treated. In relation to the adoption of 'smart contracts' in the legal industry, it doesn't remove the need for the lawyer or traditional legal contracts. In most cases, it's simply a new tool to implement certain terms in a traditional contract", he explained.
But for smart contracts using blockchain to really take off, O'Donoghue argued that an "industry wide change" would need to happen. "No-one wants to be the first if it's untested or unregulated. Someone needs to take the lead and the rest will follow".
Career advice
The panel were asked what the greatest lesson was that they learned on their journey to becoming a lawyer.
Marfé started with the importance of being honest. "When asked a question, step back and think — what is the answer I should give? This is far more impressive than giving the answer that you think they want to hear," he said.
"Be flexible and keep an open mind, have a good sense of humour and be optimistic", offered Howell-Williams. "Law roles are changing, but the new roles are going to be greater than the ones that are lost."
What skills will future lawyers need to succeed?

An entrepreneurial mindset, tech-savvy and resilience are some of the top characteristics law firms will be looking for in 2020 training contract applicants, explains The University of Law Moorgate dean and former solicitor Jill Howell-Williams ?

Posted by Legal Cheek on Thursday, 9 January 2020
O'Donoghue gave advice on how to keep a healthy work/life balance whilst chasing career progression. "You need to ask yourself how things will benefit your career in the long run", he explained. "If someone is asking you to get involved in something outside your normal working tasks, you need to make sure it benefits you and your growth; be selective or you will burn out."
Russell turned to an old Scottish proverb in his advice: "Whit's fur ye'll no go past ye" which means 'That what is for you won't go by you'. He went on to add: "Things will go wrong along the way, but it will all work out with faith and perseverance."