As Edinburgh Law School defends itself against accusations it had tried to 'break' the strike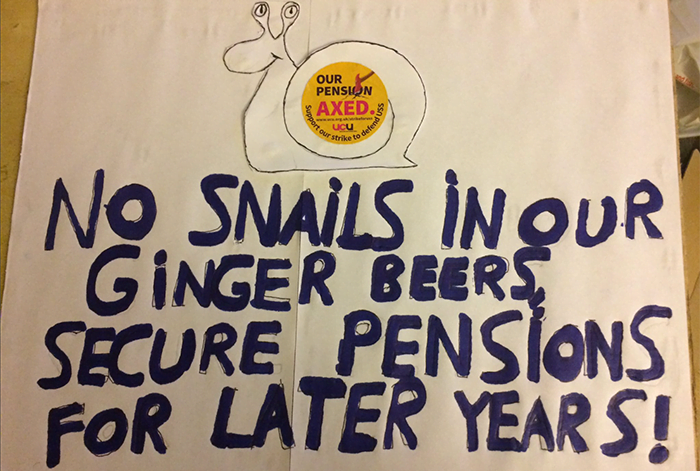 Tort law's most famous case has made an appearance during a strike by academics in response to detrimental changes to their pensions.
The celebrated precedent involving a woman who became ill after drinking ginger beer from a bottle with a snail at the bottom of it has now become a poster-sensation in a battle between universities and the University and College Union (UCU). This is thanks to Alan Greene, an assistant professor at Durham Law School, who tweeted:
No, your law-related strike sign is awful. #strikeforUSS #USSstrike #StrikeforUSS pic.twitter.com/qh3fQuUyST

— Alan Greene (@DrAlanGreene) 5 March 2018
The strike, which started on 22nd February, is about proposed changes to lecturers' pension scheme which could see them £10,000 per year worse off in retirement. On Wednesday, progress appeared to have been made when the University of Oxford changed its stance on pensions following a similar move by Imperial College London.
In the meantime, north of the border Edinburgh Law School has been accused of "breaking the strike" when it informed staff that it should make available recordings of previous lectures on its website for students to access. The move by the law school was disclosed in an email and was published on the UCU's website. It says that academic staff should:
"[S]ee whether it is possible to arrange alternative teaching for any of the missed classes, and where this is the case put arrangements in place to deliver this teaching; and… ensure that, as quickly as possible, for missed lectures you liaise with the UGO about identifying the specific lecture missed in order to have its recorded counterpart from last session uploaded to the LEARN page…"
Mary Senior, UCU's Scotland official, stated that the move was akin to breaking the strike in an "underhand way".
She said: "Students deserve the full attention of lecturers and not out of date recordings recycled by university management. If the university doesn't stop using these recordings in this way then they're letting down both their staff and students."
But Edinburgh University has made a robust response to this. A spokesperson told Legal Cheek:
"The Law School has, for a number of years, made recordings of lectures from previous sessions available to students when lectures have had to be cancelled. This is a continuation of that existing practice. Law students are required by the Law Society of Scotland to study specific subjects as prerequisites for professional practice. If the University did not ensure the continued delivery of teaching, students' future careers as practising lawyers would be jeopardised — something which we are sure nobody would wish to see happen."
The law school is right that students in universities across the country have raised concerns about the strike action and the effect which the lack of teaching over the 14-day period of walkouts could have on their degree.
Robert Liow, a law student at Kings College London (KCL), started a campaign called Refund Our Fees, and estimated that students would miss out on almost £675-worth of teaching each. A similar move was made by Ying Tang, a University of Liverpool law student who also petitioned her university for compensation. These petitions had many backers; indeed, a Legal Cheek poll saw 87% of respondents call for universities to reimburse their students for teaching time missed.
KCL has announced this week that it will be offering compensation to be funded by the unpaid salaries of the staff on strike.