Shez Anjum reveals how he overcame prejudices to win 'Trainee of the Year'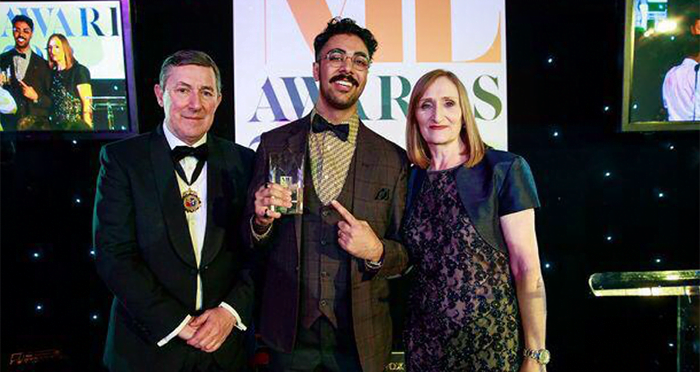 Diversity is a broad concept, with many facets to it and different forms. It means a lot to me: being from a working class and a black, Asian and minority ethnic (BAME) background, I have experienced the challenges and prejudices that come when trying to 'make it in law'. Yet these difficulties have also acted as a motivation for myself. Firstly to try and prove that despite the obstacles, you can be successful and, secondly, to be part of the drive for change and equality.
I am only at the beginning of my career but in the space of a few years, I have gone from having zero legal experience and starting off as a paralegal, to securing a training contract and winning Trainee/Paralegal of The Year at the 2018 Manchester Legal Awards. The road I travelled has not been smooth, and I have experienced how archaic the legal industry can still be.
Progression is a key issue. Despite there being a large number of talented law students and paralegals from working class or BAME backgrounds, this does not follow through in the vast majority of trainee intakes. This problem becomes more compounded further up the career ladder as those that do qualify often drop out of the profession. Why does this happen? I'm not entirely sure, but I do know of two things that contribute to the problem.
One is lazy recruitment. The tick box exercise of ruling out anyone who did not get straight As and did not attend a Russell Group university has led to some law firms having trainee intakes with the same amount of diversity as an episode of Midsomer Murders.
To address the issue of social mobility, consideration has to be given to the fact that people from a disadvantaged background experience their biggest difficulties at the beginning of their lives and this usually impacts on their ability to fulfil their potential while undertaking their GCSEs and A-Levels. This results in people already way behind the start line falling even further behind, all before their career has even started.
Graduate recruiters and HR departments of law firms need to make a positive effort to address this issue and look at alternative methods of recruitment. It is all well and good sticking one of the few BAME candidates that have been recruited on the front cover of brochures, to showcase the firm's 'commitment to diversity', but until recruitment methods are changed, the vast majority of talented individuals from diverse backgrounds will continue to be overlooked.
The other issue is the attitude of some members of the industry. I have been lucky to come across many inspirational and positive role models throughout my career so far. I work for a firm with a wonderful inclusive environment that has been cultivated by its people and has recognised what I have to offer. However, I have also experienced the prejudices and difficulties of this industry.
Being from a BAME or a working class background, you are constantly having to fight against preconceived conceptions, with the focus being on trying to survive in this industry. Opportunities are harder to come by and until you have proven yourself, you definitely have to do more than colleagues from advantageous backgrounds to earn the same chance, even if you are more deserving or better suited to the opportunity.
Then there is the elephant in the room, a topic not many people are willing to discuss: discrimination.
Thankfully, this is far from widespread and attitudes are changing. However, it is still a major reason why people from BAME backgrounds drop out from the profession. You only have to read the comments in a Legal Cheek article on diversity in law, or the vile comments in the group chat of law students from the University of Exeter which has recently come to light, to see archaic views are still in existence. Personally, early on in my career, I have experienced situations that range on the spectrum. From the mild, of having a colleague say 'You're Asian, the women in your family will know good places to get eyebrows done!', to the more severe.
As a profession we need to accept that there is still an attitude issue, which must be addressed. By addressing, I don't mean having the HR and marketing departments come up with a catchy slogan on diversity to tweet, but by driving real change and setting up diverse (in all senses of the word) teams, that can grow and learn together, while nurturing an inclusive environment. The cities that we work in are diverse and vibrant, yet not all the offices of law firms in these cities reflect that.
Coming from a diverse background does not mean you are the best person for the job and you should be given the opportunity, but it does certainly mean that you are more likely to be overlooked and will have more challenges and difficulties to prove that you should be given an opportunity. Is it too much to ask for a level playing field? To be judged on talent and work ethic and not the circumstances that we were born into.
I have, like many others from a similar background, had to work harder and overcome many obstacles. You have to be resilient, motivated, determined but most importantly you have to believe because hard work always shines through. Despite the difficulties, if you are talented (although it may take you longer) you will create an opportunity to prove yourself and you shall have success in this industry. Take it from someone who was written off, who went from starting his legal career way behind the rest of the pack, to winning Trainee/Paralegal of The Year at the 2018 Manchester Legal Awards. If I can do it then you can too. However, this should not be the norm!
My journey in law has only just started, but along with the many other people from a similar background doing the same, we will strive for progress and change every step of the way, while looking to inspire the boys and girls who we once used to be. All I ask the next generation to do is dream big, because a path of change is being paved and they can aspire to be brilliant, aim higher and not give in to the same doubts that previous generations did.
We are seeing in other industries how game changers from diverse backgrounds are redefining their sector and the same is starting to happen in law. They are looking to disturb the status quo and not only open the door into the industry but knock it flat down and create a level playing field, where the first thought will no longer be about surviving but rather thriving.
Shez Anjum is a future trainee at a medium sized law firm based in the North West. He has a particular interest in increasing diversity and breaking down barriers to entry in the legal industry.