Recruitment teams still dazzled by high-status law schools, despite so-so performance in rankings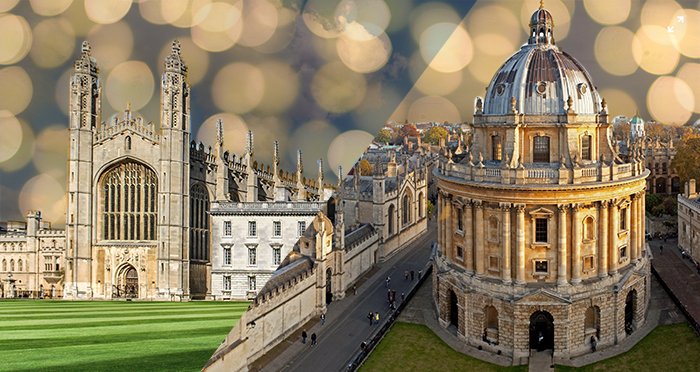 In the battle for a top training contract or pupillage, an Oxbridge law degree is a sharper sword than the same from another Russell Group (RG) university.
At least, that's what the statistics seem to show. The number of Oxbridge law graduates hitting the legal market is, comparatively, tiny — UCAS data revealing 435 aspiring lawyers accepted places at Oxford or Cambridge last year versus 6,435 at the other RG unis. That means less than 10% of new RG students are Oxbridge; throw all other law schools into the mix and Oxbridge's lot make up just 2%.
The elite duo's impact on the graduate recruitment market is far greater.
Training contracts first. It's difficult to obtain data from law firms about the universities their trainees attended (Legal Cheek has tried). There are a number of big players in our Firms Most List, including four of five of the magic circle outfits, which do not release these statistics.
Some do, though. Of the 20 data-releasing firms with the biggest trainee cohorts, average Oxbridge representation is 18%, this ranging from 0% (Irwin Mitchell) to 39% (Herbert Smith Freehills). Outside of the top 20, we spy one firm, Weil Gotshal, with an even meatier Oxbridge intake of 42%.
No firm, though, took on more Oxbridge-educated trainees than it did other Russell Group-educated trainees — in stark contrast to the bar.
At the 20 biggest chambers by pupil places, 59 of their 100 newest tenants are from Oxbridge, as shown in our Chambers Most List. That's an average of three out of five (60%) per set. At seven of these top 20 (Littleton, 4 Stone Building, 7 King's Bench Walk, Brick Court, Erskine, Essex Court and Fountain Court), four out of five new tenants are Oxbridge grads.
At Maitland, it's a full house (five out of five), which is also the case outside of the top 20 at XXIV Old Buildings. Small wonder, then, that when we asked one Cambridge graduate and barrister-to-be whether he thinks an Oxbridge law degree is a golden ticket to a top job, he replied, without hesitation, "absolutely… I'm sure it's helped me massively applying for jobs and further study". But, should it?
He doesn't think so: "Many employers value an Oxbridge degree much more highly than they should," he says. Though recruiters are often "dazzled" by the universities' status, our sceptical graduate believes "Oxbridge doesn't always give you a 'better' law degree".
His gripe principally lies with the "disappointing" teaching he received on some modules:
"Many top academics at Oxbridge are there for their brilliant research skills, not their brilliant teaching skills."
Though Oxbridge is consistently praised for its research quality and tough entry standards, by comparison the pair falter in more student experience-oriented categories of university rankings, like teaching.
In The Guardian rankings, Oxford's law school comes in 18th place for its teaching, while neither Oxford nor Cambridge seem to be particularly hot on student satisfaction. In The Guardian, Cambridge comes behind London South Bank and UEA in third place, and Oxford 29th. They do worse on the Complete University Guide: Cambridge's law school comes in 12th place for student satisfaction and Oxford's in 39th.
As for the percentage of students satisfied with feedback, Cambridge places 29th and Oxford 54th.
In each of these categories, there are RG universities outperforming (at least one of) the pair: Belfast, Leeds and York in teaching and student satisfaction, for example, while seven of the other 21 RG law faculties score better for feedback. "Apply for Oxbridge every time," one recent Cambridge graduate recommends to aspiring lawyers, "not because the degree is better, sadly, but because everyone thinks it is."
There are myriad reasons why his advice will not be followed, though (and not just by people who don't have the grades).
A student at Liverpool says the open days she attended at both Oxford and Cambridge painted the historic duo as "very work focussed", with little to be said for "sports (other than rowing!) or student societies which were not academically focussed". This deterred her from applying.
An Exeter graduate, now studying at a top-rated London university, says he didn't apply to Oxbridge because you had to sit an admissions test. Another aspiring lawyer, now studying at Durham, concedes her "personality didn't align with Oxford", while a fellow student who recently graduated from Cardiff University was put off applying because of Oxbridge's "culture and regulations".
Whatever the motive behind it, a decision made aged 17 not to punt for Oxford or Cambridge, thankfully, does not sound the death knell for aspiring lawyers' career hopes. Succinctly summarised by one Durham student, "strong academic results, a compelling application, being personable and being able to see the applicant thriving within the firm, in my opinion, carry greater weight" than candidates' alma mater. Even a Cambridge law student concedes:
"Law firms want to see many other qualities [beyond intellect and good grades] in their applicants before giving them an offer. Having an Oxbridge degree doesn't necessarily mean that a person is a team player or that they can communicate well and effectively with others."
Firms' involvement with the likes of Rare Recruitment and a select few's introduction of 'CV blind' go further to show a candidates' prospects of lawyer success don't lie just in the name of their university. These programmes encourage recruiters to consider candidates more holistically and to avoid 'lazy' Oxbridge bias. "Firms want the best," one LSE student says, "they no longer want a brand of elitism."
These diversity pushes, though, don't seem to have led to a drop in Oxbridge representation. Research from 2013 and 2016 by Chambers Student in fact suggests the percentage of Oxbridge-educated trainees has increased — by 1.2 percentage points.
The Chambers Student research suggests Rare Recruitment and other initiatives are having an impact, but at the expense of RG representation. Firms recruited from 14 more universities in 2016 than in 2013, the statistics show, and at the same time the percentage of RG-educated trainees was knocked down by more than 15 percentage points (from 79.3% to 63.8%).
The RG bearing the brunt of firms' diversity pushes comes at a turbulent time for this group of top-rated universities. In a previous Legal Cheek article on the RG's faltering position and influence, the author argues RG leaders "have manoeuvred themselves into a situation where they are massively dependent on undergraduate revenue irrespective of the quality of the intake". Some RG law departments are now taking on in excess of 500 students a year, and: "In turn, that will accelerate their poor performance in the National Student Survey (NSS)."
Indeed, though Oxbridge hardly receives praise all round for its student experience, certain RG universities consistently find themselves languishing at the very bottom of the NSS. The most recent league table saw no RG universities ranking better than 19th. Southampton, Queen Mary and Edinburgh came in in joint 90th place. LSE failed to make the top 100. The Complete University Guide's 'student satisfaction' rankings also place a number of RG law schools at the very bottom, such as: Birmingham (81st), Edinburgh (82nd), King's College London (80th), UCL (81st) and Manchester (91st).
That said, RG graduates are, like their Oxbridge counterparts, still hugely overrepresented in law firm trainee cohorts: they are outnumbered by non-RG law graduates entering the job market by about one to three, yet make up an average of 64% of rookies at the 20 biggest firms that release this data.
We wonder whether turmoil over the RG's prestige will alter this.
All the while, Oxbridge's revered status hums along, leaving its law graduates with the (very enviable) recruiter box-tick of being from the best universities in the country. But, that doesn't mean they have the best grades, the best interview technique or the best application form, nor does it mean they're the best candidate. We're not sure a helpful first box-tick is quite a golden ticket — but maybe it's a silver one.