??‍⚖️??‍⚖️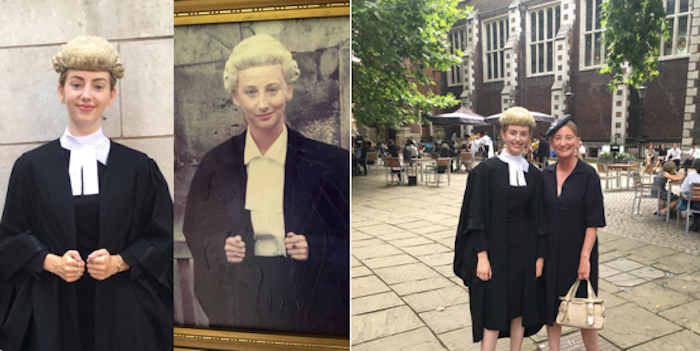 An adorable tweet posted by a BPTC grad has gone viral.
Emily Landale was called to the bar last week. In a tweet posted on Friday morning, which has since garnered 1,629 likes and 482 retweets, the aspiring barrister states that "yesterday was the most fabulous day, being called to the bar by the Honourable Society of the Middle Temple".
Yesterday was the most fabulous day, being Called to the Bar by the Honourable Society of the Middle Temple. Especially proud to be called by @middletemple 29 years and 363 days after my mother ??‍⚖️??‍⚖️ pic.twitter.com/AirEGdA63G

— Emily Landale (@EmilyLandale) July 27, 2018
What made the moment even sweeter for the 23-year-old was that this day marked "29 years and 363 days" since Landale's mother had been called to the bar by the very same Inn. Landale's mother was a practising barrister at Exchange Chambers before being appointed to the circuit bench in 2015. The two can be seen standing side by side in almost identical outfits above.
Speaking to Legal Cheek, Landale said:
"I'm so surprised. I just thought it was a cute tweet, and I liked the comparison photos we took — I really didn't expect it to go viral at all! It was brilliant to be called by Middle Temple just like my mother was. If only the call date had been two days later to make it exactly 30 years! It was a really special day, and I felt very proud."
Meanwhile her mother tells us she "feels really proud and that although there are challenges facing the bar I think it's a great career and one of the strengths is the legal community supporting each other".
Landale studied law with German law at the University of Sheffield, spending her third year abroad at a university in Berlin. Graduating in 2017, Landale went on to study the LLM which incorporates the Bar Professional Training Course (BPTC) at BPP Law School in Manchester.
The aspiring barrister has also completed a handful of mini-pupillages, including one with Exchange Chambers. Landale will soon be commencing pupillage with Central Chambers in Manchester.
Landale and her mother are by no means the first to set the familial trend in law. As we revealed last week, Love Island solicitor Rosie Williams comes from a family of lawyers. Other offspring of the law include New Court Chambers barrister Kathryn Blair, the daughter of former Prime Minister (and barrister) Tony Blair and leading silk Cherie Blair, and Lord Neuberger's three children, all of whom are solicitors.
Comments on this article are now closed.