Autumn score of 86%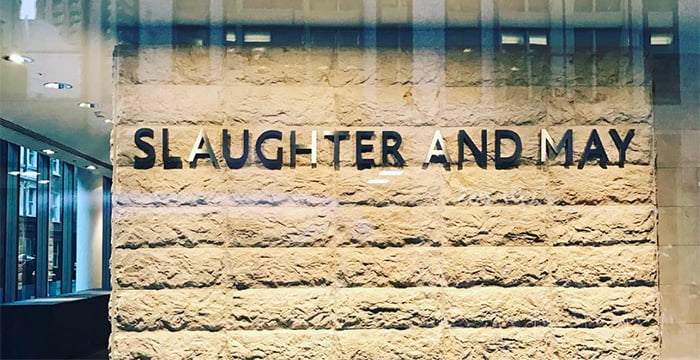 Elite magic circle player Slaughter and May has announced an autumn retention score of 86%.
Out of the 37 trainees due to qualify later this year, 32 have committed their futures to the firm and will be taking up newly qualified (NQ) associate roles. The Bunhill Row bunch confirmed it received 35 applications and made 33 offers. It didn't provide details of the departments its new recruits will qualify into.
Legal Cheek's Firms Most List shows Slaughters' newbies will see their pay rise from a second-year trainee salary of £49,000 to a base rate of £80,000 upon qualification, a healthy uplift of £31,000 or 63%. The firms newest recruits receive a salary of £44,000 in year one of their training.
Commenting on today's result, a spokesperson for the firm said:
"Our overall retention rate remains broadly in line with previous years. We would like to congratulate all of our newly qualified associates, who we are confident will all play a key role in the ongoing success of the firm."
The magic circle player is one of the more consistent retention performers. Earlier this year, it reported a spring score of 95% (35 out of 37), while the round before that saw Slaughters' chalk up a result of 91% (29 out of 32).
But what's life as a lawyer like at the firm? In Legal Cheek's Trainee & Junior Lawyer Survey, Slaughters notched up As for quality of work, training, peer support, perks and office. The firm — which offers around 80 training positions annually — scored Bs for work/life balance, tech, canteen and social life.
Slaughter and May is now the second magic circle firm to publish its autumn score. Last week, Clifford Chance confirmed a result of 77% or 36 out of 47.