The 'diva of divorce' shares her story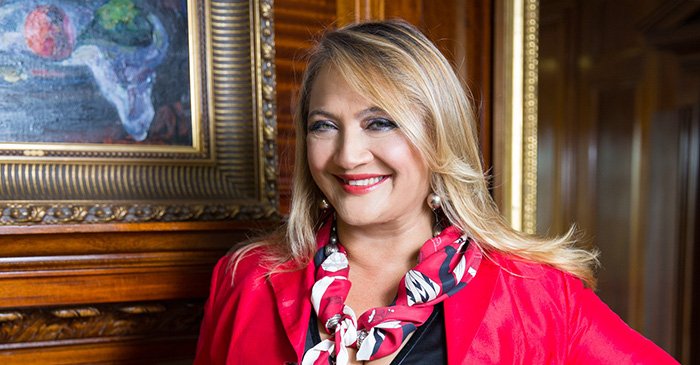 Ayesha Vardag is one of the world's most recognisable divorce lawyers.
Speaking to Child & Child partner Kevin Poulter in the latest episode of The Hearing podcast, the 'diva of divorce' discusses law reform, politics and her rise to legal fame.
Dividing her time between Dubai, Italy and London, Vardag thanks the internet for being able to be everywhere at the same time. "I can be absolutely anywhere, even if it's running a conference from a treehouse in the Amazon." What's more, she's even got her own personal 'Var-Bot', a Skype-enabled screen connected to a Segway which wanders the corridors of her London office
It was, however, a "series of accidents" that brought Vardag to family law. She joined Linklaters as a fresh-faced Cambridge law grad and later qualified into the firm's project finance team. Seconded to Moscow, Vardag worked on "big money" cases and carried out complex legal research — skills that would ultimately help shape her own family law practice. A brief spell at US outfit Weil Gotshal followed before Vardag moved across to the bar and pupillage with London's 4 New Square.
Unfortunately, things didn't go exactly to plan. Impending divorce and two toddlers to take care of meant Vardag was forced to abandon her barrister dream. But it was while working on her own divorce, alongside renowned family lawyer Raymond Tooth, Vardag finally "found [her] niche". So impressed by her legal skills Tooth offered her a job at his firm — "it was very Erin Brockovich", she tells Poulter.
It was a "strong foundation" that empowered Vardag to bring City-level quality to family law when she set up her firm Vardags 13 years ago. Originally housed in a "little, quaint Victorian office" in the heart of Temple Bar, the opera-trained singer tried to recreate the "Dickensian" feel in the firm's current base at St Paul's. "The law we do is so deeply personal that it's important our clients feel at home," says Vardag.
She famously represented Katrin Radmacher, a German heiress, in Radmacher v Granatino, the Supreme Court case that gave legal status to prenuptial agreements in England. She's also involved in reforms to no fault divorce, having lobbied the issue at a "lively" Conservative Party conference where outspoken journalist Katie Hopkins turned up wearing her wedding dress.
Now a leading family practitioner, Vardag is asked for her view on 'forum shopping', the practice where international litigants come to London for more favourable divorce judgments. With Brexit likely to throw a spanner in the works, Vardag is hoping Europeans will continue to be welcomed under a new special regime. "I hope to see London as a global cosmopolitan, a properly eclectic hub for all the world, rather than a fortress Europe," she says.
When asked by Poulter if she'd ever venture into politics herself, Vardag said:
"The bottom line is the firm is my baby and politics would split my focus too much. I care about making a difference and influencing policy — but I can do that from my current position. My focus is to build a dynastic firm that will be around for hundreds of years."
On the future of her firm, the diva of divorce has plans to diversify and enhance the Vardag offering. Employment law, property law, and given the nature of her clients, media and sports law, are all areas she's hoping to tap into.
Listen to the podcast above or download it for free on iTunes, SoundCloud and Spotify