Dana Denis-Smith on her journey from Linklaters lawyer to founder of a multi-million pound company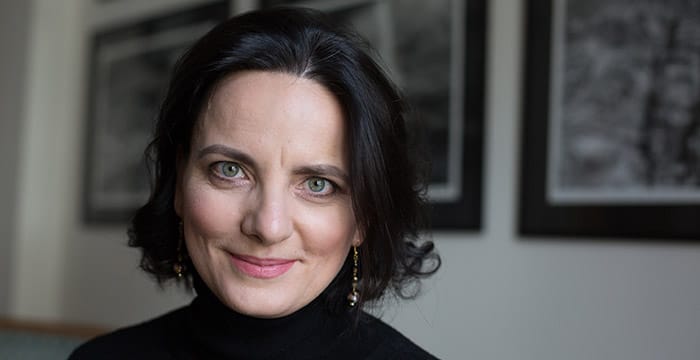 For the latest instalment of the Legal Entrepreneurs series I caught up with the founder of one of the first legal tech companies of the post-2008 wave of start-ups. Dana Denis-Smith launched Obelisk in 2010. It now has a host of awards under its belt and more than 1,500 freelance lawyers. From a laptop with £500 from her bank account to a multi-million pound company in less than a decade.
It's an impressive feat. So how did the idea for Obelisk come about?
"I was in India," says Denis-Smith, who worked with Linklaters for two years after a first career in journalism as a reporter for Reuters. "Maybe it's the heat, I don't know. But I was in the Himalayas when I had my first idea for a business beyond the law, and then again when I thought of Obelisk."
Denis-Smith's first business venture was in 2007 when she set up Marker Global, a research agency specialising in strategic investment advice and emerging market political risk analysis. She knew on her first day at Linklaters that the law wasn't for her on a long term basis:
"On the first day, the minute I swiped in through the barrier, I just felt trapped – trapped from my sense of freedom to be creative and be invited to contribute," she recalls.
Marker Global was an award-winning success but Denis-Smith had a yen to achieve, as she puts it, "something bigger than myself". It was then, on a second trip to India, that the idea for Obelisk came to her. "I needed a sense of purpose, and a sense that I was making tangible, important changes," she says.
Being pregnant at the time undoubtedly added to the rationale for Obelisk. Denis-Smith looked at the legal industry and saw too many women lawyers who wanted to continue to work but were denied opportunities because of prevailing societal norms.
Her sense of injustice was piqued. "I could see this vast untapped resource of excellent women lawyers who only needed to be able to structure their work around their family commitments. That's what Obelisk set out to remedy. It was created to harness the talent of ex-City lawyers and provide quality, affordable legal support for law firms and businesses."
And some. Obelisk has been a whirr of activity and progress since its inception — but what was it like in the early days? Surely, Denis-Smith was nervous about whether her idea could be turned into a viable business?
"To be a successful entrepreneur, you have got to give it all up and be willing to start with nothing. Risk and uncertainty go with the territory; you have to embrace them. I'd learnt this from setting up Marker Global. With Obelisk, I concentrated on the basics — trademarking the logo and creating a website, and then spreading the word. The business was small but ambitious back then, but it's important to have all your ducks in a row. You can't make mistakes. Even typos can detract from your brand, so you need to be excellent as a rule, and appreciate that excellence has to have a foundation."
Obelisk has grown to include FTSE100 clients of the calibre of Vodafone, BT, Siemens, ING and Barclays. Alongside its rise, Denis-Smith, who concentrates on her role as CEO, has somehow found time to establish the First 100 Years Project, a digital library charting the history of women in law. This has included the commissioning of 100 original films that will all be freely available online. And, as befits her company, her family life is relatively unaffected by her business and professional commitments:
"I rise early and often feel as if I've done a full day's work by 11am, but always make time to take my daughter to school each morning. I try to limit the number of events I attend, and am quite strict about my time generally. I want to see plenty of my daughter and husband, and don't let work jeopardise this."
Does Denis-Smith think that lawyers make good entrepreneurs? She has some doubts, mainly because of the risk-adverse emphasis that goes with the territory in the law and too many lawyers' ingrained fear of failure: "Often you speak to people in the law and realise that they've never failed. They've worked hard, they got their grades, they achieved, whether it was going to Oxford or Cambridge or bagging a magic circle job," she says. "Along the way, they never experienced any push back. But to make a success of your own business, you have to be comfortable with the falls. Unfortunately, lawyers seem to be trained to believe that there is no such thing as failure — which is not a good way to be trained."
But equally, she says that legal skills can be a great asset for a budding entrepreneur — and that being a lawyer itself is far from a bad thing. "The law is a great profession and no one says you've got to be an entrepreneur. If you stay in the law, enjoy it and take pride in it. Don't regret things and daydream about another life. But if the daydreams nag away too persistently, do something about them. Don't be afraid. Expect the unknown, embrace its surprises, the highs and the lows. And remember: there is no such thing as perfect timing. Timing is right when you feel you just have to do it and give it your best shot."
Dana Denis-Smith will be speaking at Legal Cheek's Future of Legal Education and Training Conference on Wednesday 22 May 2019. Super Early Bird ticket sales close at midnight tonight.