Brexit will happen, along with some other rather important things, forecasts Britain's leading legal commentator — writing exclusively for Legal Cheek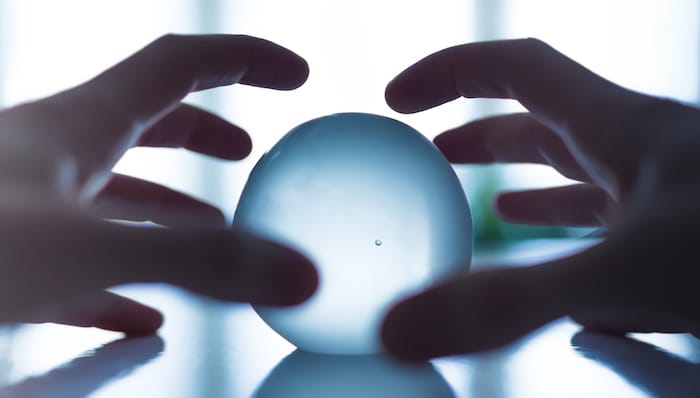 "Just a few predictions for 2019," the editor said casually. My heart sank. If past experience was any guide to my future performance, I couldn't even be sure that 2019 would start on 1 January. One commentator disclosed that he gave a different prediction about Brexit each time he was asked, hoping that at least one of them would turn out to be correct.
So this is my prediction for Legal Cheek. The UK will leave the EU at 11pm on 29 March 2019. I think it more likely that this will be on the basis of Theresa May's deal (to be slightly modified during January) rather than in a no-deal Brexit. I suspect that Jeremy Corbyn will not stand in the prime minister's way.
I say this because he had two opportunities to stop Brexit happening and took neither of them. One was during the referendum campaign of 2016, when the Labour leader failed to give the prime minister's Remain campaign the support that David Cameron had reasonably expected. And the other was during the general election campaign of 2017, when Corbyn could have stood on a manifesto commitment to remain in the EU and would then, if successful, have had a constitutional mandate to reverse Brexit.
By 2030, I suspect, the UK will be looking much stronger than the EU. But this prediction is brought to you by someone who confidently asserted that the Brexit referendum would produce a majority for Remain, that Hillary Clinton would be elected president of the United States and that May would increase her majority at the last general election.
It's a chastening experience at the beginning of each year to look back at predictions made twelve months earlier and see how few were right. I can do better than that. Exactly a decade ago, I wrote a column predicting legal developments for 2009. This piece can still be read on The Telegraph website — slightly to my surprise, as I told readers I had recently been sacked after eight years on the newspaper and invited them to read my work elsewhere.
My Telegraph predictions were written just after the financial crash of 2008. I thought that law firms would continue to recruit trainees at the same rate as before so that they would have associates in place when the economy began to pick up again after two or three years. Sadly, that proved to be wishful thinking — and not only by my source.
I was on safer ground in predicting the opening of the UK Supreme Court in October 2009. And there will be a number of events in 2019 to mark its first decade. In March, the Supreme Court will consider whether a former soldier accused in connection with a fatal shooting in Northern Ireland nearly 45 years ago can be deprived by prosecutors of the right to trial by jury. The outcome will be keenly watched by other retired soldiers who are currently awaiting trial in Northern Ireland.
Meanwhile, the government's £1 billion planned modernisation of the courts and tribunals in England and Wales continues apace and I plan to assess progress in the third of my annual Gresham lectures on 21 February. This year should see testing of what's called continuous online resolution — allowing social security claimants to challenge adverse decisions by the Department of Work and Pensions without the need for a tribunal hearing.
This has the potential to be truly innovative. But without legislation HM Courts and Tribunals Service will find it harder to implement some of its planned reforms. The Ministry of Justice managed to get a modest Courts and Tribunals Act through parliament just before Christmas, enabling court and tribunal staff across all jurisdictions to exercise judicial functions. But this was a pale shadow of the prisons and courts bill that lapsed when the general election was called in 2017. Nobody knows whether the provisions in that bill will be brought back in the 2019-20 parliament session.
There is more political capital to be made from divorce reforms — and more money, too, given that the courts charge £550 for a monopoly service whose running costs are negligible. David Gauke, the justice secretary, issued a consultation paper in September proposing no-fault divorce and is hoping to introduce a bill to this effect in the next parliamentary session. It could not take effect before 2020 at the earliest.
Following litigation in the Supreme Court, the prime minister also promised to extend civil partnerships to opposite-sex couples. We await a formal consultation exercise.
The Ministry of Justice announced in December that the results of its LASPO review would be published "early in the new year". It's expected to show that the cuts in legal aid were much deeper than expected or intended. The justice secretary will come under pressure to make amends.
Several senior judges will reach retirement age in the coming year. One is Sir Brian Leveson, president of the Queen's Bench Division and head of criminal justice, who will step down in the summer. There are no obvious replacements with his knowledge and experience of the criminal law so the selection panel will have to look elsewhere. Lady Justice Sharp is Leveson's deputy and must be the favourite. Other members of the Court of Appeal with appropriate experience — such as Lords Justices Gross and Irwin — would have less than four years to serve.
Lady Hale turns 75 in January 2020 and so will presumably retire at the end of 2019. Lord Reed, deputy president of the Supreme Court, is the obvious candidate to replace her.
More widely, judicial recruitment and retention will be Gauke's biggest challenge for 2019. The Judicial Appointments Commission was asked to recruit 25 new High Court judges in 2018. There were plenty of applicants but only 10 were good enough. A new competition is running at the moment — again with "up to 25" vacancies. Past experience shows that the commission is unlikely to fill all of them, let alone find the 80 circuit judges it also needs.
In a report published last October, Review Body on Senior Salaries recommended a pay increase of 32% for those High Court judges who do not qualify for a more valuable pension scheme that was closed to new entrants in 2015. Even with the rise, they would still be worse off than judges in the old scheme.
Backdating the recommended increase to April 2018 would increase the judicial paybill from £325 million in 2017-18 to £388 million in 2018-19. But the extra £63 million is negligible in the context of a £3.4 billion trade surplus in legal services, which the crisis in recruitment and retention has put at risk.
Just before Christmas, the Court of Appeal confirmed that the transitional provisions in a new pension scheme unlawfully discriminated against younger judges. Unless this decision is overturned, Gauke will have to take action. I confidently predict that legal services will be in an even more precarious state by the end of 2019 if he fails to do so.
Joshua Rozenberg is Britain's best-known commentator on the law. He is the only full-time journalist to have been appointed as Queen's Counsel honoris causa. You can read his previous Legal Cheek articles here.