Eve Cornwell takes hit vlog to law school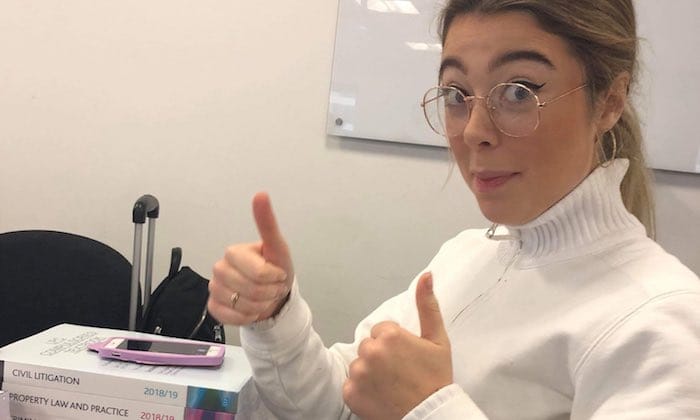 YouTube sensation and future magic circle trainee Eve Cornwell has become the first vlogging celeb to begin the Legal Practice Course (LPC), and has dropped a new video to mark the occasion.
The University of Bristol law grad, whose channel boasts over 90,000 YouTube subscribers and a total of 4 million views, started an accelerated version of the Legal Practice Course (LPC) at the University of Law's Moorgate campus yesterday. Cornwell, who has a training contract lined up with Linklaters, moved to London from Chester on New Year's Day to start the course.
all moved in ? first day of the Legal Practice course tomorrow ? i'm nervous ?

— Eve Cornwell (@Evecornwell) January 1, 2019
As if things weren't busy enough for the bright-eyed LPCer, she has also filmed a law school prep vid. The new offering (embedded below) has already garnered over 55,000 views and shows the future magic circle trainee being highly productive as she gives viewers a glimpse into how she studies:
"I want you guys to feel like we're in this together… We're both becoming a lawyer — well, I'm technically becoming a lawyer, but you could as well! If you're not interested, you can just watch me do it and feed me coffee!"
After a brief intro to what the LPC is — "it's the course that you need to complete in order to qualify as a solicitor in England and Wales" — and a run-down of what it entails, Cornwell shares her to-do list with viewers before filming herself getting stuck in and completing the various tasks. "The most satisfying thing ever is ticking things off a to-do list," says the future Links rookie, who is due to start her training contract in September.
This isn't the first law-themed vid Cornwell has dropped. In a video published last November, the star revealed how she secured a training contract at a magic circle law firm. "It's a process of building your CV and building your experiences so that you enter the application as a really competitive and strong graduate," she tells viewers.
Some of Cornwell's clips, however, are just for bants. In one video the future lawyer — who has completed vacation schemes at Latham & Watkins and CMS — parodies Ariana Grande's thank u, next music video and charts her tempestuous relationship with law school.
You can follow Cornwell's journey as she embarks on the LPC via her YouTube channel, as well as her Instagram and Twitter pages.