Rookie arbitrators beat fellow uni teams from Denmark, Switzerland and Poland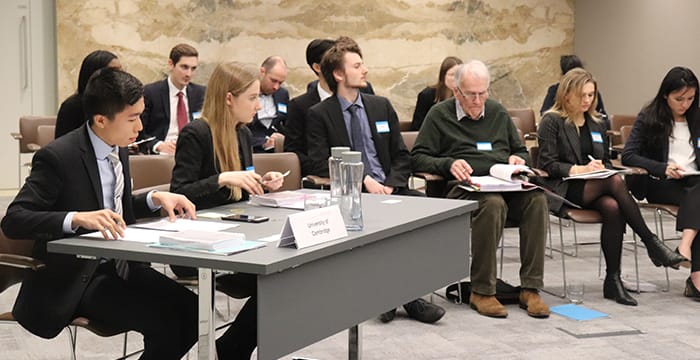 A team of Cambridge University students have won a prestigious mooting crown.
Katherine Boucher, Kathryn Handley, Gabriel Kaufmann, Glen Tay and Venus Ma emerged victorious in the White & Case London Vis Pre-Moot, a UK preparatory competition for the global Vis Moot finals, which take place each year in Vienna, Austria.
Twelve teams from no less than seven countries took part in the highly-competitive moot comp which took place on Saturday in a wet and windy City of London. The Cambridge Uni team, coached by Littleton Chambers' Lord David Hacking, scored the highest across three rounds of pleadings and were confirmed winners to the musical stylings of The Greatest Showman.
Stockholm University was the runner-up, while Queen Mary, University of London came third. The list of competitors included University College London (UCL), the Universities of Nottingham and East Anglia, and The Honourable Society of The Middle Temple, alongside the Universities of Copenhagen, Liège, Geneva, Versailles and Poland's Jagiellonian University.
The prize for best individual performance was snapped up by Cambridge Uni's Tay (pictured below), a final year law student at Homerton College. He told Legal Cheek:
"Today's achievement is the culmination of our collective team efforts. We are very much looking forward to competing in Vienna next month."
The teams were challenged on a dispute arising out of a contract of sale between two parties for prized frozen racehorse semen. Acting respectively for the claimant (a stud farm) and defendant (owners of a racehorse stable and breeding programme), they presented their arguments to a panel of top arbitrators — which included White & Case's Mark Goodrich, barristers Frederico Singarajah from Hardwicke and Michael Stephens from Kings Chambers, and Allen & Overy associate Shreya Aren.

The London office of global law firm White & Case hosted the event, which was organised by London-based associates Benjamin Ainsley Gill, Agnieszka Zarówna and Natalie Lucas, and Angélica André, counsel in the firm's Paris office.
Stephens told Legal Cheek the Pre-Moot and Moot finals are an excellent launchpad for would-be arbitration lawyers since it enables them to develop the critical skills required to succeed in this area of law, namely research, advocacy, teamwork, and the chance to network with colleagues of the future. He continued:
"English students competing against their European counterparts are dealing with certain rules and regulations they wouldn't normally study in the course of undergraduate life and which don't necessarily have effect in English law. It's an opportunity to find out about law other than English common law."
Ainsley Gill, co-founder of the White & Case London Vis Pre-Moot, commented:
"It has been a fantastic day and the level of participation has been extremely impressive across the board which makes it all worthwhile for us. International commercial arbitration is a big part of what we do; there wasn't an equivalent firm to ours putting on an event like this in London and so it seemed right that we host a Vis Pre-Moot. We are already looking forward to organising next year's! A huge thank you to all the participating teams, their coaches and all volunteer arbitrators involved."
Last year's White & Case-hosted moot comp saw King's College London beat old rival UCL.
The Vis Moot finals will kick off with an official welcome and reception on Friday 12 April running until Thursday 18 April 2019.