Ruling leaves PM 'rudderless', according to Thom Brooks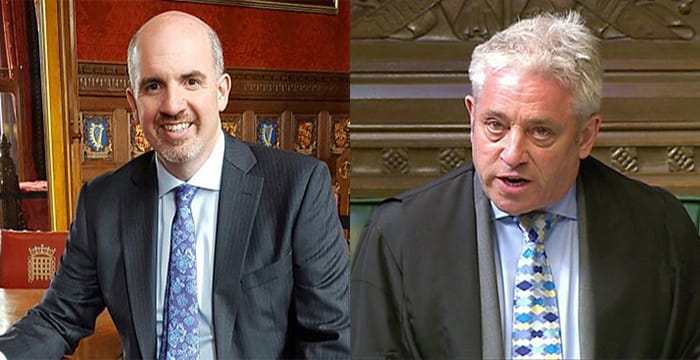 It was a ye-olde convention, which bars a meaningless vote being brought in the House of Commons, that its Speaker, John Bercow, was right to use this week, argues Thom Brooks, law professor and dean of Durham Law School.
Brooks said: "Legally, Bercow's decision was correct" and condemned the current government's strategy of "… holding votes again and again, closer and closer to the wire, using the threat of an unwanted and highly risky no-deal withdrawal to win over critics," declaring the strategy to be "in political tatters".
In a dramatic twist in the latest instalment of the soap opera that is the Brexit vote, on Monday Bercow announced he would refuse to let parliament vote on Prime Minister Theresa May's third Brexit deal motion if it was "substantially the same" as the one rejected by MPs last week.
The reaction has been seismic as it appears to have led to May being forced to apply to the EU member states for an extension to the UK's exit date rather than go back to parliament. Robert Buckland QC, the Solicitor General, warned of an imminent "constitutional crisis" and described Bercow as having made his name "for being interventionist and innovative in many ways". One Tory MP criticised Bercow for being the only person in this whole debacle who is "accountable to nobody" and yet wields significant power.
So was the Speaker right to intervene as he did? Law and government expert Brooks is clear. In an article in The Independent published yesterdy, he dusts off the old rule book and explains that Bercow was correctly applying a 1604 convention contained in the Rules of Commons Procedure (which is itself pretty modern, dating as it does from only 1844).

Brooks dismisses observations that Bercow's ruling is novel in any way: "The only thing that is actually unique in 2019 are the circumstances of a deeply divided minority government which has been left effectively rudderless by external events."
Supporting his position, scathing in his critique, Brooks adds:
"The only legal way out for the government is to offer a new motion that is substantially different, and to find a way to do that with just 10 days left to go."
Back in 2017, Brooks, a prolific commentator on Brexit, predicted to Legal Cheek that Brexit would not happen and what we would get is something "dressed up as Brexit". With a softer exit deal looking increasingly likely, Brooks crystal-ball gazing may well turn out to be right.
For any boffins out there, the convention reads thus: "A motion or amendment which is the same, in substance, as a question which has been decided during a session may not be brought forward again during the same session… Whether the second motion is substantially the same as the first is finally a matter for the judgements of the chair."