Sham Uddin's online exploits show he has 'no regard or respect' for his own legal career, says ex-Allen & Overy solicitor Melanie Daniels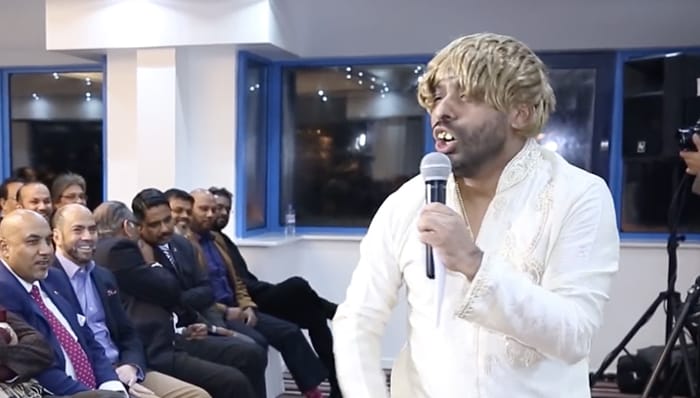 A former magic circle lawyer has taken to LinkedIn over the weekend to criticise the creative exploits of a barrister.
Posting to LinkedIn on Friday, Birmingham-based lawyer Sham Uddin said he was nearly mugged earlier that day — or so he thought — when he was approached by two hooded-men outside his home. Continuing, Uddin goes on to reveal that the two mystery men were not muggers at all but fans just wanting to say hello.
Responding to the barrister's story, ex-Allen & Overy solicitor turned social media expert Melanie Daniels referred to an episdoe of If You Dont Mind, a TV show presented by Uddin and which aired on NTV Europe, a channel "for the Bangladeshi community worldwide".
The half-hour show sees Uddin, who describes himself on LinkedIn as a "Solicitor, Barrister, Share trader, Writer, Actor & presenter", perform several musical numbers and, at one point, sport a blonde wig and false teeth.
Taking a pop at Uddin, the former commercial property specialist (screenshot below) said: "[W]ith videos like these, you clearly have no regard or respect for your legal career or professional reputation. Shame as you doubtless put effort in to qualify. What a waste." Hitting back, Uddin said: "Innit. Your comments touch my heart", before adding: "I don't know this person, never interacted with her in any way before."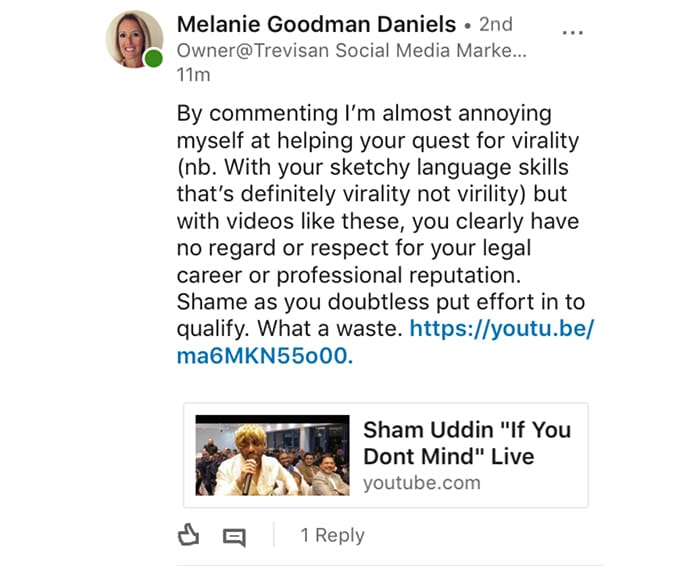 Returning fire, Daniels, who left A&O in 2003 and now lives in Switzerland, claimed Uddin's profile was brought to her attention as an example of "another total twit on LinkedIn ruining the platform". "As I am now getting your poor quality followers all trying to connect with me, wish I'd never commented", she added.

Several back-and-forths later, Uddin made a further, seperate post, this time urging fans to "enjoy" content and to refrain from making "offensive comments", along with a rather fetching painting of a Bengal tiger. He continued: "The tiger & it's [sic] connections on Linkdin [sic] will take you out of your lair & will not show you mercy."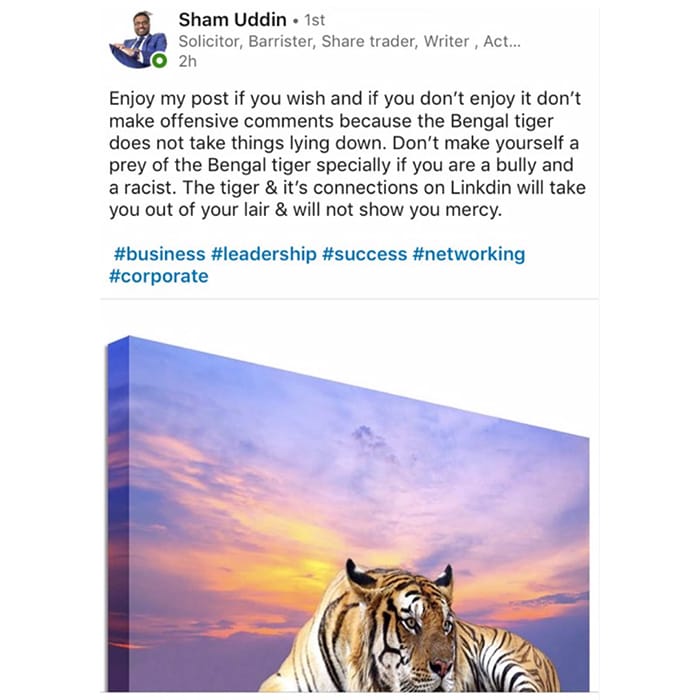 Daniels declined to comment, while Uddin didn't respond to our requests for comment.
Unsurprisingly, this isn't the first time Uddin has graced the pages of Legal Cheek. Most recently, the barrister came under fire for using a Ferrari to help promote his new chambers. While some applauded the use of the flashy red motor, one LinkedIn user wrote: "I think this moron should be put out of business completely!!!"
Comments on this article are now closed.