Clad in comfy sweats and £77,000 Birkin bag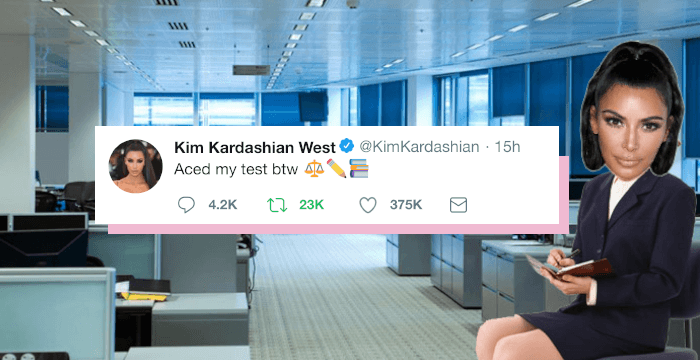 Following a fiery Insta exchange where she shot back at her critics for pursuing her lawyerly ambitions, first-year law student Kim Kardashian has been pictured rocking up to sit a tort law exam.
The 38-year-old socialite was photographed yesterday hopping out of her Range Rover and into what appears to be a building in Los Angeles where she supposedly took the test.
Dressed in casual grey Yeezy jogger pants, trainers and a hoodie to boot — the reality TV star would not look out of place in your average law student cohort. She clutched a large binder with the word 'criminal' scrawled in capital letters and carried a khaki rucksack (doubtless filled with more paperwork and textbooks).
In a rather telltale sign to the icon's wealth and celeb status, Kardashian also toted a cream crocodile Hermès Birkin handbag, that is estimated to cost around $100,000 (£77,000).
The social media superstar took to her Instagram on Tuesday, where she boasts an impressive 134 million followers, to share a glimpse into her exam prep. Posting a pic (below) of her (very neat) tort law revision notes, the beauty business icon could be seen studying definitions of negligence: 'standard of care' and 'breach of duty', combined with flashcards and handwritten key terms scribed on them. What struck Legal Cheek most was her distinct lack of highlighters!
Kim Kardashian has the exact handwriting of every student who spends all their time writing notes but no time actually reading them pic.twitter.com/ueqeLSPRHm

— beanutputter (@ahmxdhassan) April 16, 2019
Following the exam, which is one of three Kim K must complete in order to pass her first year, the reality TV queen of Keeping up with the Kardashians fame tweeted she had "Aced my test btw ⚖️✏️?", meaning the star, whose own father, Robert Kardashian, was an attorney and famously worked on OJ Simpson's murder trial, could be one step closer to her lawyer dream.
Aced my test btw ⚖️✏️?

— Kim Kardashian West (@KimKardashian) April 17, 2019
The mother-of-three (soon to be four) sent shockwaves around the legal world when she revealed she is studying to become a lawyer in May's issue of fashion bible Vogue. She confirmed she had begun a four-year legal apprenticeship with an unnamed law firm in San Francisco last summer, with a view to sitting the California bar exam in 2022.

Despite not possessing a university degree, Kardashian's path into law is possible because California is one of a number of US states that allow aspiring lawyers to sit their final bar exams without a law degree.
Earlier this week Kimmie hit back at her haters in a lengthy Insta post. "I've seen some comments from people who are saying it's my privilege or my money that got me here, but that's not the case," wrote Kardashian, who also detailed her gruelling study schedule which includes disconnecting from friends and sacrificing time with her children to spend 18-hours per week on her studies.