His brother-in-law is hit show's co-creator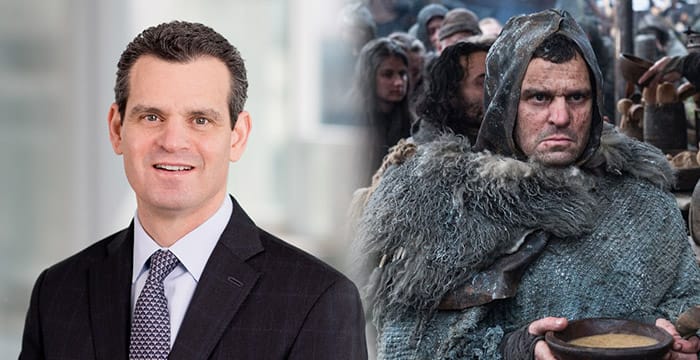 Some partners get all the luck. David Cohen, a regulatory and litigation partner at US law firm Wilmer Cutler Pickering Hale and Dorr, landed himself a role as an extra in the latest episode of Game of Thrones.
Swapping the tedium of partner meetings for the imagined land of Westeros, Cohen plays a local peasant being conscripted into fighting against the White Walkers. He is seen on camera looking suitably miserable in a queue for a plate of yuk-looking gruel from Ser Davos Seaworth played by Liam Cunningham.
The partner was lucky enough to get the part because his brother-in-law, David Benioff, is one of the show's co-creators, and Cohen and his family happened to be paying Benioff a Thanksgiving visit in Belfast where GOT was being filmed at the time.
Being an extra on a blockbuster show doesn't sound as if it is all glamour though. Cohen, who journeyed to the rural location of Winterfell castle, an hour out of Belfast, told US law website Law.com:
"We went out there and got our costumes and makeup and hair all done — and then spent six hours freezing because it was really cold."
News of Cohen's debut on the big screen came from a tweet from the official account of the CIA — of all places. It turns out that Cohen spent two years there as deputy director following a stint at the US Treasury Department.
A perk of working for CIA is world travel. Apparently that sometimes extends to other realms…

"Little birds," be on the lookout for a former deputy director of ours wandering through #Westeros in tonight's episode of #GameOfThrones. pic.twitter.com/DBIzIFKoju

— CIA (@CIA) April 22, 2019

Meanwhile, the Game of Thrones' fan base continues to grow and thrive (around 17 million people tune in officially worldwide with almost three times that number tuning in with piracy viewings). Earlier this month, Legal Cheek reported that Durham Law School was teaming up with Abertay University in Dundee to host a one-day conference examining how the show portrays law, power and justice.
What might well be renamed 'The David Cohen episode' aired on Easter Sunday on HBO in the US and on Sky Atlantic (and NOW TV) in the UK as part of the Transatlantic 'simulcast'.
It's the eighth and final season of the hit show and will determine who wins the Iron Throne. Cohen added that he could exclusively reveal "with certainty" that it was not his character that gets the coveted seat.