But excitable teens take to social media to trumpet success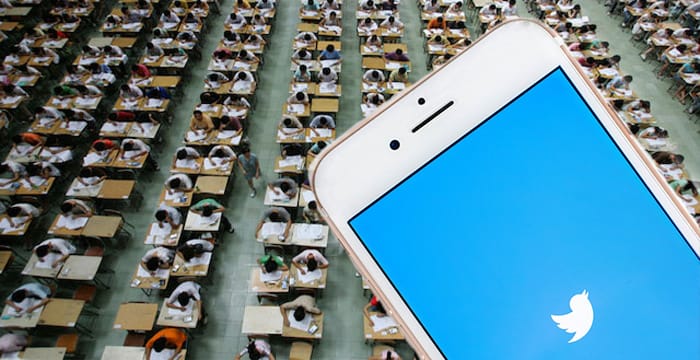 Today nervous wannabe law students across the country will tentatively unfold their exam results to see whether they've successfully secured a place to study at uni. Some will be cracking open the champers to toast their success while others will enter clearing or have to reconsider their career path. It can be a trying time for many yet Legal Cheek couldn't help noticing the distinct lack of dialogue or words of encouragement from the legal Twitterati…
In previous years members of the legal profession have taken to social media to share stories of how despite bungling their A-Levels, they were still able to succeed in law. Our hashtag '#LawyersWithRubbishALevels' did the rounds on Twitter some years ago and generated a number of proud responses. "I got a BED from my A-Levels. Always lacked exam skills. Happily exam skills not same as legal practice skills," wrote criminal law solicitor Nicholas Diable at the time.
Those in practice might have remained silent but this didn't stop excitable teens trumpeting their success on Twitter.
One newbie law student was super pleased she received the same A-Level results as law vlogger and future Linklaters trainee Eve Cornwell:
Got the same alevel results as @Evecornwell and now on to my law degree!!!!!!!! wig im tHRIVING thanks for being a #inspo to me queen?

— Hannah? (@raffertymcgrath) August 15, 2019
Some couldn't contain their shock:
WAIT????? DID I JUST DO THAT???? YA BOY IS GOING TO CAMBRIDGE!!!!! @Cambridge_Uni #alevelresults2019 #alevelresultsday OMG? ALHAMDULILLAH pic.twitter.com/YQFJ5PBxyn

— #JusticeForShukriAbdi (@ibnmko) August 15, 2019
This bitch is going to study FOOOKIN LAW at her firm uni choice ? SHOOK. #alevelresultsday

— Hannah Smethurst (@snethurst) August 15, 2019
As if I'm doing a law degree in September… this is crazy ???#alevelresultsday

— ~abbie~ (@AbbieHagan) August 15, 2019
While others confirmed their newly-acquired law student status:
Well looks like I'm gonna be a law student then ???? ??? #alevelresults2019 #UCAS pic.twitter.com/xeiGxYpy8Q

— molly w ?? (@mollyy_williams) August 15, 2019
So happy to say that as of next month I will officially be a Law student!!?‍? ✌? pic.twitter.com/nx0EQOA99t

— charl (@ccharll_) August 15, 2019
you speaking to a law uni student now ?

— Dina (@lediiix) August 15, 2019
One soon-to-be law student was overjoyed that she could finally upgrade her Twitter bio:
ok so i'm a law student so i can finally put '?' in my bio ???

— lareen (@lxreeen) August 15, 2019
Proud mothers got in on the celebrations:
MY SON IS GONNA BE A LAWYER! Praise to the most high, I honestly have no words right now.Congratulations @Oags_man on your results, got your 1st choice and off to Kings College London @KCL_Law, so PROUD?! #alevelresults2019 #futurekings #resultsday2019 #alevelresultsday ???? pic.twitter.com/DFQvp4v9k8

— Lyzeth Salcedo (@LyzethSalcedo) August 15, 2019
…and grandparents too!
HUGE congrats to Saieesha who picked up her A Level results at Windsor College and is heading to uni next month to study Law! Her Grandmother travelled all the way from South Africa too to celebrate!! ??#alevelresultsday #alevelresultsday2019 #windsorcollege #timetocelebrate pic.twitter.com/bCLcdAchOE

— Windsor Forest Colleges Group (@WindsorForestCG) August 15, 2019
the fact that i've had the absolute hardest 2 years of my life yet i've managed to get onto a law degree in manchester baffles me. couldn't be prouder of myself?? #alevelresults2019 #alevelresultsday pic.twitter.com/ZTKAQnW5RZ

— gracey (@gracerichxrdson) August 15, 2019
Law lecturers extended their welcome:
So where are all my incoming @leedslawschool @leedsbeckett Law students? I'll be teaching Public Law in semester 1 and really look forward to meeting you. Questions about the module, now and throughout the Semester are more than welcome – use #LLSPublicLaw

— Dr Jessica Guth (@Jess_Guth) August 15, 2019
While others reflected on their respective paths into law:
This time last year I was in Clearing ??? it's only Allah man ?❤️ pic.twitter.com/LrIwjPNhd7

— Z ??? (@_zxynab) August 15, 2019
Some #AlevelResultsDay motivation: I went through clearing. Then some people in my Sixth Form took to social media to mock me for it. I was crushed but completed those three years of undergrad before completing the GDL and BPTC to become a barrister. https://t.co/kOWMsmFvna

— BLESSING AT THE BAR (@BATTHEBAR) August 15, 2019
Congratulations to all those who will be starting their law degrees later this year!
Did you overcome poor A-Level results to succeed in law? Let us know in the comments section below.