Scottish unis Glasgow, Aberdeen and Dundee secure top ten spots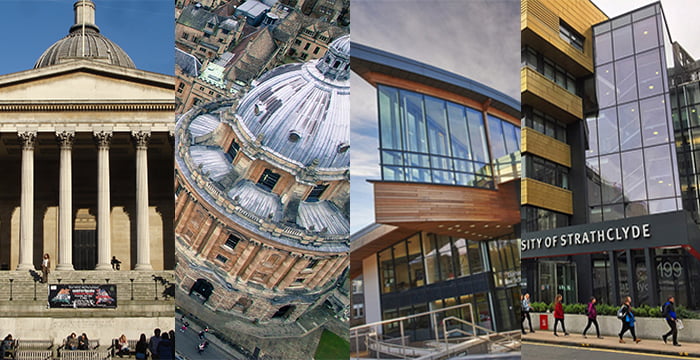 University College London (UCL) has pipped Oxford to second place while Durham University has tied in tenth position with the University of Strathclyde. These were some of the more eye-catching results published recently in the 2020 Sunday Times 'Good University Guide'.
Coming out on top of the list was (surprise, surprise) the University of Cambridge which has consistently ranked best for law and scored a perfect 100. Just behind UCL (2nd) and Oxford (3rd) is the University of Glasgow (4th), with London School of Economics rounding off the top five.
King's College London (6th), the universities of Aberdeen (7th), Leeds (8th), Dundee (9th), Strathclyde (=10th) and Durham (=10th) complete a top ten in which there are few surprises.
Scottish universities appear to be doing particularly well: a total of four (Glasgow, Aberdeen, Dundee and Strathclyde) feature in the top ten, while the University of Edinburgh sits just outside in 12th position. Next up and drawing level with the University of Nottingham in 13th place is another Scottish uni, Abertay University. The University of Bristol finished 15th.
It comes as little surprise the remainder of the top 20 are all (bar Kent) Russell Group institutions — a band of unis known for their research, reputation and academic excellence: Sheffield (16th); Kent (17th); York (18th); Warwick (19th); and Southampton (20th).
Other Russell Group players feature prominently in the power list which pits law schools against one another, and is largely based on stats received from the National Student Survey (NSS), the official annual survey of the experiences of around 330,000 students.
Queen Mary, University of London, however, could only manage 40th place — the lowest ranking of any Russell Grouper. The east London-based institution was beaten by London South Bank University (36th).
No Russell Group law faculty placed in the bottom 50 of the list of 101 unis. This section was largely reserved for former polytechnic universities, although the universities of Bolton (66th), Chester (69th) and Bradford (74th) were among the stragglers.
Bringing up the rear of the list was the University of Winchester (101st) followed by the universities of Kingston (100th) and Leeds Beckett (99th). Rounding out the bottom five were Canterbury Christ Church University (98th) and Anglia Ruskin University (97th).
The Good University Guide ranks UK law schools according to teaching, student experience, quality of research, average UCAS entry points and graduate employment prospects.
Top 20 Law Schools 2020:
| | | |
| --- | --- | --- |
| Ranking | Law school | Overall score (out of 100) |
| 1 | University of Cambridge | 100 |
| 2 | University College London | 96.5 |
| 3 | University of Oxford | 95.4 |
| 4 | University of Glasgow | 94.5 |
| 5 | LSE | 93.3 |
| 6 | King's College London | 92.6 |
| 7 | University of Aberdeen | 92.3 |
| 8 | University of Leeds | 91.5 |
| 9 | University of Dundee | 91.2 |
| 10= | University of Strathclyde | 90.9 |
| 10= | Durham University | 90.9 |
| 12 | University of Edinburgh | 90.8 |
| 13= | University of Nottingham | 90.3 |
| 13= | Abertay University | 90.3 |
| 15 | University of Bristol | 89.8 |
| 16 | University of Sheffield | 89.7 |
| 17 | University of Kent | 89.5 |
| 18 | University of York | 89.1 |
| 19 | University of Warwick | 89 |
| 20 | University of Southampton | 88.7 |