Don't dress like a lawyer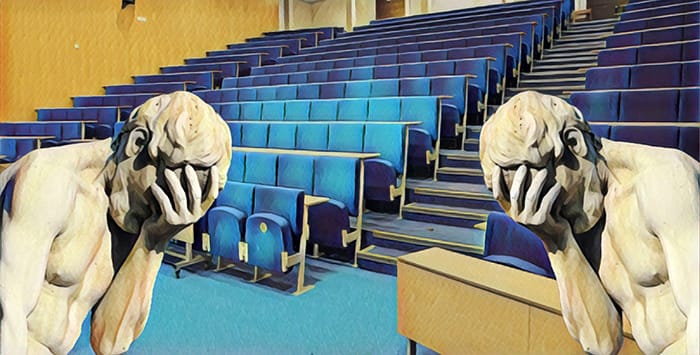 So, young fresher, you've nearly survived one month of law school.
Was it really only a month ago that your parents left you marooned on Freshers' Island, with only an ASDA saucepan set, a fresh mattress protector and a new pair of slippers to get you by?
Life as a law student must be pretty sweet so far. Sure, it's not as thrilling as a John Grisham legal novel and you're still waiting for that Mike Ross-like photographic memory to kick in, but otherwise so far, so good. So what possibly could go wrong? Well, a lot of things.
To help you navigate the LLB-minefield, Legal Cheek has selected it's top ten rookie mistakes that first year law students should avoid at all costs.
Don't dress like a lawyer
Despite the temptation to take fashion tips from your favourite fictional legal icons — especially those from the legal TV drama literally named after corporate garb — don't start rocking up to lectures like it's your day in court. Ditch the three-piece and sling your stilettos because formal tailoring to the 9am land law lecture won't help you secure those firsts.
Don't be a total smart arse with your non-law mates
Just because your non-law peers may think you're a lawyer, doesn't mean you actually are. Your newly-learned Latin lingo and obscure case law won't go very far outside of the law library; nor do your mates want to hear your analysis of Making A Murderer and whether Legally Blonde is an accurate depiction of law student struggles. For now, just stick to answering queries about gavels and whether Judge Rinder is actually a real judge. *Spoiler alert* He's not!
Buying brand new textbooks
Seeing as freshers week has left you boracic, now is not the time to be buying brand new textbooks. Especially since all your parents can offer is their new-favourite reminder that 'there is no magic money tree'. Rather than resort to annotating library books, quickly make use of second-hand textbook sales before it's too late.
Forgetting to stock up on free merch
Speaking of money saving tricks, frugal freshers would be wise to stock up on their yearly stationery at law fairs. If you haven't got at least a branded pen from each firm on our 2020 Firms Most List, are you even living the #merchlife?
Don't print everything
Just because you can print and highlight everything you can get your hands on, doesn't mean you should. Embrace the sustainable student lifestyle and avoid racking up hefty printing bills by reading judgments and journals on your laptop — it's 2019 for Hale's sake!
Mispronouncing the 'v' between case names
Side-step this first year faux pas and remember the v separating parties to a case is pronounced as 'and', rather then 'versus'. You can thank us later.
Misspelling the word judgment
This one's easy. Avoid this novice no-no by remembering it's spelt judgment and not judgement — or risk being judged for your lack of attention to detail.
Not getting involved in your law society
After a full day of lectures, library book hunting and seminar prep, avoid the urge to retreat to halls and binge How to Get Away With Murder over pesto pasta. Go get involved in your law society instead (a CV-must for any lawyer to be), especially if you want a decent shot at leadership when committee elections come around in spring.
Thinking first year doesn't count
If you hear yourself repeating the rookie mantra 'first year doesn't count', it's time to re-evaluate. First year students hoping to impress future employers should perhaps prioritise late nights in the library over students' union all-nighters.
Wasting networking opportunities
If you've spent the duration of a networking event filling up on copious amounts of canapés and knocking back the free wine rather than actually speaking to people, you've gone about it all wrong. Get out there, press the flesh and find the answers to all your firm or chambers specific questions that the glossy brochures don't provide.
Not seeking out first year opportunities
Rather than leave all the CV bulking to your future second and third year selves, why not start building up your legal experience now? Before deadline day creeps up on you, stay on top of upcoming first year schemes, open days and workshops using our 2020 Firms Most List and recently-refreshed Key Deadlines Calendar. You can download the Legal Cheek iPhone and Android apps to get key deadline notifications delivered straight to your phone.