Exchange Chambers teams up with Lancaster Law School to deliver LLB advocacy module
Option open to third years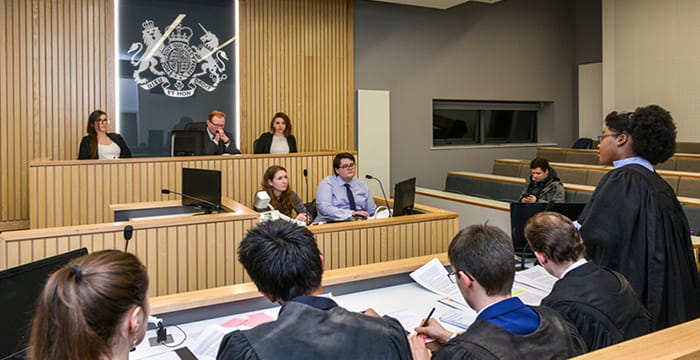 Northern set Exchange Chambers has joined forces with Lancaster University Law School to launch an advocacy module in a move believed to be the first of its kind.
From autumn those studying law and in the third year of their undergraduate degree will be able to take up the optional module.
Barristers from Exchange, one of the country's largest chambers, with over 170 barristers to its name, will, in partnership with Lancaster academic Dr Cerian Griffiths, deliver "academic" and "practical" training in advocacy.
Griffiths, a criminal law lecturer who was called to the bar in 2007, will lead the academic aspect, while silks John Jones QC, William Waldron QC, and juniors Alexandra Sutton, Daniel Prowse, Ian Whitehurst and Steven Swift will deliver practical workshops.
Aspiring barristers will work their way through "simulated trials" to develop skills of "witness examination, speeches and applications to the court". The training, which will also include court tech know-how, will be delivered in the law school's mock courtroom throughout the academic year.
Professor Alisdair Gillespie, head of Lancaster Law School, said:
"This is an exciting project which promotes and reflects Lancaster Law School's dedication to the future employability of our students. It is practical courses such as the advocacy module which contribute to Lancaster Law School being the best in the country for employability of law students."
News of the tie-up follows the launch of Exchange's 'pupillage academy' earlier this year. As part of the venture the multi-disciplinary super-set doubled its pupillage intake — from three pupils to six each year. Legal Cheek's Chambers Most List shows Exchange now has the largest pupillage offering in the land.
The regional set, which has branches in Manchester, Leeds and Liverpool, and recently revamped its long-running 'pupillage forum' (a free advice day for bar hopefuls), scored a string of As and A*s in this year's Junior Barrister Survey.